Nougat finally becomes the most popular Android version just as Oreo passes 1% of the market
Google has published its monthly analysis of Android market share today, and we have some big news. For the first time in history, the most used version of the OS is now Nougat - which launched in August of 2016, almost 18 months ago.
It takes the crown from Marshmallow, in fact its predecessor. Nougat is now at 28.5% of the pie (up from 26.4%), while Marshmallow dropped to 28.1% (from 28.6% last month). Lollipop completes the podium, still commanding 24.6% of the market at this time.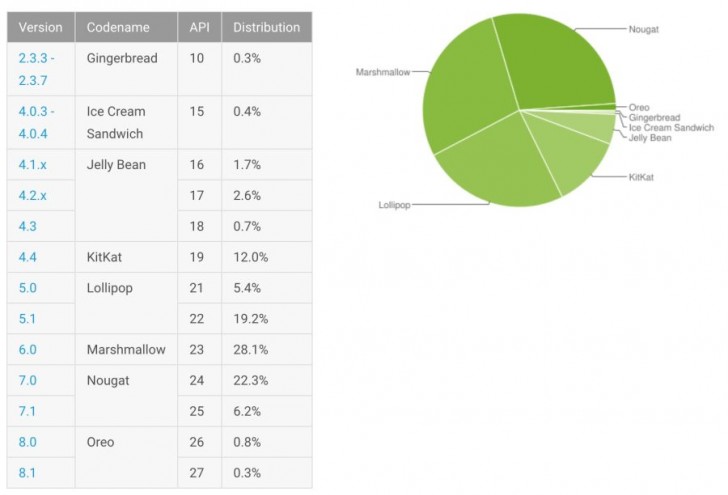 While all the older versions of the OS lost market share, Oreo is still gaining. At the same incredibly slow pace as it has since its initial release last August, but still - it is going up. In fact, this month it has broken past the 1% milestone, now running on 1.1% of devices out there. Samsung's imminent release of its Oreo update for the S8 duo should help drive those numbers even higher.
?
TBH I'm just bored of it, subtle changes here and there isn't really all that exciting.
?
Still rocking Marshmallow and I have little to no complaints, the newer versions aren't all that faster or different anyway.
?
Marshmallow and Nougat are the best versions. Very smooth. Oreo isn't that different. At least android rocks now. iOS is slowing down after each update.
ADVERTISEMENTS