If you recall, last month, Google said that the Nexus 6 and LTE Nexus 9 will get Android 7.0 in a few weeks. Inline with that, the Nexus 6 started receiving the update earlier this week. The good news is that now the HTC-manufactured tablet has also officially started getting Nougat.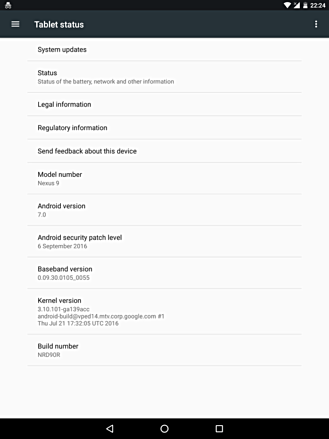 The update bumps the build number to NRD90R, and also includes Android security patch for the month of September - the security level, post update, shows a date of September 6. For comparison, the Nexus 6 Nougat update brought along a security patch dated October 5.
It's worth mentioning that Factory and OTA images aren't yet available from Google.
D
This is for the N9 LTE, the WIFI N9 got the update a few weeks ago, so yours is probably not the LTE N9 (flounder_lte/flounderg).
D
But I got the update 3/4 weeks ago. Confused
D
You'll have to ask your manufacturer (Motorola) for that, because they're the ones who're in charge for the system updates.