ZTE-owned company: nubia is going to announce a wearable smartphone device at the MWC this year. There was a teaser poster released a couple of days ago but the new invite was sent directly to press and includes a specific time. The event will be held at the Fira Gran Via, Barcelona and will begin at 6PM local time (12PM EST time).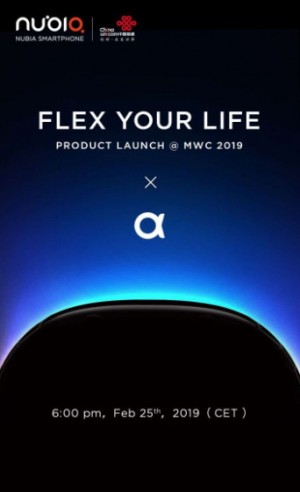 The event's tagine is "Flex your Life" referencing a device with a flexible display. It wasn't initially clear what kind of flexible device we could expect, but the graphic on the official invitation resembles the shape of a display we saw in the teaser trailer that nubia showed off at this last IFA. It's a wearable smartphone with a display that wraps halfway around your wrist.
Perhaps the final product that's going to be announced looks slightly different than what we saw in the trailer, but whatever the case may be, this product is going to create a lot of buzz if the implementation and experience is well-polished.
We wonder if this device is going to run a watered down version of Android or if nubia has developed its own in-house UI for it. This is the kind of tech that I came here to see. 2019 is going to be the most exciting year in mobile technology for many years.
I don't think this is right for me, since I prefer phones with large screens, but I still think it's quite awesome.
A
the camera is quite ugly... please dont make a watch with camera.. even it has 1... it might be a sucks 1... so why bother to make a watch with camera...
ADVERTISEMENTS