According to leakster Roland Quandt, nubia is working on a new gaming smartphone to succeed the current nubia Red Magic. The new device will reportedly run a Snapdragon 845 CPU and will feature shoulder buttons to improve the gameplay experience.
Nubia Redmagic actually seems pretty nice for 449 Euro with SDM835, 8/128GB and all the other fancy stuff. Btw: new Redmagic device w/ Snapdragon 845 and shoulder buttons is in the works. pic.twitter.com/m64KS9LTfk

— Roland Quandt (@rquandt) September 2, 2018
Gamers have become a new target for a few smartphone makers like Xiaomi with the Black Shark, Razer with its phone, and ZTE - all of which have released some kind of gamer-oriented smartphone with flashy hardware and some high-end specs. Earlier today, Razer confirmed working on a new version of its gaming smartphoney. Even Doogee is getting in on the trend, eventually.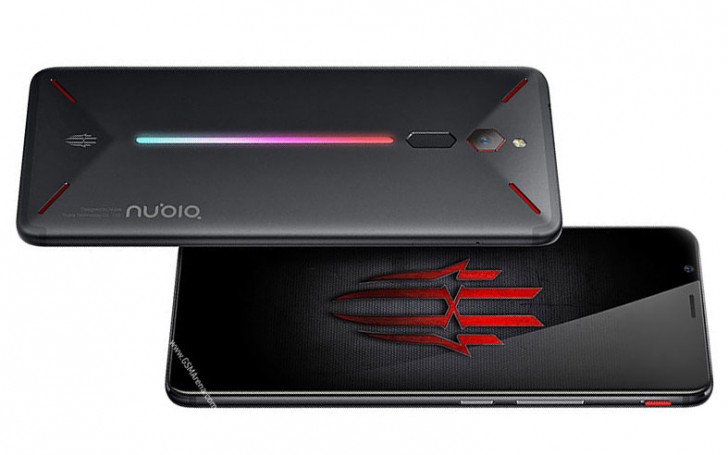 nubia Red Magic
Gaming accessories like the GamePad Moto Mod or the Xiaomi Black Shark's GamePad offer a better experience with trigger buttons (Although to be fair, the Black Shark GamePad has a single trigger button).
Having shoulder triggers on a new gaming smartphone would certainly offer a different gaming experience, but will it really be that much better if the phone is still using on-screen controls?
Perhaps offering an accessory that will compliment these supposed shoulder buttons will be a good idea. Otherwise, is there any game that you can improve if you were to solely add should buttons to the hardware?
The current nubia Red Magic is available in Europe for €449 and comes with a Snapdragon 835, 8GB of RAM, and 128GB of onboard storage. There's also a 6-inch display, a 24MP camera, and a 3,800 mAh battery. The Red Magic also has that funky RGB LED strip on the back for a truly flashy gaming look.
D
Many reasons, manufacturers know there's a big market for selling hardware for gaming (just ask Nintendo). It's also easier to just make an extra controller that connects via BT like the one on the Black Shark 2.
g
just FYI handheld console game is million time better than what exist in appstore, and handheld cost less than gaming phone :)
?
If they're making a "gaming" phone, why not just add physical buttons? Just do what the Xperia Play did.
ADVERTISEMENTS