nubia Red Magic 5G will have a Transparent Edition that shows the fan spinning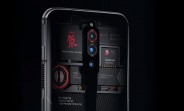 The nubia Red Magic 5G will be unveiled on March 12 and the brand has been building up to the event by posting teasers of the gaming phone's capabilities. Now CEO Ni Fei has posted a short clip showing a special Transparent Edition.
The clear glass back really boosts the cool factor of the phone. You can see the active cooling fan spin as it quickly becomes a blur (its maximum is 15,000 RPM, as the label next to it explains why). You can also see the record-setting Snapdragon 865 chipset, the LPDDR5 RAM (up to 16GB), plus the advanced connectivity – 5G and Wi-Fi 6.
The labels go on to list the 144Hz screen, the first of its kind on mobile, plus the new fast charging that pushes 10A into the phone (that's 50W or 55W of power). You can also see the new triple camera, Ni Fei posted camera samples from the 64MP main sensor yesterday.
You do realise not even laptops have the fan on the cpu? Its all done through passive cooling with a copper heatpipe
D
I still believe it will be fake plastic clear back. It wont be real so no real components will be shown. Thus to my honest opinion.
X
Xiaomi fanboys hating lol
ADVERTISEMENT