Design
Compared to this year's, there aren't any changes in the physical design or the overall feel. The specs sheet does mention a virtually unnoticeable 2g increase in weight now tipping the scale at 220g. Pretty hefty, that's for sure. It's perhaps due to all the cooling-related components. We also finally got to experience the Cyber Neon edition, which fits more with the whole gaming aesthetics.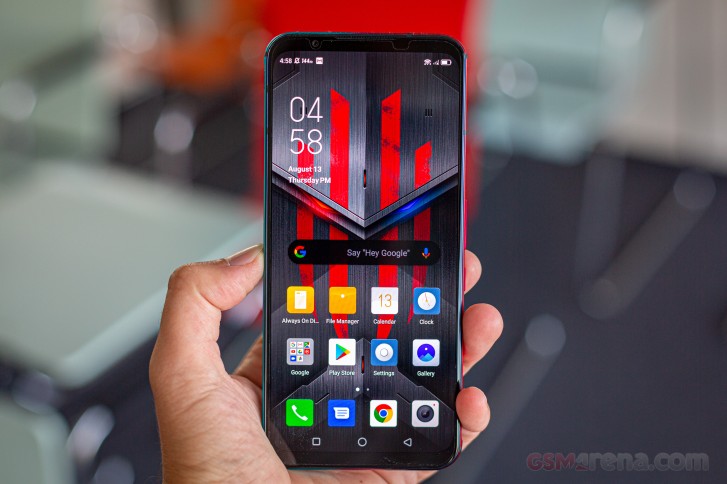 The paint job gives the impression of a metallic build, especially the Silver version, but it's still made of glass. Even if you look closely enough, you will see a metallic-like pattern at a certain angle. It's more flashy than the Black version we had in spring.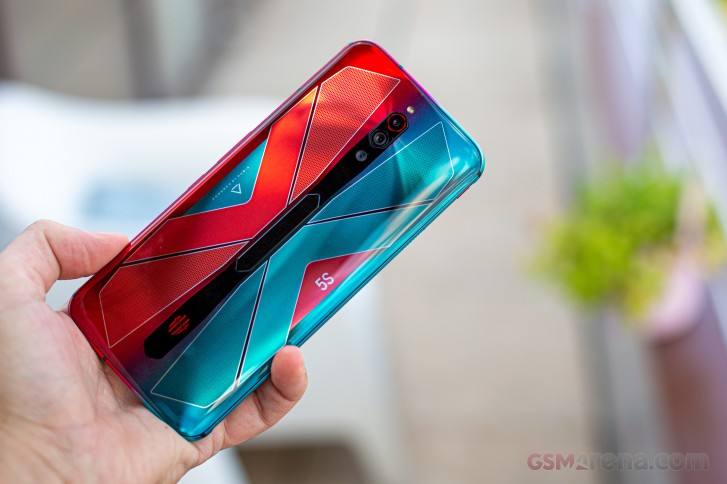 The front and back are covered by Gorilla Glass - we don't have info on which generation nubia has used. It has an LED-illuminated RGB logo on the bottom while the Red Magic inscription in the middle no longer lights up. So moving from Red Magic 5G to 5S, we have even more modest lighting show.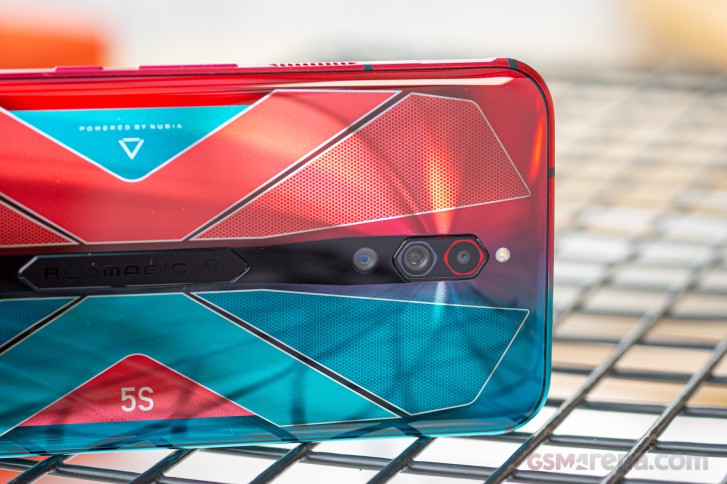 Once again we didn't feel any sharp edges or corners where the glass sheet and the aluminum side frame meet and the curved glass back helps with the ergonomics. Still, it's a glass phone, so it's rather slippery. We also liked the camera module since it's protruding ever so slightly - almost flush. Well, the macro lens does sit flush with the back glass, though, as it stays separate from the main module.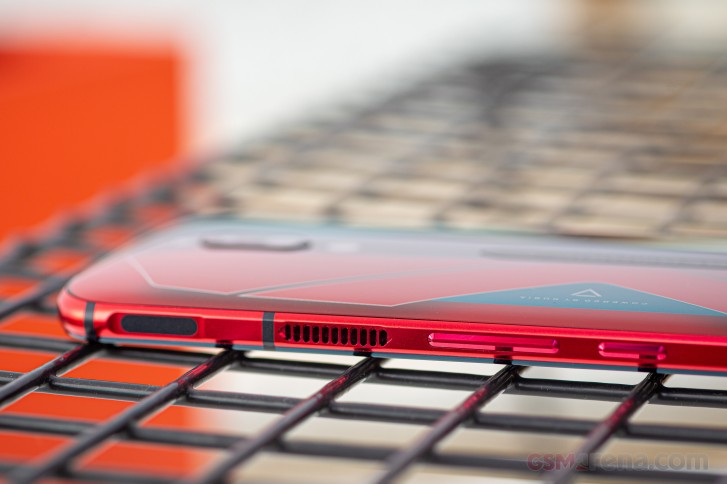 The chamfered edges are a really nice touch, and the gradient really does fit well with the back style. Maybe the bottom side of the frame is a bit off but it's nothing too major. The finish feels smooth and slippery.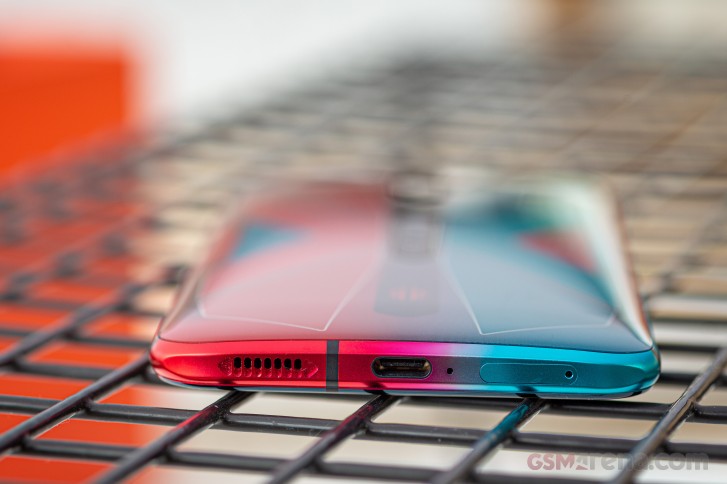 The left side of the frame is populated by the 7-pin connector for the gaming accessories, the fan intake grille, and the physical switch for the dedicated gaming mode. The right houses the two shoulder triggers to the sides, the exhaust vent in the middle right next to the power button and the volume rocker. It feels a bit too low to our taste, but it's better than the power key being placed too high. And as we stated in our previous review, the in-display fingerprint reader and the wake-up gestures alleviate you from using the power button at all.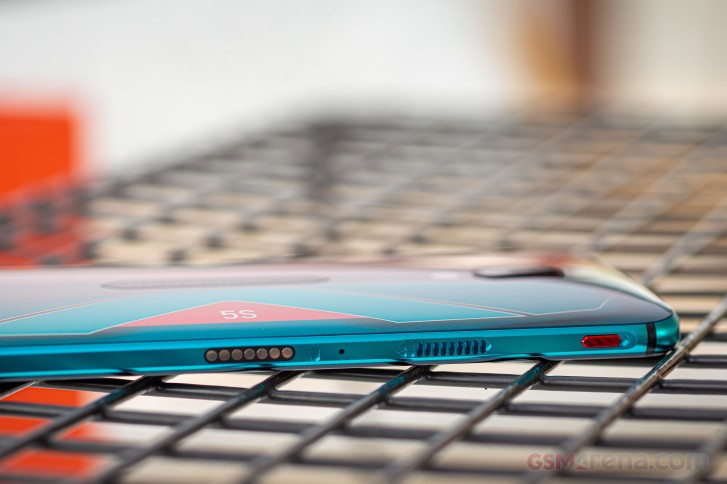 Luckily, there are no cutouts of any sort, and the top and bottom bezels are symmetrical and provide a good grip to the phone when holding it horizontally limiting the chance of a mistouch.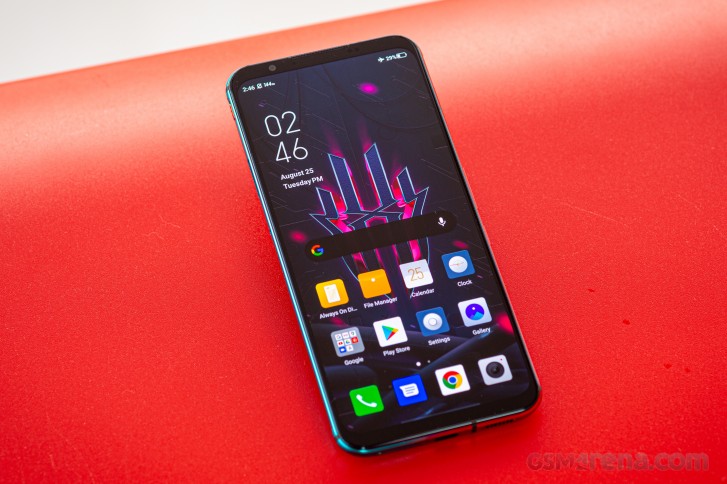 Glad to see that the build quality has stayed the same - the Red Magic 5S feels just as solid as the 5G with only one complaint being the weight. Knowing how it performs during long gaming sessions. Nevertheless, it's a bit hefty for a phone holding 4,500 mAh battery.