The Xiaomi Mi 11 unveiled earlier this week is the only smartphone in the market right now with a Snapdragon 888 SoC, but more are on the way as a bunch of Android phone makers have already confirmed their plans to launch SD888-powered smartphones.
nubia is one of them as it has confirmed in will launch a Z series smartphone with Snapdragon 888. While we await more details about it, a nubia smartphone bearing model designation NX669J has popped up on Geekbench with the Snapdragon 888 SoC, 8GB RAM and Android 11.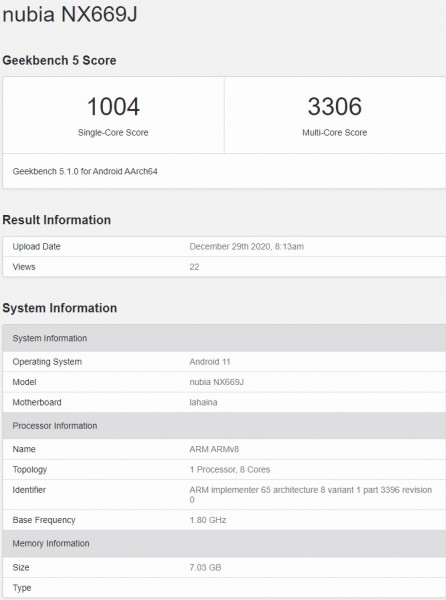 While a Z series flagship is the only one confirmed by nubia to have a Snapdragon 888, the NX669J is said to be the Red Magic 6, teased last month with an electrochromic back panel. We'll hopefully have more clarity about the marketing name of the NX669J in the coming days.
M
He says in his pinned comment that he always tests in an ac room with 25-26c. This is why i find it so confusing.
M
I know. Mali renders different to adreno in pubgm, its been covered by anandtech years ago. Iphones have an extra setting that androids dont in genshin. But these differences arent too noticeable in most situations, but the fps is. Even the api is di...
M
That guy's reason to throttle is very clear. If you'd listened the video more carefully you'd know. He said the temperature there is 35 degree Celsius. That's the reason it throttled so early. May be at 25 degree or less it wo...
ADVERTISEMENTS