nubia Red Magic Mars will be unveiled next week, benchmarks show S845 chipset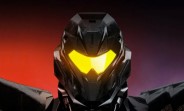 The reveal date for the nubia Red Magic Mars has been set. A Pacific Rim-themed image confirms the "Mars" name for nubia's second gaming phone and marks November 28 as the big date. That's Wednesday next week.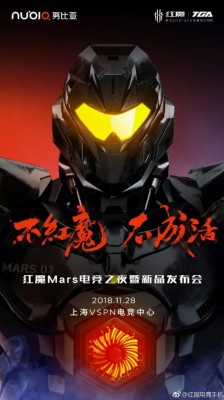 The nubia Red Magic Mars will be unveiled on November 28
We've not heard much about the device. 10GB of RAM was officially teased along with "4D Shock" haptic feedback (a clear nod at Sony). Combined with the rumor of shoulder buttons, we could be in for a very gamepad-like experience.
A couple of benchmark results from Geekbench and AnTuTu just came out and offer a glimpse into other changes. The chipset has been upgraded to a Snapdragon 845, so it matches the latest gaming phones from Razer, Asus and Xiaomi. Keep in mind that the original Red Magic launched with an 835 chip.
Anyway, the phone that ran Geekbench had 6GB of RAM while the one over at AnTuTu had 8GB. A 10GB version was not spotted. As for the display resolution, it hasn't changed - 1,080 x 2,160px promises a wide-screen, notch-free gaming experience.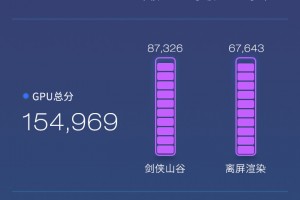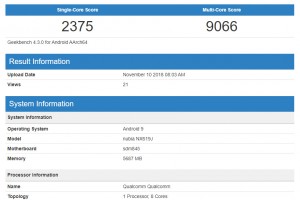 nubia Red Magic Mars (NX619J) benchmarks: AnTuTu • Geekbench
Also, Geekbench shows Android 9.0 Pie, it's always good to see new phones launch with the latest Android version.
Some additional rumors about the nubia Red Magic Mars have emerged, suggesting a dual cooling solution (perhaps, something like the fan add-on of the Asus ROG phone).
It ain't garbage to be honest. U could clearly see the disadvantages of having the SNAPDRAGON 845 when comparing other chipsets in benchmarks like GeekBench, but still it performs just as good as others when it comes to multitasking (blame Google for...