NVIDIA has announced yet another graphics card, the GTX 1060 3GB edition. But while it might just sound like a GTX 1060 with half the RAM, there is a bit to it than that.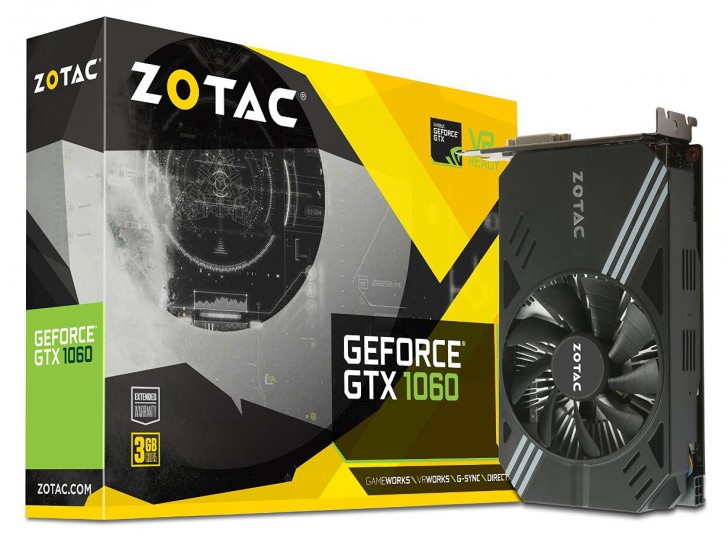 First of all, yes, the 3GB model now ships with half the VRAM from the 6GB GDDR5 on the full-fledged 1060 model. But NVIDIA has also made some cutbacks to the GPU. The 3GB edition gets 1152 CUDA cores compared to the 1280 on the 6GB model. The texture units have also been dropped from 80 to 72 on the 3GB edition. This is due to disabling 1 out of the 10 SM units on the GP106 GPU on the 1060. This drops the floating point performance from 4.4 TFLOPS to 3.9 TFLOPS, although NVIDIA only claims around 10% of performance drop on the cheaper model.
The rest of the specifications remain identical, including the base and boost clock speeds of 1506 MHz and 1708 MHz, respectively, memory speed of 8Gbps, and memory bus width of 192-bit. Even the TDP is identical at 120W.
The 3GB edition of the GTX 1060 will be priced at $199, a whole $50 less than the standard GTX 1060. This puts it right next to the AMD RX 480 4GB, that so far enjoyed a short but well-deserved monopoly in this price segment. There isn't going to be any Founder's Edition card this time around and all cards will be available only through hardware partners, many of which have already started selling the card.
So although the GTX 1060 nomenclature is misleading and the card loses some of the power of the full-fat 1060, we will have to see just how much slower it really is and how it stacks up against the RX 480. The 3GB VRAM is a cause for concern, however, and will cause users to run into memory bottleneck well before the GPU runs out of steam in some of the modern titles.
D
As a user GTX960 2 GB, I just got upgrade to GTX1060- 3GB, its refreshing, amazingly fast, I congratulate Green team to produce so powerful energy efficient GPU.
D
Somebody on Ubuntu forums told me it has changed and become good! Turned out that guy was wrong..... Probably a fanboy or something :D
D
Hah. Maybe I'll give amd another chance. Although I sold my pc and left gaming. I'll buy a laptop in 5 months! A simple one :P with iGPU so I don't think it matters now!
ADVERTISEMENTS