At this point Windows Phone 7 is only compatible with the Qualcomm Snapdragon smartphone chipsets, but it appears that Microsoft's promises to extend the platform reach will finally be delivered on. A leaked roadmap suggests that Nvidia will be entering the WP7 game in 2013.
To achieve this, the company will be introducing a whole new branch to its System-on-a-chip lineup. The new chipsets are codenamed Grey and they will be combining processing silicone from the Tegra range with radio solutions provided by Icera.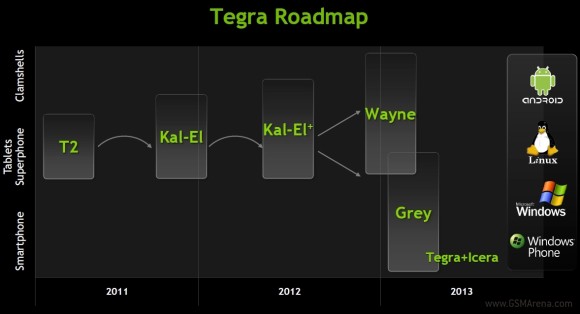 The Tegra 2 is a huge success with the Android software platform, powering the first broadly available dual-core smartphone and a huge number of devices (both tablets and smartphones) after that. We are now holding our breath expecting to see the arrival of its bigger brother, Kal-El, which should be the first quad-core chipset on the market bringing a 5x performance boost.
That's why Microsoft should be pretty pleased that they convinced Nvidia to join their camp. A manufacturer that is driving the innovation in the cut-throat Android business will certainly bring more value to the platform.
Plus, Nvidia is shifting more and more of its focus towards Mobile CPU manufacturing, expecting that to bring three-quarters of its total income in four years.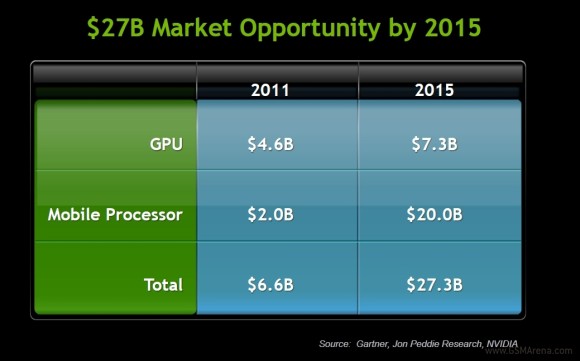 V
But failed miserably, know only you can find those chipset in few tablets, qualcomm smashed them
s
No, you are wrong. Actually processors with more cores should theoritically be able to deliver more battery life than single core ones. Just google that. Dont make assumptions based on little to no knowledge.
a
this time around MS is aiming for long term, where PC business will slow down and Smartphone+Tablet will take off. This is not a backyard game to outsell Apple-i devices. http://www.youtube.com/watch?v=ScxxuC_dZHo
ADVERTISEMENTS