Nvidia voluntarily recalls European AC wall adapter plug head for Shield tablets and Shield TVs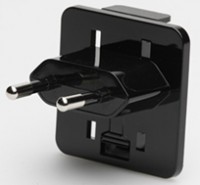 Nvidia today had to announce that it's taking steps to mitigate a possible risk of electric shock posed by some AC wall adapters used for some of its products. The part in question is the plug head for Shield AC wall adapters designed for use in continental Europe (it's pictured to the left). The devices affected are Shield World Charger Kits, European Shield tablets, and European Shield TV consoles sold between July 2014 and May 2017.
If you don't have any of those, or aren't using the European plug, you have nothing to worry about. If you do own one of the aforementioned products and are using them in continental Europe with the "duck head" plug head depicted above, then note that this unfortunately may break, which poses a risk of electrical shock.
To make sure that your plug head is one of the offending units before you register to receive a replacement, head to the Source linked below and go through the steps outlined there. In short, you'll need to check on its back whether there's a specific "punch mark" in a specific place, and if a circle with the letter "B" is present in another spot. If your plug head doesn't have those, then you should ask for a replacement. Thankfully, you can do that online, on the same page even.
?
NVidia shield was supposed to be used in combination with a gaming PC allowing you to stream your PC games, to the shield. If you tried to use the shield without a gaming PC I can see why you were disappointed. Certainly not meant for "gaming" w...
k
just release shield or shield tablet with tegra x1 soc for 200$ and i will buy it before release:) i had shield tv but i was disaster..you cant play any games from play store..only real racing 3, asphalt 8 and dead trigger 2 ...thats all
?
With real powerful CPU ! Nvidia's CPU actually !!