Yes, you read that correctly, it has 24GB of video memory and yes, it can run Crysis, but that would be a criminal misuse of resources. The Quadro M6000 is is one of a number of current professional-grade GPU offers from the US titan and it now has a new mid-cycle upgrade, the main aspect of which is doubling the available RAM. This gives the card a neck up compared to AMD's 12GB FirePro W9100 champion, although it might be short lived, as the latter has a theoretical maximum memory of 32 GB yet to fill up.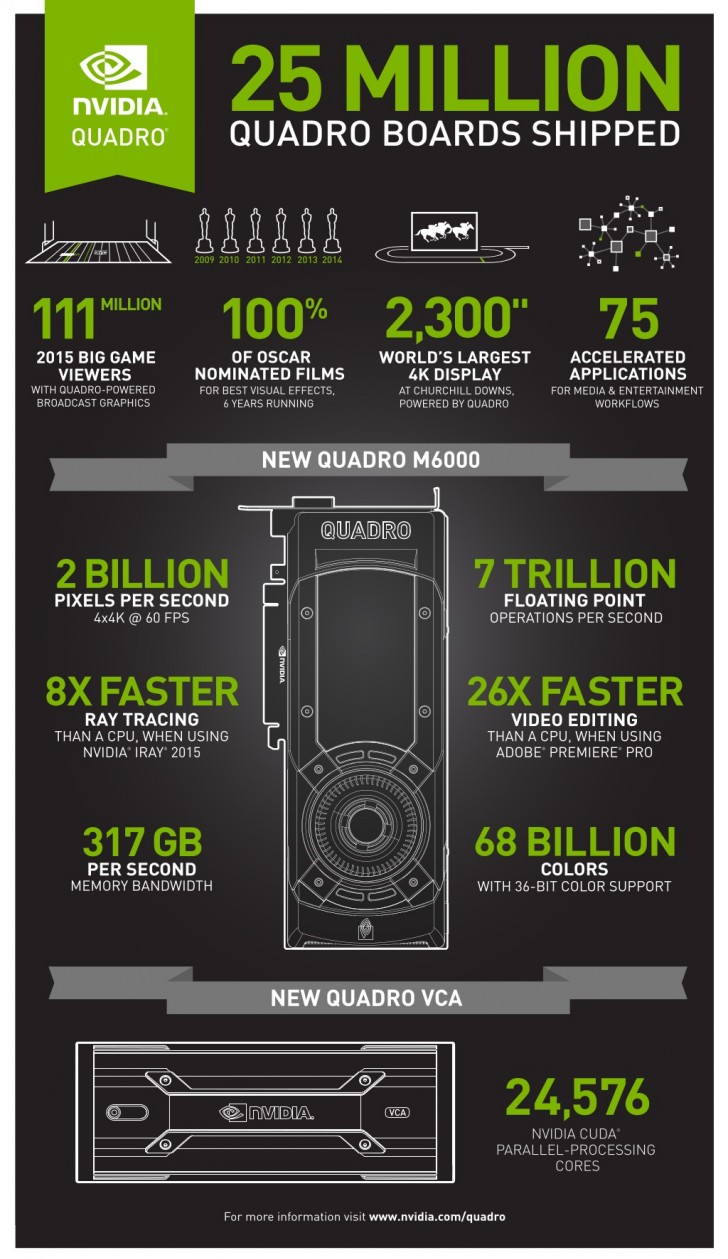 This massive bump in memory is truly impressive, but was also expected. Back in September last year, when the original M6000 was first launched with 12GB of GDDR5 RAM, it was already clear that the GM200 processor has a theoretical maximum of 24GB that was bound to be reached at some point. This is exactly what NVIDIA has done now thanks to high density GDDR5 memory chips. The other notable addition to the upgraded M6000 are some new clock and temperature controls, for improved granular control over performance and throttling in high-end professional setups.
More discrete GPU clock options for a better customer experience when running their application... Greater software temperature control to keep the GPU temperature below the hardware slowdown threshold for the best user experience.
And if you are still scratching your head and wondering if this relates to you or why your desktop GPU seems to be lagging so far behind - we are talking about strictly professional hardware utilized by companies like Sony Pictures Imageworks to produce amazing high-quality CGI. For them and any other company using NVIDIA's product stack, the new 24GB M6000 will be a drop-in replacement and a welcome sight, well worth its massive $5000 price tag.
As for any plausible use cases outside such an environment, we really can't imagine even the most hardcore enthusiast could put the massive 250W, 1140 Mhz card to good use.
D
cost of this gpu is much much larger than desktop pc
D
Wasn't you, so don't take credit for it.
R
Boom! You just have been EDUCATD!