The O2 user interface
The O2 Cocoon offers a nice user interface up to current mobile standards, so no user with some GSM handset experience should have any problems. The Cocoon interface is actually quite visually appealing.
The home screen displays signal strength and battery status plus the time and date and the currently active call profile. At the bottom of the screen there is a shortcut bar, which of course is customizable.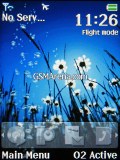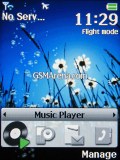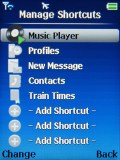 The home screen • shortcut bar is active • customizing the shortcut bar
The O2 Cocoon home screen can also be spiced up with some of the nice animated wallpapers. No skinning or other customization of the interface is available beside that.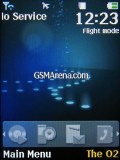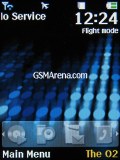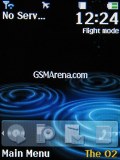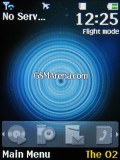 Some of the available animated wallpapers
The Cocoon main menu displays as a 3 x 3 grid of icons, but two alternative styles are also available. Sub-menus however are displayed as lists only.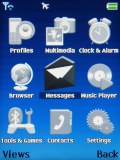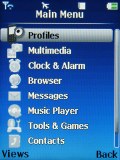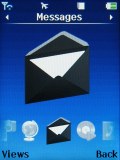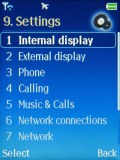 Main menu different views: grid view, list view, large view • sub-menus display as lists only
Call management is excellent
In terms of telephony, the O2 Cocoon was flawless for the time of our testing. We had no problems with reception. As usual for a clamshell, you can opt for automatic answering or ending of a call with the flip.
Video calls are also an option with the 3G-enabled O2 Cocoon. If you don't want the other party to view your live video feed, you can pick a still picture of your choice to be shown instead.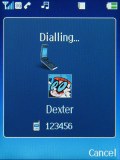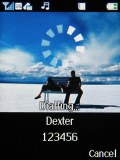 Calling Dexter • making a video call to Dexter
The Cocoon offers several call profiles and they are enough to suit your needs. A Flight mode is also available - it cuts off all your transceivers and allows using the handset as a portable media player and organizer only. Now, the special music-centric Cocoon profile it's also worth noting, which doesn't cut the network connectivity but suppresses all alerts for calls, messages or alarms until you choose otherwise. When you return to normal mode, a summary is displayed of all events that you have missed while the Cocoon profile was active. It's like a "Do not disturb" sign.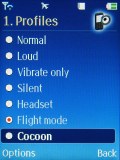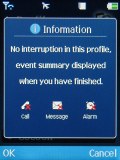 Picking a profile • setting the special Cocoon profile
The Call Log is detailed enough and you can filter calls based on their type: incoming, outgoing, missed or all.
The O2 Cocoon loudspeaker performance seems OK. Bear in mind though that it barely made it in the Good category, meaning that it doesn't really shine. In fact it's highly probable that you miss a call or two in noisy environments. You may have to choose your ringtones carefully. Only the loud ones will do a good enough job. Here is how the O2 Cocoon stacks up against some of the other handsets we've measured in our speakerphone loudness test.
You can find more info about our loudspeaker test, as well as the results of other tested devices here.
| | | | | |
| --- | --- | --- | --- | --- |
| Speakerphone test | Voice, dB | Pink noise/ Music, dB | Ringing phone, dB | Overall score |
| Apple iPhone 1.1.1 | 67.2 | 60.2 | 66.6 | Below Average |
| Nokia 5310 XpressMusic | 64.8 | 62.0 | 75.9 | Average |
| O2 Cocoon | 65.1 | 65.7 | 78.0 | Good |
| Sony Ericsson W980 | 70.2 | 75.7 | 75.7 | Very Good |
| Nokia 6500 classic | 74.7 | 75.7 | 83.8 | Excellent |
Contact list comes with mini photos
The phonebook of the O2 Cocoon can store up to 1000 contacts with multiple fields. Searching employs gradual typing of the contact's name.
About 10 fields of information are available for each contact. You can store up to 5 numbers for each contact, plus an email address, URL and a note. Each contact can also be assigned a specific ringtone and picture. The picture appears as a thumbnail next to the name in the contacts list. The thumbnails are rather discreet and the image pops up once you select a contact.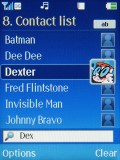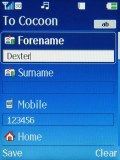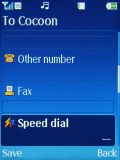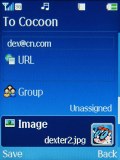 Contact list • editing a contact
Contacts can be organized in groups, but calls cannot be filtered on the base of created groups. Unfortunately there is no birthday field in the contacts' details.
Messaging with rich email settings
O2 Cocoon manages SMS, MMS, and emails. SMS and MMS share one and the same editor. The message is automatically converted to MMS once you attach a file. T9 dictionary is there to assist you; both browsing and adding new words is fast and intuitive.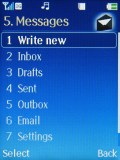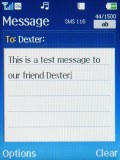 Messaging menu • typing in a message
The email client is nice and has numerous options. It manages POP and IMAP and runs SSL for mail servers that support this security feature. Unfortunately, despite the SSL support, we couldn't get it to sync with Gmail.
The client can be set up to check mail at predefined intervals (user-configurable, of course). Message blocking is available here, based on sender address or subject.