MWC gave us a lot to look forward to, with a new family of HTC devices alongside the first range of smartphones brandishing the Sony name and now these delights are making their way to carriers across the globe.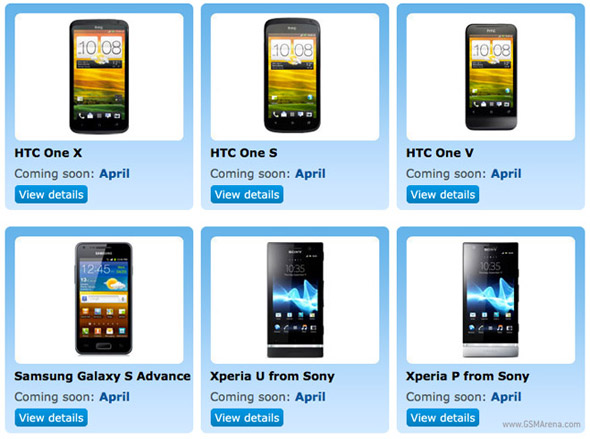 O2 UK recently updated their website's 'Coming Soon' section to include the likes of HTC's One X, S and V, the two new smaller Sony NXT series phones, the Xperia P and the Xperia U, the Samsung Galaxy S Advance and two members of Nokia's Asha family, the 201 and 302.
All of these devices are currently slated for an April launch so consumers don't have long to wait to get their hands on some of the hottest handsets in 2012, but for those of you who simply can't hang on that long, Sony have already unleashed their latest flagship device, the Xperia S, offering a refined Android experience designed to act as the new face of Sony Mobile Communications.
See what we thought of the Xperia S here, when we pitted it against the Samsung Galaxy S II.
We'll keep an eye out on any additions to this lineup but check the source link to see for yourself. Are you planning on picking up any of the devices to have come out of MWC, or are you waiting on the likes of the next iPhone or Samsung's Galaxy S III? Let us know in the comments.
M
OK, let's get this straight. In Nokia parlance "Series" means primarily a development platform and GUI, but does not tell you which OS it runs on. Series 60 (later renamed officially just S60), Series 80 and Series 90 were Symbian based. Se...
?
Series 40 really is Symbian. it's a type of the OS just like Series 60 was or Symbian 3 was. You going to tell me thats not Sybian? S40 is like Windows 7 starter for notebooks. you going to tell me that's not Windows 7 next! S40 is 7 starter and Symb...
ADVERTISEMENTS