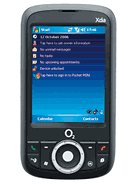 b
This phone is smaller and slimmer than the Qtek s200. However not sure about the weight. Conventional wisdom would say it's less than the Qtek 150 gram. Also what I like to know is what's the MHZ speed. is it 200 MHZ? It needs to be 400 or better since anything less creats jams, lags and mis connections. Also the price would be nice to know.
y
so pretty in all black colour. but don't know how it's work. more better or less or just like that.

Total of 623 user reviews and opinions for O2 XDA Orbit.