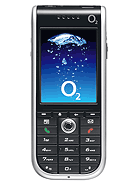 m
windows mobile 5 will run both on pda and phone.. if its a pda then the touchscreen function will work.. but if its a phone, then no touchscreen function available.. for the application, i see many were made for smartphone and also pda. so choose one which suits your device.
e
Is it true that non of the touch screen base program will work since they need more control than just mapping the function to the smart buttons.

got the phone from taiwan, love the form factor. like the improved email program that comes with 5.0, i had a O2 XDAII mini before, and i use it for GPS navigation program...non of the touch screen base map programs work now..very disappointed. Is there a way to solve the problem?

a
very nice executive looking phone. have the latest features in the market today... but NO FM radio and 1.3megapixel cam!!!.. i will pass this up.
V
Only 65K!!!Yes,but look at the rezolution 240x320...Beter than 256k with 208x208... ;)))
R
this phone is on release in the uk, ive just ordered mine. will give feedback next week
m
I think it will be the best windows mobile phone in the market on the end of 2005. O2 Asia confirm to release this model on late Nov, 2005. Hopefully I can get one in Indonesia as well. Great phone to substitute my old Siemens S45.
a
Pretty good phone I guess?? how can you have this phone if it is not release yet!!! i think you hallucinate!!! wake up!!!
m
hi, where did you get your orion? i really want to get one....the only one i found is the Taiwanese Version Dopod 577w...i think that's the manufacturer's version, but it's in chinese! please help!
Total of 32 user reviews and opinions for O2 XDA Orion.