Huawei announced today its next generation chipset - the Kirin 920. It is based on ARM's big.LITTLE architecture and uses four Cortex-A15 and four Cortex-A7 cores capable of working simultaneously.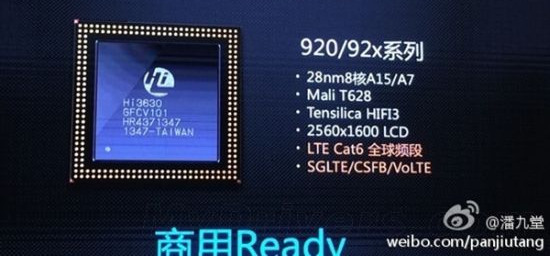 The Cortex-A15 cores can be clocked from 1.7GHz up to 2.0GHz, while the energy-efficient Cortex-A7 ones start at 1.3GHz and can be boosted up to 1.6GHz.
The Kirin 920 relies on the powerful Mali-T628MP4 quad-core graphics. We've seen the same GPU, but with six cores (MP6), to perform in the octa-core models of the Galaxy Note 3 and Galaxy S5.
Another key features of the new chipset are the LTE Category 6 support, Tensilica HIFI3 professional audio processor, 4K video recording and QHD display support.
According to Huawei's presentation the Kirin 920 outperforms the entire current crop of flagship chipsets including Snapdragon 801, Exynos 5420 and MediaTek MT6592. The company even claims its SoC can outdo the upcoming Snapdragon 805, expected to power the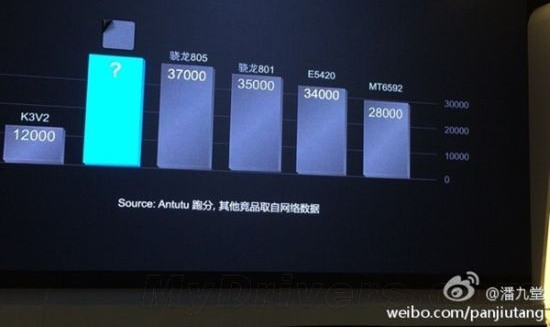 The first device expected to utilize the Kirin 920 is the leaked Huawei codenamed Mulan flagship with a 1080p display, 3GB of RAM and a 13MP snapper with 4K video recording.
Its benchmark scores appeared yesterday, suggesting that there is some truth to the Huawei words. The smartphone outperformed each and every other flagship in AnTuTu, although the margin is hardly so comfortable as to suggest the Snapdragon 805 is also within reach. Then again, the Mulan is still in its beta stages so the score might improve even further.
AnTuTu 4
Higher is better
Huawei Mulan (Kirin 920)
37999
HTC One (M8)
37009
Samsung Galaxy S5
36018
LG G2
35444
Sony Xperia Z2
33182
Samsung Galaxy Note 3
31109
Hopefully things turn out better this time, unlike the highly uninspiring Kirin 910T running inside the Huawei Ascend P7.
?
UHD and QHD are not same
D
8K is in-fact the future, it has also been the standard-format for cinema's for MANY years now ;-) But really the future is not limited to that, there is going to be 16K in the future 32K and so on...
B
Lol no wrong. UHD = 4K = almost 2160 horizontal pixels. QHD = quad HD = 4*HD = 4*720p = 1440 Horizontal pixels. Since 2160 =/= 1440 it's fairly obvious they're completely different.