Very funny, Google. The official site for the October 4 unveiling of the Pixel 2 and Pixel XL 2 has a secret buried in its source code – cookies! For once a web page references actual cookies rather than their digital counterpart.
The photo below is linked from teaser page, though it is not visible on the page itself. Digging through the EXIF data reveals the location – Google Building 43 in Mountain View – but we especially like the camera model and photo comment.
The camera is listed as "Google Not that easy ;)" and the comment reads "Stay tuned on Oct 4". That's a cute way to prevent leaking info. Nothing concrete is left beyond this – the photo is downscaled, there's no aperture listed or anything of the sort.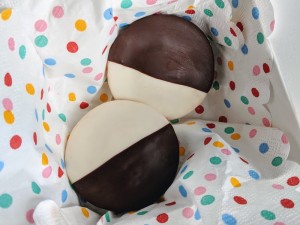 A photo of cookies linked by Google's Pixel 2 teaser page
The cookies are not even Oreos! Instead they seem to be black-and-white cookies. Well, Googlers do have a sweet tooth, the Android naming scheme makes that clear.
g
That's the best comment ever on GSMARENA.
B
For all the sweets, the Green Android guy must have became a diabetic.
D
The dual cookies means dual cameras one with a colour sensor and one with a monochrome one.
ADVERTISEMENTS