After an unprecedented amount of leaks, Stephen Elop took the stage at the Nokia Zoom Reinvented event in New York to proudly announce the Nokia Lumia 1020 - the company's new Windows Phone 8 cameraphone flagship.
The Nokia Lumia 1020's centerpiece is the 41MP autofocus PureView camera with a huge (by smartphone standards) 1/1.5" BSI sensor (slightly smaller than the 1/1.2" imager inside the 808 PureView), 6-lens ZEISS optics and optical image stabilization. It is coupled with LED flash used for video shooting and a proper xenon flash.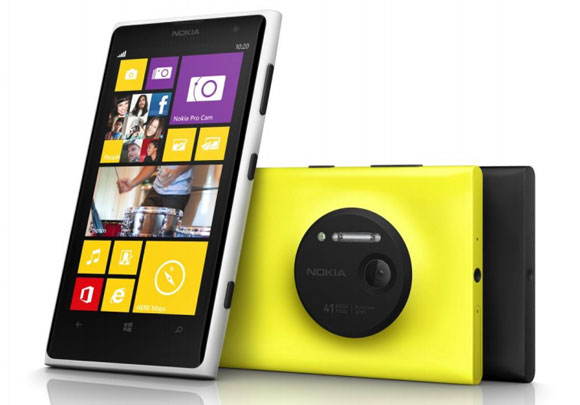 The Lumia 1020's optically stabilized 41MP image sensor that can snap 40MP and 5MP photos at the same time – one straight off the sensor and one after Nokia's Super sampling has been applied. The other 41MP cameraphone - 808 PureView can only shoot one or the other at a time.
To make the best out of this beast of a camera, the Nokia ships the Lumia 1020 with its Pro Camera and Smart Camera camera lens apps. They'll allow advanced users fiddle with the camera settings and get the most out of the impressive shooter - there's even a full manual mode, which is a rarity outside prosumer or pro-grade cameras. At the front, there's a secondary 1.2MP wide-angle camera.




Nokia Lumia 1020 official photos
Nokia Lumia 1020 can capture videos of up to 1080p resolution and thanks to the high-res sensor it features lossless zoom. You can zoom in up to 4 times in 1080p mode and up to 6 times when shooting 720p video without sacrificing much in terms of quality. Sound is recorded in stereo and is guaranteed to be crisp and deep thanks to the two wide dynamic range microphones on board.
The Nokia Lumia 1020 internals don't bring many surprises as the smartphone is powered by the same Snapdragon S4 chipset with a 1.5GHz dual-core Krait CPU as the Nokia Lumia 925. A nice addition is the 2GB of RAM and 32GB internal storage. As usual, Nokia and Microsoft have teamed up and provide 7GB of free SkyDrive storage.





Nokia Lumia 1020 official photos
You'll be able to admire the beautiful photos taken with the 41MP camera on the 4.5" Clear Black AMOLED display of 1280 x 768 pixels resolution. It is protected by the Corning Gorilla Glass 3 and features Nokia's PureMotion HD+ technology for smoother animations. Super Sensitive Touch technology is present, too, allowing you to operate the phone with gloves and nails. Nokia Glance Screen is available thanks to the Windows Phone 8 Amber update.
Local Connectivity is standard and includes Bluetooth 3.0, NFC (featuring SIM-based security), dual-band Wi-Fi 802.11 a/b/g/n and GPS with Glonass support. Network support is quite wide covered with quad-band GSM/GPRS/EDGE, 42Mbps UMTS/HSPA and LTE support.
The Nokia Lumia 1020 is powered by a 2000mAh capacity and supports wireless charging via an accessory cover (purchased separately). The Finns say the phone will be able to last 16 days on standby and provide 13.3 hours of talk time. Video and music playback endurance are rated at 6.8 and 63 hours, respectively.
This impressive camera module is certainly pretty large, but the Lumia 1020 isn't too bulky overall. At 130.4 x 71.4 x 10.4 mm, the smartphone is pretty much the same size as the Lumia 920, except that this time there's a large bump on the back. The Lumia 1020 is also lighter than its predecessor, tipping the scales at 158 grams.
The Nokia Lumia 1020 will be available in yellow, white and black. It will hit AT&T on July 26 for $299.99 with a two-year contract. If you want to be among the first to have it, you can pre-orders your unit starting from July 16.
The Nokia Lumia 1020 is then expected to arrive in China and key European markets before the end of the quarter. Nokia plans to ship an exclusive variant of the device with Telefonica to select European and Latin American markets.
g
I want to buy Nokia Lumia 1020 through ebay but just wondering why they cannot ship this to the Philippines. Hope someone could give me an idea.
b
Nokia when will you release this mobile in India
q
Have a kyocera hydro vn droid.last was a nokia istil have and usehadfor yrs with 5mp camera,must say its a fine smartphone allso.
ADVERTISEMENTS