Apple's new iPhone 6s and iPhone 6s Plus will become available this Friday, on September 25, but that apparently hasn't stopped the company and its carrier partners from sending out pre-ordered units early.
One AT&T customer in the US was happy to receive her rose gold iPhone 6s today. She shared a few pictures of the phone and its box to prove that what she's saying is true, but thankfully she also decided to benchmark the new handset.
As you can see from the images below (click the thumbnails for the full size versions), the Apple A9 chipset in the iPhone 6s is unsurprisingly faster than its predecessors.
The benchmark used was Geekbench, and the iPhone 6s managed to obtain a 2,292 single-core score, and 4,293 for the multi-core run. A subsequent run seems to have turned up 2,413 in the single-core benchmark, which is a lot more than past Apple devices. The closest is the iPad mini with Retina Display, which managed to score 1,384 with its A7 chip.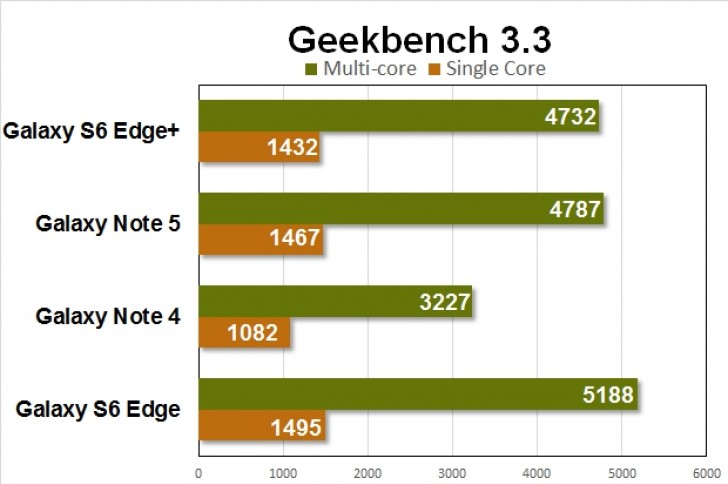 If you're wondering how the iPhone 6s compares to the top dogs in the Android world, have a look at the image above. The short version is this: Apple's product loses out in the multi-core test, but wins in the single-core benchmark. This is somewhat logical, considering that Apple's mobile SoC designs have so far concentrated on using few but highly optimized cores. On the other hand, Android devices generally have more cores to work with.
The Samsung Galaxy S6 edge scores 5,188 in the multi-core run, but only 1,495 in the single-core test, as you can see. Even so, it's the closest to the iPhone 6s when it comes to single-core performance.
D
Nothing like that s6's chip has no overheating issues unless u live in a dessert! Plus android apps are optimized to use all cores at once for a prolonged period of time if necessary (highly demanding apps) ! While lesser power hungery apps take any ...
D
Check the pics in the article there were some developers apps like Riptide and some others. Besides, Android used to lag, I won't deny it, but it doesn't lag anymore, at least not in the phones I use or have used. iOS lags too, I've noticed it many t...
U
Not talking about the system apps. Obviously they can use all cores and yet android will lag while iOS and windows will not. I am talking about developer apps but I digress. No point in talking sense when I myself use Android.
ADVERTISEMENT