The OnePlus 2 is due to arrive to eager fans sometime during the third quarter of this year, according to the company's CEO.
Before the official unveiling happens, though, it seems like a prototype of the device got put through the paces of Geekbench today. If this is indeed the OnePlus 2, then it's the first we've seen of it in benchmarks.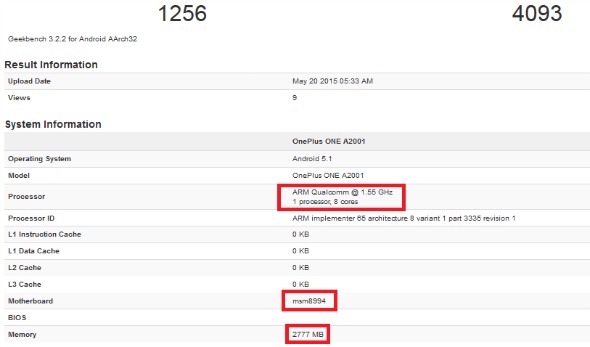 Although Geekbench lists its name as OnePlus One, the model number is different. The actual OnePlus One has the model name A0001, while this one is A2001. Furthermore, the MSM8994 board listed corresponds to Qualcomm's Snapdragon 810 chipset, which has been rumored to be inside the OnePlus 2. The OnePlus One, on the other hand, is powered by the Snapdragon 801 (MSM8974).
The processor inside the Snapdragon 810 definitely goes further than 1.55 GHz, so clearly this benchmark was performed with a cap at that speed. Geekbench correctly lists eight cores for the CPU.
The only other thing we learn about the OnePlus 2 from this is that it will have 3GB of RAM just like its predecessor. That may perhaps be disappointing to people who expected it to take advantage of the fact that the Snapdragon 810 is a 64-bit chipset and boast 4GB of memory.
The OnePlus 2 prototype currently runs Android 5.1 Lollipop. That said, the finished product will almost certainly not ship running Cyanogen OS like its predecessor. In its place we're bound to find OnePlus' own Oxygen OS, also based on Android of course.
The next OnePlus flagship could cost around $400. A more affordable handset is also in the pipeline, and should get a release by the end of this year.
D
i thinks its not OnePlus two, maybe it will be OnePlus One Lite. because RAM 3GB
D
These scores put the phone at par with s6 and only slightly behind s6 edge. All this with a massive underclock?
g
As far as i know, advanced versions of x86 (Pentium 4 and pro) had 36bit memory line, so in theory they were able to access 64 gb memory.4gb Limit was due to OS.
ADVERTISEMENT