OnePlus doesn't want to get off the hype train when it comes to its next smartphone. A few members of the Chinese company's team took to Reddit today for an AMA session, during which a few new details about the OnePlus 2 have been revealed.
First off, the picture you can see below got posted. That's a OnePlus One, obviously. Though underneath it is a OnePlus 2, apparently. So it's clear that the upcoming phone will be smaller than its predecessor.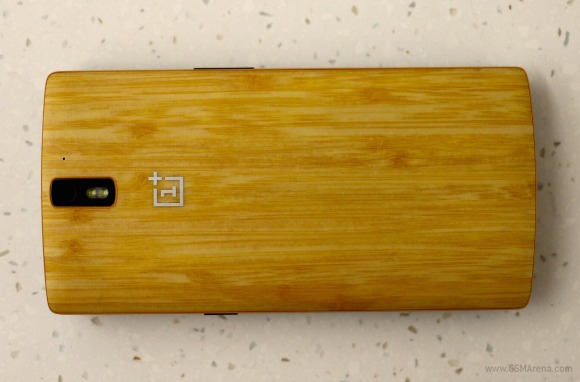 Despite this fact, the OnePlus 2 is confirmed to come with a 3,300 mAh battery, an almost 10% capacity increase over the One's 3,100 mAh cell.
The new handset's camera has been a big priority for the team working on it. On the other hand, the OnePlus 2 will not feature a heart rate sensor. Nor will it have fingerprint recognition built into the touchscreen - instead, an actual separate physical sensor will be used (just like what we've seen in Apple's and Samsung's devices).
To buy the new phone, you'll still need an invite, but the system will be greatly improved according to the OnePlus reps. Also, the company's "early supporters" will be prioritized.
The startup is most proud of the upcoming device's design and build, though it still wouldn't say whether metal was used or not. However, it looks like there will be different StyleSwap back covers for the phone.
There will be three versions of the OnePlus 2 (these may be called A2001, A2003, and A2005 according to past leaks). One will be destined for China only, and the other two will be international models. One of those will be aimed at North America, while the other will be tailored for Europe and Asia. One of the differences between these will be network band support.
The North American model will work on GSM 850, 900, 1800, and 1900MHz, WCDMA bands 1/2/4/5/8, and FDD-LTE bands 1/2/4/5/7/8/12/17. The Europe/Asia iteration will support GSM 850, 900, 1800, and 1900MHz, WCDMA bands 1/2/5/8, and FDD-LTE bands 1/3/5/7/8/20.
As for the much-hyped unveiling event itself, this will take place in virtual reality as we've already told you. New info has emerged about it too. OnePlus will release a special Android app through which you'll be able to see the announcement, both in VR (if you have a headset), as well as without VR. Then, after the event finishes, a recording will be uploaded to YouTube, enabling even people who don't have an Android device to watch it.
Finally, some good news for those who think the OnePlus One is still adequate enough even today, especially as a $249 smartphone: last year's flagship will still be on sale, even after the OnePlus 2 becomes available.
L
I'm underwhelmed by this battery size - 3300 mAh given how many Chinese phones are now coming out with 4000 mAh or larger. Yes, it's bigger than the standard 3000 but could be so much better. Last year's Huawei Mate 7 had 4000 and the forthcoming Opp...
S
Oneplus has a lot 2 worry abt with the upcoming launches of Note5, Iphone 6Splus & Mi5. I'm currently using MotoG(1st gen) & want 2 upgrade to either Mi5/Note4/Note5/Oneplus2 within nxt 2 months. Even LG G3 still is a good option too. It's ...
V
Ok, Do not tell others . Keep it secret .
ADVERTISEMENTS