Yesterday OnePlus revealed the first piece of the puzzle regarding its next device, namely the chipset it will use. Unsurprisingly, the company went with the latest iteration of Qualcomm's Snapdragon 810 for the OnePlus 2. However, it assured us then that thanks to using an improved version of the SoC, along with some heavy cooling material inside the case, the OnePlus 2 will not suffer any overheating issues.
Today OnePlus feels the need to clarify some of that, apparently because some rumors about its chipset choice have made its staff "mad" for whatever reason.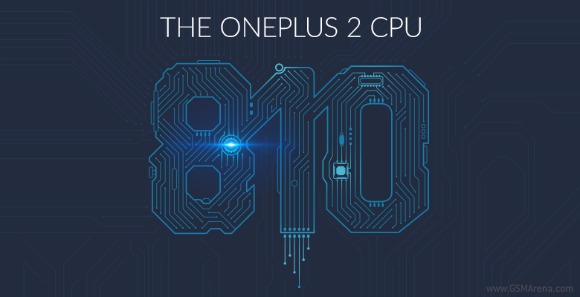 So, it turns out that while the company may indeed be putting thermal gel and graphite on the SoC, one of the main reasons you'll see less heat generated by the S810 in the OnePlus 2 will have to do with underclocking. Namely, the four high performance Cortex-A57 cores will be limited to 1.8 GHz, which is 200 MHz or 10% less than the CPU can handle.
It's still unclear how much thermal throttling we'll see in this Snapdragon 810 v2.1 employed in the OnePlus 2, and thus how much time the Cortex-A57 cores will actually be able to spend running at 1.8 GHz all at the same time, even in intensive tasks. But perhaps an announcement about this is due for tomorrow, since it seems like every day OnePlus has something new to share in this period.
Moving on, a recent rumor said the OnePlus 2 would be priced from $322 in China. Now though the company is clearly stating that "the price of the 2 will certainly be higher than $322". In the best case scenario, that means its starting price (for the lower internal storage version) might be $349. Then again, we could be looking at a minimum level of $399 or even more.
OnePlus explains this with the cost of the aforementioned Snapdragon 810 chipset, which apparently goes for around 60% more than the Snapdragon 801 used in last year's OnePlus One. If this is true, it's a pretty strange move for Qualcomm to charge so much for a part that's more well known right now for its overheating problems than for its actual performance.
p
qualcomm is not naming it SD812 as, if and when the public comes to know if the SOC is just an underclocked 810, it will create immense bad reputation for qualcomm as well as one plus..
?
you are not being forced to buy their product at gunpoint. if you want you will buy it. if getting SD810 makes this device expensive for you, this device certainly is not meant for you then.