OnePlus 3 goes through scratch and bend test, survives to tell the tale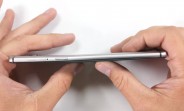 OnePlus 3, currently the hottest flagship on the market, was bound to go through various torture tests. JerryRigEverything seems to be the one to do it first, and the OnePlus 3 survived the encounter.
The famous YouTuber has a routine for testing each device starting with some scratch tests, taking a lighter to the screen, and ending with a bend test. Usually, if the device is of a solid build, it will survive the last trial. But there are those like the Xiaomi Mi 5 which were not built to be bend even the tiniest bit.
Here is the OnePlus 3 torture test.
The screen may have popped outside the chassis, but the device still works and is a survivor.
By the way, JerryRigEverything also found out the OnePlus 3 is quite easy to disassemble and so to repair. You can see it for yourself.
?
HTC and Oneplus 3? durability wise and sound quality go for HTC, Budget and need more RAM space go for one plus.
?
Hey man. You bought a OnePlus 3. Now listen, I am confused. Should I get the HTC 10?
s
I got my OP3 on sunday and today is the 5 th day. I had written a gsmarena review on tuesday. I charged the set 100 % on tuesday 8 am. Now its 4 pm on thursday [ 56 hours] and battery still strong at 15 %-- I am sure it will last till tom...