OnePlus 3 sold out at China's largest online retailer in just 10 minutes
China's largest retailer, JD Mall, has only taken 10 minutes to sell out its OnePlus 3 inventory once it became available for sale just two days after the Chinese phone company officially announced its newest flagship, the OnePlus 3.
JD.com held a flash sale for the One Plus today and while the number of units was not revealed, the retailer sold out of its first batch and has already contacted OnePlus about getting another shipment of devices. There will be another flash sale held on Saturday June 18 at 10PM in China.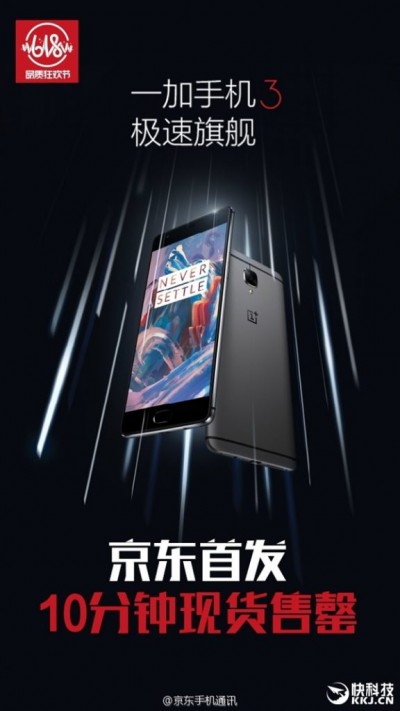 The OnePlus 3 is going for 2,499 Yuan in China, $400 in the US, £309 in the UK or 27,999 INR. It features a full set of flagship worthy features like the latest Snapdragon 820 CPU, 6GB of RAM, a 16MP Sony sensor for the optically and digitally stabilized rear camera, a 3,000mAh battery, fingerprint scanner, 5.5 inch 1080p Optic AMOLED screen, all wrapped in a high-quality aluminum build.
Appreciate the tip, Kelson!
D
$200 is not a 'just' price. I could agree with you on RAM management. Anyway, it is a software management-related so it can be easily fixed on Oneplus 3. But I could not agree with you concerning Sony's superiority in camera. They have it superi...
D
i think it not much because it dose not show how many device sold
?
Asian users have same variant as EU, A3003 Maybe we get those nasty bugs fixed, very soon :D