The inevitable has happened - starting next Monday, July 11, the OnePlus 3 will get a price increase in the UK as a consequence of the free-falling pound, itself a result of Britain's choice to exit the European Union. It's not a substantial increase, £20 to be precise, bumping the number up to £329.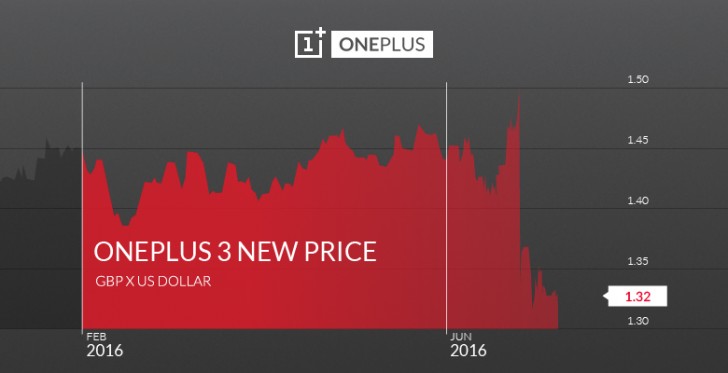 The move was to be expected, after all OnePlus itself informed that the company was contemplating an increase last Wednesday, and it's not like the British currency has regained any of its former strength since.
With the tight margins OnePlus has to be facing by offering a flagship-grade product at upper midrange price, the company's decision seems to make sense. On the other hand, one must ask just how important of a market the UK is to OnePlus, how many handsets it would sell there, and whether the negative publicity of a price increase is worth it. We're sure it was a tough call.
N
found for $559.00. https://bykaush.com/collections/cell-phones-acce­ssories/products/oneplus-3-5-5inch-fhd-android-6­-0-os-4g-lte-qualcomm-snapdragon-820-6gb-64gb-sm­artphone?variant=21488473473
?
Evil...? Please explain this view (without any conspiracies). Too many people have been blaming the successive failings of our governments on the EU. Too many people decided they knew everything about the EU after listening/watching one sided p...
t
A pathetic excuse to raise prices. Sterling has been lower against the Euro on several occasions in the last 5 years and nobody said a word! People really should check their facts before lumping every future bit of bad news on Brexit. It's hardly ...