There is a lot of buzz surrounding the stock shortages of the OnePlus 3 and the rumored incoming announcement of an alleged device called the OnePlus 3T, said to take the place of the OnePlus 3, about halfway into its product life-cycle.
Recently, some images of the purported device have surfaced the internet via Chinese social network, Weibo. There were also some specs that leaked about the device, including a 3,300 mAh battery, Snapdragon 821 CPU, 6GB of RAM, and 128GB of internal storage.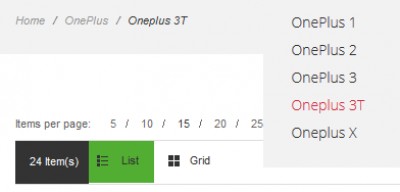 We now have conflicting evidence of the possible price of this smartphone. Previously, we were looking at a price tag of $480, but a new listing that appeared for the OnePlus 3T on Oppomart.com says otherwise with a price of $499.

The item listed is likely a placeholder and not reflective of all the final details; Likewise, the image shown is indeed a OnePlus 3. But the specs listed here are those of the supposed OnePlus 3T, as the title suggests. The placeholder listing also appears as ďcoming soonĒ, thankfully, we won't have to wait much longer. OnePlus is expected to announce this device tomorrow, November 15.
Meanwhile, the OnePlus 3 is completely ďout of stockĒ on the phone makerís website. Otherwise, it looks like Oppomart has some left.
D
Do you even know what 3rd world means? The term "Third World" arose during the Cold War to define countries that remained non-aligned with either NATO, or the Communist Bloc. The United States, Western European nations and their allies represented th...
Y
I won't go there because I live there and that's how I know why Philippines is a 3rd World Country, do your homework before you preach
D
Philippines isn't 3rd world. Go there. It's just like any other southeast asian countries like Vietnam, indo, thai. Then come to india and see the difference.