Camera
The OnePlus 3T and Google Pixel XL come with what looks like the same cameras of their respective predecessors. For the OnePlus 3T that's a 16MP Type 1/2.8" Sony IMX298 sensor with 1.12µm pixels mated to an f/2.0 aperture lens. This 3T features OIS, unlike the Pixel XL. The Pixel XL, on the other hand, packs a larger but lower-res Type 1/2.3" 12.3MP Sony IMX377 (1.55µm pixels), again behind an f/2.0 lens. Ah, also both differ from their respective predecessors - in software and processing.
Anyway, the Pixel XL comes with a barebones camera app that lacks a proper manual mode. It does have Panorama and Photo Sphere modes plus a lens blur mode to simulate shallow depth of field. The separate stills and video viewfinders are greatly appreciated too.
The Oxygen OS camera app on the OnePlus 3T is indisputably more powerful, even if it looks simple on the surface. You get a manual mode to exercise control over parameters like ISO, shutter speed and white balance, and the 3T can also save RAW files. Separate viewfinders on this one too.
We've been raving about the image quality of the Pixel XL ever since the first shots we took with it. Staying away from dual cameras and such, Google focused on software instead and came up with an improved HDR+ Auto mode that is constantly capturing frames once you open the camera app, and when you hit the shutter release it combines the last nine frames resulting in preserved highlights, cleaner shadows and truer colors in low light.
The Pixel's images have a very pleasing look to them with high contrast and vivid colors, with a slightly warm output in HDR+ Auto.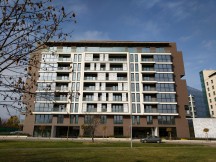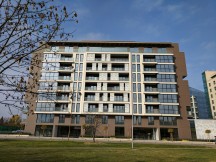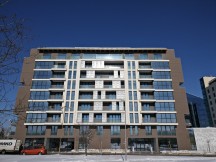 Camera samples: Pixel XL HDR+ off • Pixel XL HDR+ Auto • OnePlus 3T
The OnePlus 3T, on the other hand, has an advantage in detail - more pixels is just more pixels, and in bright daylight their size isn't all that relevant. It's also got a lot more laid back processing than the Pixel, with less saturated colors and a hands-off approach to noise reduction, resulting in visible noise even at base ISO.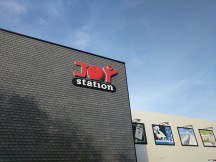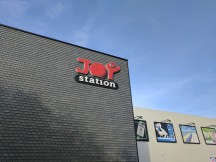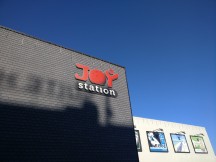 Camera samples: Pixel XL HDR+ off • Pixel XL HDR+ Auto • OnePlus 3T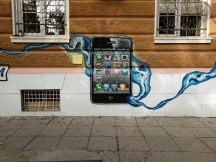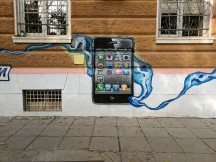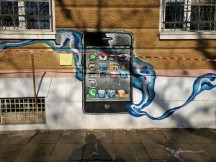 Camera samples: Pixel XL HDR+ off • Pixel XL HDR+ Auto • OnePlus 3T
Feel free to do some pixel peeping yourself in our Photo comparison tool.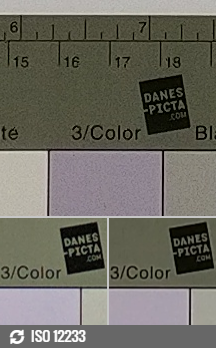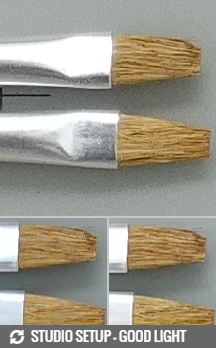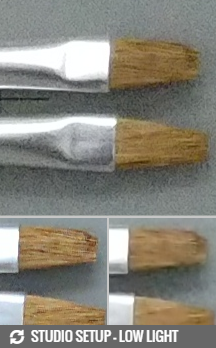 OnePlus 3T vs. Pixel XL HDR+ Auto vs. Pixel XL HDR+ Off
Selfie camera
Half price, twice the number of pixels - that's four times as many pixels per dollar that the OnePlus 3T is offering over the Pixel XL. A 16MP f/2.0 selfie cam sits above the 3T's display, while the Pixel XL is packing an 8MP f/2.4 unit. Naturally, that's only half the story.
Both phones shoot great selfies and the 16MP resolution of the OnePlus 3T is mostly for bragging rights - the Pixel XL's images are very detailed as well. It's a rather philosophical question just how much resolution you need for social media, though we do tend to complain when we see a 5MP front snapper these days.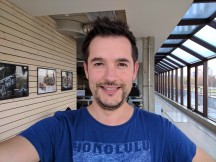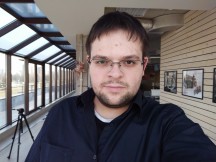 Selfie samples - indoor, good light: Pixel XL • OnePlus 3T
The Pixel XL has a tendency to introduce a reddish cast in its Auto mode, it's more accurate in HDR+ Off. The OnePlus 3T's color rendition is somewhat muted, though skin tones are reproduced faithfully.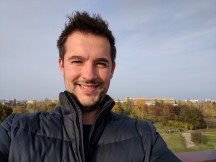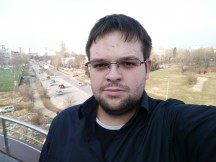 Selfie samples - outdoor, good light: Pixel XL • OnePlus 3T
Video camera
Both smartphones record 4K video, naturally. On the OnePlus 3T the bitrate is an unusually high 55Mbps, while the Pixel XL's 2160p footage only gets 42Mbps.
The Pixel uses its bits wisely and detail levels are comparable in both phones' videos - excellent. Noise is a bit higher on the OnePlus 3T, but only marginally so. Colors, contrast, dynamic range - it's hard to find fault with either device.
In 1080p footage you'd have a hard time picking one over the other as well. Detail levels are comparable, only the narrower FOV of the 3T gives it a slight advantage in distant textures - it just brings them closer.
When you're done with the video samples, head over to our Video compare tool to see how the two phones handle the controlled environment of our studio. We've also thrown in the iPhone 7 Plus for good measure.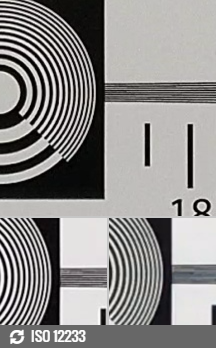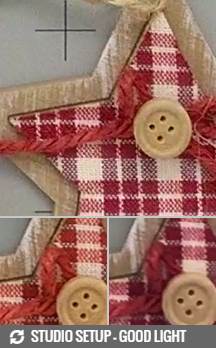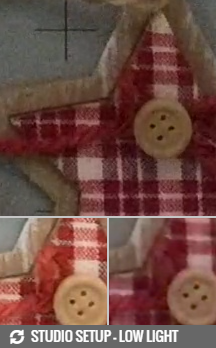 OnePlus 3T vs. Google Pixel XL vs. iPhone 7 Plus (2160p)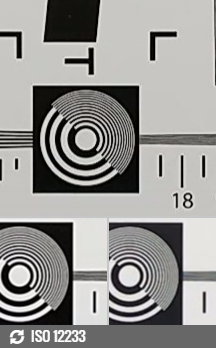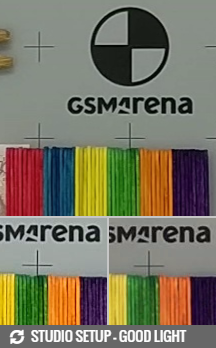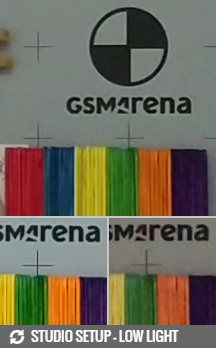 OnePlus 3T vs. Google Pixel XL vs. iPhone 7 Plus (1080p)
Half the price, just as good: That's pretty much the case in the camera department. The OnePlus 3T camera is noisier and not as good in low light but it resolves more detail in good light. And even though the selfie colors are muted, the photos are noticeably higher in resolution. The video output in 4K and 1080p, however, is comparable between the two phones.
Conclusion
A tailor-made match-up to illustrate our 'half-price, just as good' concept, the OnePlus 3T vs. the Google Pixel XL brings few surprises to anyone familiar with the two. The gap is as narrow as it gets and may largely be irrelevant to a wide user demographic. We still managed to find the added value in the Pixel XL, but it's a difference that's not as easy to measure with test equipment.
The 3T can certainly stand up to the Pixel XL in all key areas, and is actually superior in some. It's the more attractive design and has a bit longer battery life and it definitely has an edge in performance. It's not quite on par with the Pixel in the audio department, but the Google phablet isn't exactly a reference in the field. As for cameras, neither phone will disappoint and whatever differences there are, they aren't as significant as to be decisive.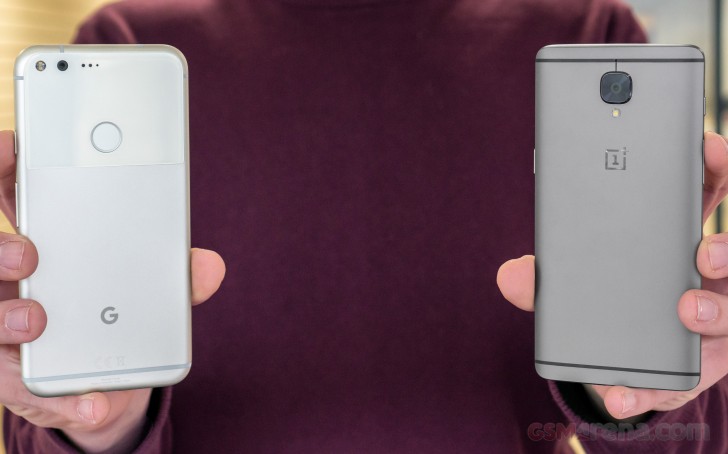 The Pixel XL however has the better display, there's no denying that. The OnePlus 3T may be its equal in all other areas, but not in the resolution. You can't turn a blind eye to that, though, as it's limiting the OnePlus 3T's use for mobile VR, which everyone seems to be into lately. You may not care, and we'd understand (the number of VR headsets we have and don't use will attest to that), but it's where the affordable price introduces a limitation.
Another aspect is software. The Pixel XL is running the newest Android version available and that's going to be true for at least two years on. The OnePlus 3T is so last year with its Marshmallow and no Oxygen OS layer will change that, regardless of how feature-rich it may be. Then, there's also the exclusive Google Assistant on the Pixel XL for when you're too busy to type, and we're pretty sure you can't put a price on unlimited photo and video storage.
We're old enough to know that if something is too good to be true, it probably isn't. It was inevitable that we'd get there, but the question can always be rephrased to 'double the price, twice as good?' So even if the OnePlus 3T isn't quite the full package that the Pixel XL is, for the money the 3T is beyond 'good enough'.