Final words
The most expensive OnePlus phone so far - a statement that doesn't say much in a year when most makers seem keen on hiking prices. The OnePlus 5 is by no means a budget phone, but it's still mighty good value for your money.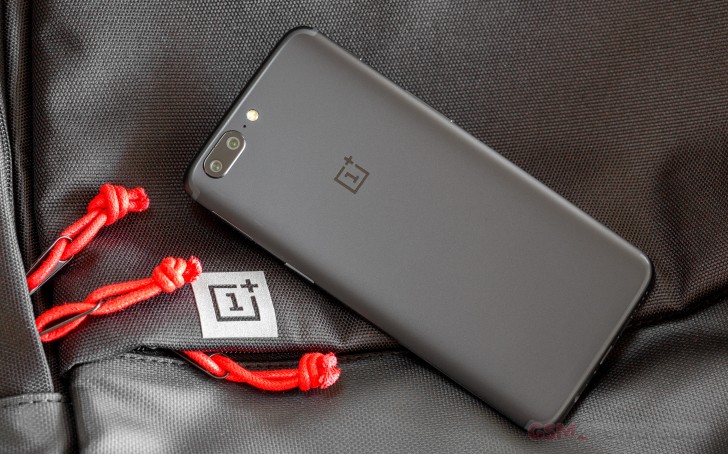 You're getting a dual camera that does a fine job, even though we expected more from the tele shooter. Still, its presence is appreciated, albeit just for the sake of Portrait mode. The primary cam, on the other hand, can be relied upon to take great pictures in a variety of scenarios.
Battery life is a significant improvement over the old model in the vastly more important screen-on tests, while the less-than-exciting results in voice call and standby endurance are more the consequence of chipset design rather than something to blame OnePlus for.
The AMOLED display is okay, but not perfect: it's a diamond pixel FullHD to begin with (so most competitors are sharper), and maximum brightness is capped at 430 nits, give or take, while other AMOLEDs can pump it up higher if the sun is beating right down on them.
OxygenOS has that stock Android vibe many will appreciate, while also offering plenty of ways to make the phone your own. Performance is top-class - there is, after all, the mighty Snapdragon 835 in charge and 8GB of RAM is verging on unreasonable.
OnePlus 5 key test findings
The design leaves no doubt where its inspiration came from, but important (if subtle) differences lead to improved handling when compared to the iPhone 7 Plus. The aluminum body looks and feels worthy of a flagship, for a substantially lower price. The lack of ingress protections is a concern though.
The display is as bright as Samsung's own AMOLEDs in manual mode, though it doesn't get a boost in Auto and that leaves it behind. Sunlight legibility is great, though we've seen other AMOLED panels do better. Color rendition is very accurate in both sRGB and DCI-P3 modes, the default mode is punchier with bluish whites. QHD resolution would have been nice, though.
Battery life is very good: standby and voice call endurance aren't spectacular (as is the case with most S835 phones), but the near 19 hours of video playback certainly are. 11 hours of web browsing over Wi-Fi is also a sound improvement over last year's model and quite competitive.
The user interface is an awesome blend of stock Android and light but useful touches in all the right places. OnePlus has scrapped the in-house Music player, and it's only the Gallery that is a custom job - a good one, too.
Benchmark performance is as good or better than high-end peers, operation is smooth and responsive, as you'd expect from a phone with cutting edge hardware.
Still images from the primary cam are just a little noisy even at base ISO, but are very detailed, with pleasing color rendering and good dynamic range. The tele cam all by itself isn't as good - its photos are even noisier and are also oversaturated. Portrait mode works well enough, and allows for good separation between subject and background, though (as all such implementations) messy hair and busy backgrounds cause issues.
Videos shot in 4K on the main cam are superb - lots of detail, little noise, nice colors. 1080p/30fps mode is the only one that benefits from EIS, and the stabilization is very good at reducing camera shake. It's terrible at panning shots though - those turn out quite jerky. Additionally, 1080p/30fps videos are lacking in detail. 1080p/60fps is better, but there's no EIS in this mode. 4K from the tele cam is very good, 1080p/60fps is dismal while 1080p/30fps is better, but still no match for the iPhone 7 Plus'.
While there's a wide gap between their prices, the design and screen size mean the OnePlus 5 and iPhone 7 Plus are simply meant to be compared. The OP5's display can be as accurate as the iPhone's, and despite lower max brightness, it's doing better under direct sunlight. Battery life is also generally longer on the OnePlus phone, outlasting the iPhone 19 to 8 hours in video playback, though the 7 Plus is superior in web browsing. The iPhone does a better job with its tele cam and the background in its portraits is smoother, plus it carries an IP68 rating. Is the iPhone 7 Plus worth $300 more? Unless you're heavily invested in the Apple ecosystem, the OnePlus 5 is certainly the more sensible purchase.
The LG G6 is the most affordable of this year's big-name flagships, virtually matching the OnePlus 5 at this point. Going the G6 path will get you a sharper (and, um, taller) display, and a very different take on the dual camera concept - LG likes its secondary cam ultra-wide, and so might you. Expandable storage and water and dust protection score points for the G6 too. The OP5 has the portrait mode going for it, and a much higher resolution front camera - 16MP vs LG's 5MP, plus quite a few more hours on a single charge. Oh, and a more powerful Snapdragon 835 chip over the G6's S821.
The Galaxy S7 edge is also last year's hardware, but it can be had for pretty much the same price as the OnePlus 5 in a lot of places. Its dual curved QHD Super AMOLED can go brighter than the OP's more modest flat FullHD panel. A 16MP primary cam with 2x zoom (sort of) and portrait mode vs. no-frills 12MP shooter, OxygenOS vs. Samsung UX , nothing really vs. IP68 rating - you need to have your list of priorities at hand when deciding.
The Mi 6 is Xiaomi's own experiment with a normal+tele dual camera, and its telephoto cam is superior to the OnePlus 5's. Portrait modes are comparable though, and so is the overall image quality from the main imagers - the OP5 has the upper hand in absolute detail, of course. Depending on how you see it, the 5.5-inch AMOLED might be the better choice in terms of size and technology or you could be a fan of the more pocketable 5.15-inch LCD of the Mi 6. Battery life is better on the OP5 for video, but the Mi 6 lasts longer on the web.
The OP5 is doing again what OnePlus does best - deliver cutting-edge hardware at an unbeatable price. It may be the most expensive phone by the company to date, but still good value for money regardless. The OP5 is powerful and capable in plenty of meaningful ways, while clearly more affordable still than the likes of the iPhones and Galaxies.
Screen resolution and water-proofing can and certainly will be used against it, but its competitive edge is still there and quite intact. An acute case of tetraphobia with a moderate form of malophilia could well be on the list of disorders as well. How bad is that? We guess nothing some shopping therapy can't fix. And it looks like OnePlus will be getting plenty of it. Again.