Flagships unfazed
OnePlus 5 vs. iPhone 7 Plus vs. Samsung Galaxy S8: Flagships unfazed
Introduction
1+5 vs. 7 vs. 8 - which is more? In an attempt to determine just that, we're setting the newly arrived contender OnePlus 5 against defending champs, so to speak, like the iPhone 7 Plus and the Samsung Galaxy S8.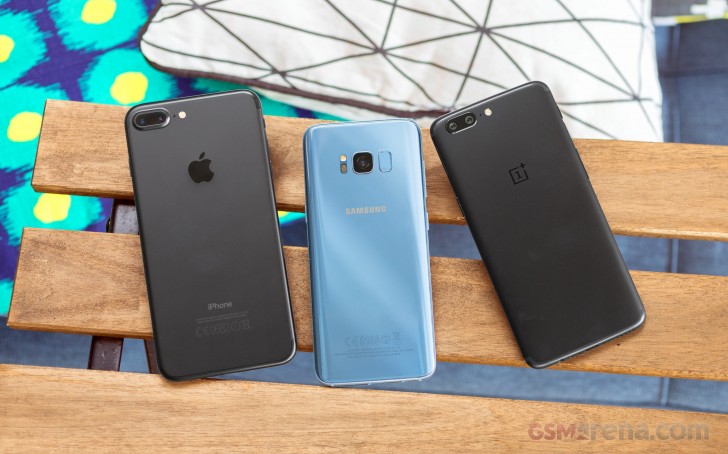 Not a newbie anymore, OnePlus amassed a huge following in just a few years thanks to its ethos of providing the ultimate performance within a reasonable budget. That budget has been stretched a little further with each generation and the latest model's price tag reads more than $500/€500 for the best-equipped version. Still more affordable than the big guns.
The iPhone 7 Plus is aging, now verging on 10 months old, and rumor has it that it may not be replaced on time to meet the yearly schedule. Either way, it was good enough to serve as inspiration for OnePlus when designing the 5, and it is the incumbent Apple flagship, and we all know how OP is keen on doing bad things to them flagships.
Samsung steps in with the Galaxy S8 one camera short of the other two. Bothe the iPhone and the OP 5 have a pair of cams with zoom capability and some portrait mode trickery. The S8, on the other hand, only has a single cam, and a year-old one too - other than processing tweaks it's the same hardware as the S7's. Which is actually not a bad thing.
We've been on and on about the cameras, but this is going to be a full-blown comparison, not the camera-only shootout we've been known to do on occasion. To get prepped for what's to come check out this quick rundown, or head over to our compare tool for the full scoop.
| | OnePlus 5 | Apple iPhone 7 Plus | Samsung Galaxy S8 |
| --- | --- | --- | --- |
| Dimensions | 154.2 x 74.1 x 7.3mm, 153g | 158.2 x 77.9 x 7.3mm, 188g | 148.9 x 68.1 x 8mm, 155g |
| Waterproofing | No | IP67 | IP68 |
| Screen | 5.5" Optic AMOLED 1,080 x 1,920px (401ppi) | 5.5" IPS LCD 1,080 x 1,920px (401ppi) | 5.8" sAMOLED 1,440 x 2,960px (570ppi) |
| Chipset | Snapdragon 835 (10nm) | Apple A10 Fusion (16nm) | Snapdragon 835 (10nm), Exynos 8895 (10nm) |
| Memory | 6/8GB RAM, 64/128GB storage | 3GB RAM, 32/128/256GB storage | 4GB RAM, 64GB storage, microSD |
| Still camera | 16MP+20MP (f/1.7+f/2.6) | 12MP+12MP (f/1.8+f/2.8) | 12MP (f/1.7 DPAF) |
| Video camera | 2160p@30fps, 1080p@60fps | 2160p@30fps, 1080p@60fps | 2160p@30fps, 1080p@60fps |
| Selfie camera | 16MP (f/2.0, AF), 1080p@30fps | 7MP (f/2.2), 1080p@30fps | 8MP (f/1.7, AF), 1440p @ 30fps |
| Loudspeaker | Mono | Stereo | Mono |
| Battery | 3,300mAh | 2,900mAh | 3,000mAh |
| Charging | Dash charge (proprietary) | N/A | Quick Charge 2.0 (wired), Qi/PMA (wireless) |
| Biometrics | Fingerprint | Fingerprint | Iris scanner, fingerprint |
There are a few things to note before getting this show on the road. For instance, only the Galaxy S8 boasts a QHD display (with some on top, but that's not the point), while OP and Apple are content with FullHD. Then the OP5 stands out in terms of protection against the elements - it has none, that is, while the 7 Plus is IP67-rated, and the S8 ups the water resistance a notch, securing an IP68 rating.
Meanwhile, the iPhone 7 Plus has as many speakers as the other two, combined - stereo speakers are still much too rare. The Galaxy S8 is the only one with the option for storage expansion - with the other two you're limited to what you get on day one.
In other words, it's tough to pick one on specs alone, although the OS can already be a decider for some. That's also not entirely the point of this three-way fight - it's more like we're shooting to find out if the OnePlus 5 can still rightfully claim the value-for-money crown it once held on to. We'll be kicking it off with a few words on availability and design.
I
I agree with you bro. Android has more functions than of apple devices. More customizable, awesome UI than apple, cheaper, more accessible system configuration, high end specs(if you have a flagship device) etc..