Flagships unfazed
OnePlus 5 vs. iPhone 7 Plus vs. Samsung Galaxy S8: Flagships unfazed
Display
The OnePlus 5 has kept the same 5.5-inch display as the 3T - not just the same diagonal, resolution and technology, but the exact same panel, as AIDA 64 reports. We would have liked to see the FullHD resolution dropped in favor of QHD, especially given the panel's Diamond pixel arangement.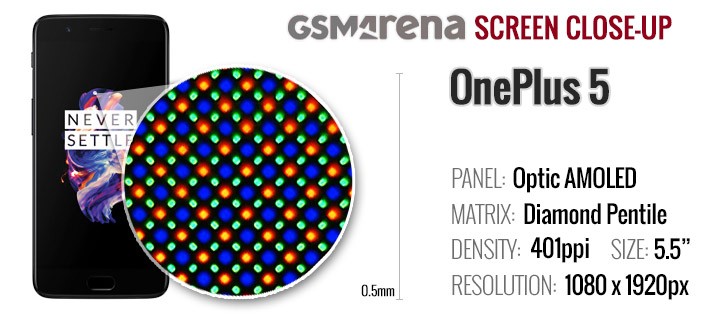 The iPhone 7 Plus's screen is a 5.5-inch FullHD unit itself, only it has an equal number of the three primary color subpixels.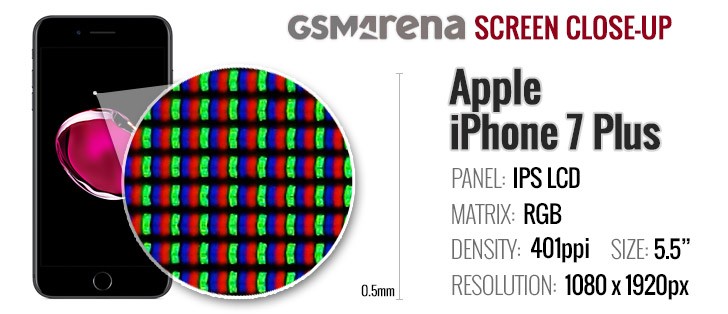 The Galaxy S8 has the highest screen resolution, actually surpassing the QHD's 1,440x2,560px resolution. It is after all, in a stretched up 18.5:9 aspect, allowing it to fit a panel with a 5.8-inch diagonal into the width of 5.2-inch 16:9 one. With all the implications of that, of course - positive (more screen estate, comfortable single-handed use) and negative (pillarboxing, potential scaling issues) alike.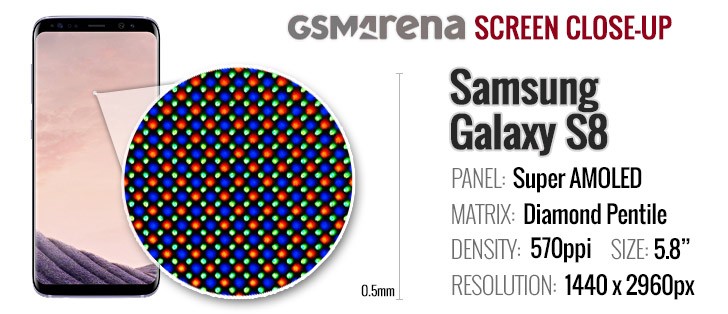 The iPhone 7 Plus wins the maximum brightness contest as it's able to push about 60nits more in Auto mode than the Galaxy S8 can muster. The OnePlus's Auto mode doesn't bring a boost and the OP5 is the dimmest of the three in challenging conditions. The AMOLED can be dialed down all the way to 2nits, while the iPhone's LCD goes as low as 4nits, which is still perfectly okay for night-time scrolling.
The iPhone can't compete with the AMOLEDs for contrast - infinite is more than 1400:1, good as the 7 Plus' reading is.
Display test
100% brightness
Black, cd/m2
White, cd/m2
Contrast ratio
Samsung Galaxy S8
0
440
∞
Samsung Galaxy S8 Max auto
0
618
∞
OnePlus 5
0
435
∞
Apple iPhone 7 Plus
0.41
573
1398
Apple iPhone 7 Plus (max auto)
0.50
681
1362
Out in the sun, it's the Galaxy S8 that snatches an easy win. Being the all-time highest scoring phone in our sunlight legibility test and all. The OP5 is in the middle, suffering a slight dip in contrast compared to the 3T. The iPhone 7 Plus comes in last, though it's posting solid numbers for an LCD.
Sunlight contrast ratio
Samsung Galaxy S8
4.768
Samsung Galaxy S8+
4.658
Samsung Galaxy S6 edge+
4.615
Samsung Galaxy S7 edge
4.439
OnePlus 3
4.424
Samsung Galaxy S7
4.376
HTC One A9
4.274
Samsung Galaxy Note7
4.247
Samsung Galaxy A3
4.241
OnePlus 3T
4.232
Google Pixel XL
4.164
ZTE Axon 7
4.154
Samsung Galaxy A7 (2017)
4.124
Samsung Galaxy S6 edge
4.124
Samsung Galaxy Note5
4.09
Huawei Nexus 6P
4.019
Vivo Xplay5 Elite
3.983
OnePlus X
3.983
Oppo R7s
3.964
Apple iPhone 7
3.964
Huawei P9 Plus
3.956
Meizu Pro 6 Plus
3.935
Lenovo Moto Z
3.931
Samsung Galaxy A7 (2016)
3.918
OnePlus 5
3.914
Samsung Galaxy C5
3.911
Samsung Galaxy C7
3.896
Samsung Galaxy A5
3.895
Samsung Galaxy J7 outdoor
3.879
Samsung Galaxy J2 outdoor
3.873
Samsung Galaxy A8
3.859
Sony Xperia XZs
3.818
Samsung Galaxy A9 (2016)
3.817
Motorola Moto X (2014)
3.816
Samsung Galaxy A5 (2017)
3.804
Samsung Galaxy J7 (2016) outdoor mode
3.802
Xiaomi Redmi Pro
3.798
LG V20 Max auto
3.798
Sony Xperia XZ
3.795
Samsung Galaxy A5 (2016)
3.789
Apple iPhone 6s
3.783
Meizu Pro 5
3.781
Microsoft Lumia 650
3.772
Xiaomi Mi 6
3.767
Samsung Galaxy J7 (2016)
3.756
Oppo F1 Plus
3.709
Vivo X5Pro
3.706
Samsung Galaxy A3 (2017)
3.688
Apple iPhone SE
3.681
Huawei Mate 9
3.68
Samsung Galaxy A7
3.679
Meizu PRO 6
3.659
BlackBerry Priv
3.645
Sony Xperia XA1 Ultra
3.597
Apple iPhone 7 Plus
3.588
LG G6
3.556
Apple iPhone 6s Plus
3.53
Motorola Moto Z Play
3.526
Samsung Galaxy J3 (2016) outdoor mode
3.523
Samsung Galaxy J3 (2016)
3.523
Acer Jade Primo
3.521
Microsoft Lumia 950
3.512
Oppo R7 Plus
3.499
nubia Z11
3.466
Huawei P10 Plus
3.456
HTC U Ultra
3.453
Samsung Galaxy J7
3.422
Meizu MX5
3.416
LG V20
3.402
Huawei P10
3.379
Oppo R9s
3.352
Honor 8 Pro
3.341
Oppo R7
3.32
Lenovo P2
3.316
Xiaomi Mi 5s
3.276
Nokia 6 (Chinese version)
3.244
Samsung Galaxy J2
3.235
Sony Xperia X Performance
3.234
Xiaomi Mi Note 2
3.228
Motorola Moto X Play
3.222
Oppo F3 Plus
3.218
Huawei Mate 9 Pro
3.206
Huawei P9
3.195
Lenovo Vibe Shot
3.113
Motorola Moto X Force
3.105
LG Nexus 5X
3.092
HTC U11
3.089
Huawei Mate S
3.073
Microsoft Lumia 640 XL
3.065
Sony Xperia XA1
3.012
Sony Xperia X
2.989
Huawei P10 Lite
2.974
Samsung Galaxy Note
2.97
Huawei Mate 8
2.949
Xiaomi Redmi 3S
2.913
Sony Xperia XA Ultra
2.906
LG G5
2.905
HTC One S
2.901
Xiaomi Redmi 3s Prime
2.893
Xiaomi Mi 5s Plus
2.884
Sony Xperia XZ Premium (sRGB)
2.877
Sony Xperia XZ Premium
2.877
Sony Xperia Z5
2.876
Microsoft Lumia 550
2.851
Lenovo Moto M
2.813
Xiaomi Redmi 3 Pro
2.803
Sony Xperia Z5 compact
2.784
Meizu MX6
2.751
LG V10
2.744
Xiaomi Redmi 3
2.735
Xiaomi Redmi Note 4 (S625)
2.714
Meizu M5
2.71
Sony Xperia M5
2.69
Xiaomi Redmi 4 Prime
2.679
Huawei P9 Lite
2.679
Vivo V3Max
2.659
Xiaomi Mi Mix
2.658
Xiaomi Mi 4i
2.641
Xiaomi Redmi 4a
2.635
Sony Xperia XA
2.609
Motorola Moto G4 Plus (max auto)
2.582
Motorola Moto G4 Plus
2.582
Meizu M5s
2.58
Xiaomi Mi 4c
2.574
LeEco Le Max 2
2.567
Asus Zenfone 3 ZE552KL
2.563
Microsoft Lumia 640
2.563
Lenovo K6 Note
2.544
Lenovo Moto G4
2.544
Oppo F1
2.528
Sony Xperia Z5 Premium
2.525
Huawei Honor 7 Lite / Honor 5c
2.506
Sony Xperia M4 Aqua
2.503
Oppo F1s
2.481
Motorola Moto G
2.477
Lenovo Vibe K5 Plus
2.473
Huawei G8
2.471
Huawei nova
2.467
Sony Xperia Z
2.462
Lenovo Vibe K5
2.459
Meizu m3 max
2.447
HTC 10 evo
2.407
Huawei Honor 7
2.406
Sony Xperia E5
2.386
ZUK Z1 by Lenovo
2.382
Samsung Galaxy J5 (2016)
2.378
HTC 10
2.378
Oppo F3
2.376
vivo V5 Plus
2.371
Meizu m1 note
2.362
Huawei nova plus
2.329
HTC One E9+
2.305
Alcatel One Touch Hero
2.272
Lenovo Vibe K4 Note
2.254
Sony Xperia C5 Ultra
2.253
Xiaomi Redmi Note 3 (MediaTek)
2.249
Sony Xperia C4 Dual
2.235
Xiaomi Mi Note
2.234
Motorola Moto G (2014)
2.233
Huawei P8
2.196
Meizu M5 Note
2.189
Huawei Honor 6
2.169
Xiaomi Redmi Note 2
2.166
OnePlus Two
2.165
HTC One X
2.158
Xiaomi Redmi Note 4 (X20)
2.145
LG Aka
2.145
Archos 50 Diamond
2.134
Xiaomi Redmi Note
2.119
Xiaomi Mi 4S
2.095
Acer Liquid X2
2.084
Huawei P8lite
2.078
vivo V5
2.059
Moto G 3rd gen max manual
2.026
Xiaomi Mi Max
1.996
Sony Xperia E4g
1.972
OnePlus One
1.961
Meizu m3 note
1.923
Meizu m2 note
1.892
BlackBerry Leap
1.892
ZTE Nubia Z9 mini
1.759
Sony Xperia U
1.758
Asus Zenfone Selfie
1.68
Motorola Moto E (2nd Gen)
1.675
ZTE Nubia Z9
1.659
Jolla Jolla
1.605
Motorola Moto E
1.545
Sony Xperia M
1.473
Sony Xperia L
1.351
HTC Desire C
1.3
Meizu MX
1.221
Sony Xperia E
1.215
Color accuracy is spectacular on all three phones. That is, the iPhone's display is super accurate out of the box, while the Galaxy S8 and OnePlus 5 need to have the relevant display modes enabled in settings, but the end result is practically the same. All three are able to reproduce the sRGB and DCI-P3 color spaces with an average DeltaE of less than 2.
The Galaxy S8 supports HDR10 video for which you need to head over to Amazon video. The other two don't offer the feature.
Display winner: Samsung Galaxy S8. The highest-resolution display of the S8 is also the most contrasty in the sun, and max brightness is excellent as well. HDR10 support is a nice bonus too.
Connectivity
None of these has an FM radio receiver - just getting this out of the way.
The OnePlus 5 and the Galaxy S8 come with the same Snapdragon 835 chipset, though an Exynos 8895 version of Samsung's top dog also exists (with marginal difference in connectivity features). That said, the OP5 has its LTE limited to Cat.13/12 for a theoretical maximum download speed of 600Mbps and 150Mbps upload. Meanwhile, the S8 supports Gigabit LTE. The iPhone 7 Plus' download speed is capped at 450Mpbs, or Cat. 9.
The OnePlus 5 is a dual SIM device by default, while the S8 comes in both single SIM and dual SIM versions, but some markets may only get one of these versions. The iPhone 7 Plus only exists as a single SIM device.
All three phones support dual-band Wi-Fi - b/g/n in the 2.4GHz spectrum and a/n/ac over 5GHz. Bluetooth is superior on the S8 and OP5 - v.5 comes with improved range and speed over the iPhone's v4.2. NFC is available on all three of them, though Apple only enables it for Apple Pay, while on Android you can read NFC tags and set up other connection triggers.
The Galaxy S8 supports positioning on all mainstream systems - GPS, GLONASS, BeiDou, and Galileo. The OP5 skips the European Galileo, while the iPhone only does GPS and GLONASS.
Wired connectivity sets the three apart too. The iPhone uses the proprietary Lightning connector, which supports USB 2.0 speeds. That's not all that's limited on the iPhone though. USB Host support only lets you attach some certified accessories or access your digital camera storage via proprietary adapters that are separately sold. You can pair a Bluetooth keyboard to the phone should you need this sort of peripheral. In the absence of a 3.5mm jack, Apple bundles a Lightning-to-3.5mm adapter. Woo-hoo.
The OP5's USB-C port is capped at USB 2.0's 480Mbps, too. Not all USB-Cs are created equal, however, and the S8 adheres to USB 3.1 for transfers for transfer speeds of up to 5Gbps. The S8's USB-C can also output video at 4K/60fps with the right type of cable. It can additionally turn into a desktop computer via the DeX docking station, complete with a monitor, keyboard, and mouse.
Connectivity winner: Samsung Galaxy S8. The S8 has the widest range of connectivity features, simple as that.
Battery life
The OnePlus 5 packs the highest capacity battery of these three, a 3,300mAh unit that's still marginally smaller than the one in the preceding model. The Galaxy S8 relies on a 3,000mAh cell, while the iPhone 7 Plus is fitted with a 2,900mAh power pack.
The three phones have pretty much the same area to light up - the Galaxy's 5.8-inch display is only 2% larger in screen real estate theoretically, but with the rounded corners it may actually end up being smaller. Then there's the matter of LCD vs. AMOLED, and that's before we get to iOS vs. Android. From a user's perspective, that's hardly relevant, though - let's look at the battery life numbers.
The iPhone 7 Plus trails in overall endurance but has one important advantage - its thirteen and a half hours of web browsing over Wi-Fi will have you scrolling two and a half hours longer than on the OP5, and three and a half more than on the S8.
It's a completely different story in video playback, where the AMOLEDs have a clear advantage. To the tune of almost 19 hours vs. barely 8 in the case of OnePlus 5 vs. Apple. The Galaxy S8 can't quite match the OP5 in this area, but it still outlasts the iPhone 7 Plus by a whopping 6 and a half hours.
The Galaxy S8 is the most efficient in 3G voice calls - arguably the least important of these three tests but still - it's one win each. It should be noted that we've tested the Exynos version of the S8, and Snapdragon 835 phones have proven less frugal in terms of standby and voice call longevity.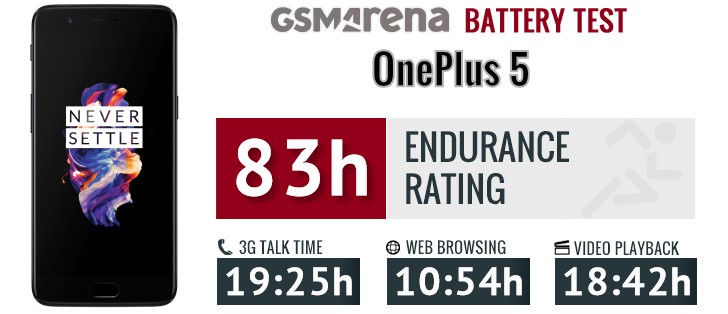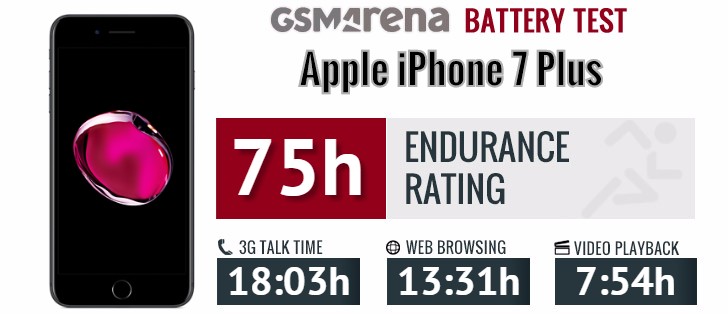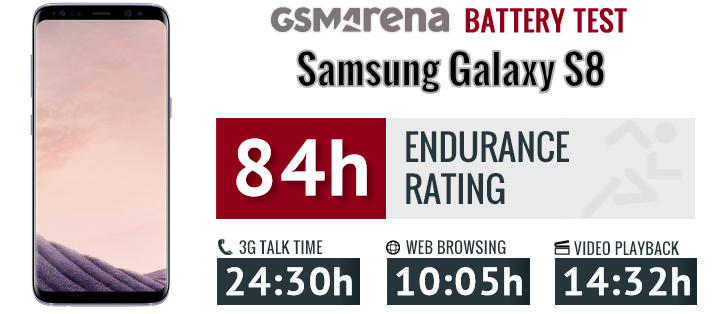 The OnePlus 5 charges super fast with its proprietary Dash charge tech, but you need to have the charger and cable on you for it to work. Apple supplies a downright inadequate 5V/1A with the 7 Plus that takes more than 4 to top up. The Galaxy S8 supports QuickCharge 2.0 (not 3.0, and not 4.0), but that makes it compatible with most chargers. On top of that it also supports wireless charging unlike the other two.
Battery life winner: Tie. iPhone 7 Plus snatches the victory in web browsing, which some believe to be the most important metric, but loses in the other two tests. The OnePlus 5 is the undisputed champ in video playback endurance, while the S8 rules in voice calls and edges the OP5 in overall rating. Wireless charging is another one in S8's favor, and that could make it the winner for you.