Maybe you've heard that the OnePlus 5 got official a couple of days ago? Just in case our review or the controversies surrounding its cameras, benchmark cheating, and using the same screen as its predecessor haven't quenched your thirst for OnePlus 5-related news, we've got you covered.
The handset has undergone a comprehensive teardown over at MyFixGuide. The entire thing (complete with dozens of images) can be found at the Source linked below, but here's the gist of it.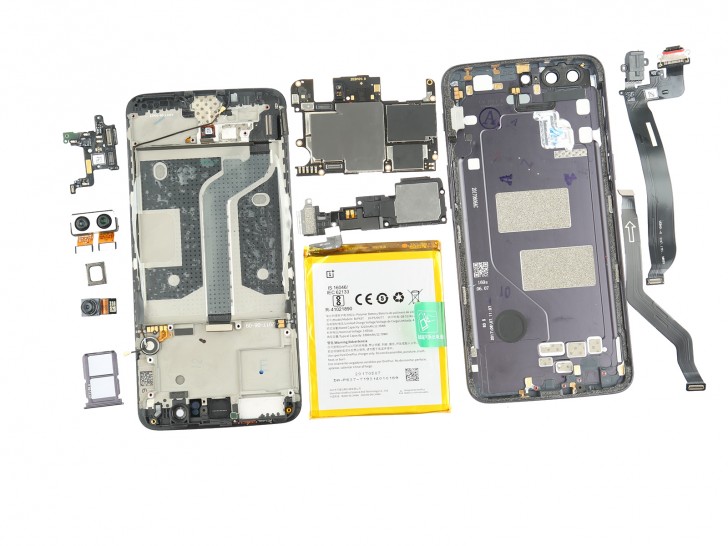 The OnePlus 5 was found to feature a solid build overall, but it apparently does have some weak spots. While its "strict sealing design" and the "thickening process" employed on the back corners are reminiscent of tactics applied by such companies as Apple, Samsung, Oppo, and vivo, some connectors inside the OnePlus 5 aren't fixed with metal plates which means they could get loose. This is especially true for the camera connector.
Hopefully you won't be in a situation where that fails. The "systematically sealing design" of the OnePlus 5 hides a Li-polymer battery made by ATL, a 16 MP Sony IMX371 f/2.0 front camera, and a dual rear setup made up of a 16 MP f/1.7 Sony IMX398 and a 20 MP f/2.6 Sony IMX350.
D
the oneplus 5 is what the 3t should have been. the only thing that stands out is the 835 chip which is overkill or 95% of people anyway... the lack of innovation no longer makes it a "flagship killer" but a really expensive midrange option.
S
Sony actually does grate job in both big pixel and small pixel sensors but there is more to a camera than its sensor and software. a really big aspect of a camera is its lens. actually how sharp and detailed a sensor give a view of a scene to do pro...
D
again no red battery :(
ADVERTISEMENTS