OnePlus 5 update rolling out with fix for rebooting when calling 911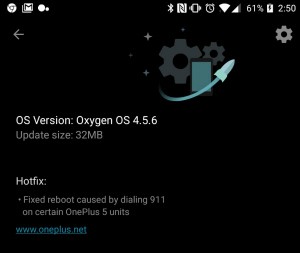 Around two days ago multiple reports started coming out saying that some OnePlus 5 units instantly rebooted when you tried to dial 911. That's obviously a huge issue, and the fact that many people seemed to encounter it only made things worse for the Chinese company. Yesterday OnePlus reached out with an official statement, saying it has tested a software update that resolved the issue, and that this would roll out to all devices in a short while.
Well, that's what's happening now. As you can see from the screenshot, if you own a OnePlus 5 you'll soon be offered an update to OxygenOS 4.5.6. The new incremental version of the software is meant to do one thing only: apply a hotfix that resolves the aforementioned issue. So hopefully after this all OnePlus 5 owners will be able to dial emergency services when in need.
The update arrives over-the-air as a mere 32MB download, so you don't have to wait to be on Wi-Fi in order to grab it. We would obviously advise you to install it as soon as possible, to avoid dangerous situations in which you find yourself having to call 911 but can't.
Thanks for the tip, Wasim!
D
Due to the defect, I will never purchase a OnePlus product.