The OnePlus 5 will be announced on June 20 globally, we found out yesterday. That event will be followed by local introductions in China on June 21 and India on June 22. While the date of the unveiling for India got out earlier today, we now also know when you should expect to be able to buy a unit in the subcontinent.
It turns out that the OnePlus 5 will go on sale on the same day - June 22, that is. The announcement is at 2 PM and sales will start at 4:30 PM. This information comes from Amazon India, which will be the exclusive retail partner for the handset over there.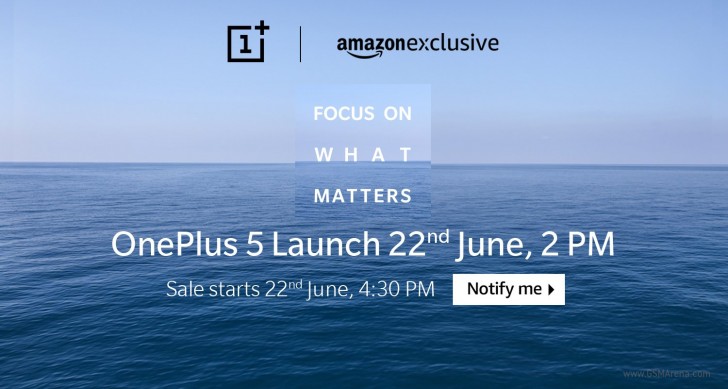 The company already has a teaser landing page up for the OnePlus 5 (which looks like the image you can see above), and digging through its source code results in some very interesting information being outed. Namely, that the phone will come with 8GB of RAM, to go with the Snapdragon 835 chipset that's been revealed by the Chinese company's CEO to be in. Many rumors have mentioned this memory capacity, and now it's sort of confirmed - though not officially, yet. That said, expect there to be a cheaper 6GB model offered as well.
The OnePlus 5 will look a lot like the iPhone 7 Plus, at least on its back. It's expected to have a front-mounted fingerprint scanner, and its overall footprint should be smaller than that of its predecessor, the OnePlus 3T.
g
i m very very curious purchase for one plus 5 its amazing mobile
?
The opposite is true. It decreases CPU load as recalling from memory requires less CPU than loading from storage to memory. So it's better for battery, better for speed. With Android O Google would limit a lot of the background processes that ru...
S
Ram caching will always help performance, but why do you want all your apps to be loaded at once? On a PC it makes sense, but on a phone surely that just increases cpu load and drains the battery?