The OnePlus 5T is a hardware improvement based on community feedback along with OnePlus' own sense of what makes a flagship awesome. We already saw that the company cares a lot about things like the 3.5mm jack and super fast charging. Now we get to see what else the team has changed and as they point out, these are not things that can be done in software. Sorry, OnePlus 5 owners.
The most visible change is the 6" Optic AMOLED display with 18:9 aspect ratio and 2160 x 1080 pixel resolution. The taller screen gobbles up the bezels, making for a more modern look – and more room for apps. The ceramic fingerprint reader has been relocated to the back.
You also get a new Face unlock feature that triggers in under 0.4 seconds (the fingerprint reader needs half as long). It uses 100 facial features and works in the dark too.
The dual camera has been redesigned – the zoom lens was dropped in favor of improved low-light performance and portrait mode. Both cameras have the same field of view, but the second cam has a new 20MP sensor and it matches the main cam with a bright f/1.7 aperture.
The same FoV allows the software to run Portrait mode without the need for cropping. And in the dark (under 10 lux), the OnePlus 5T will switch over to the second camera and use the Intelligent Pixel tech – combining 4 pixels into one to reduce noise.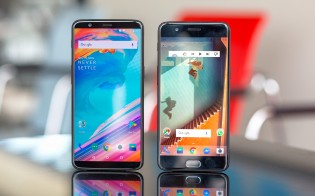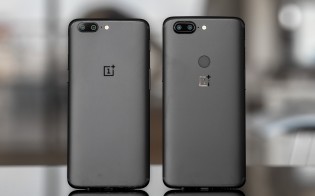 OnePlus 5T and the OnePlus 5 chilling together
The 5T is fractionally taller than the 5 to accommodate the screen. It has the same battery capacity – 3,300mAh – along with the fast Dash Charge.
The phone is powered by the popular Snapdragon 835 chipset coupled with generous amounts of memory. The base option has 6GB RAM and 64GB storage but you can upgrade to 8GB and 128GB. The storage is dual-lane UFS 2.1 for increased read/write performance.
We've detailed the pricing and initial market availability over here but the summary is this: same price except the US where it's $20 more.
Precisely. (I myself don't really mind these pillars.I got a massive screen for a pocketable size. which is my wish~!)