Sales of the OnePlus 5T began yesterday and in just 6 hours it broke the company's launch day sales record. It's safe to say that the $500 / €500 flagship was well-received.
Record-breaking launch day sales - in just 6 hours, the #OnePlus5T has become our fastest selling device. Order now. https://t.co/vErBcGRqXX pic.twitter.com/0DvxL1dqUA

— OnePlus (@oneplus) November 22, 2017
The 5T 64GB model ships immediately in most regions, the 128GB model will take a few days. This is not the case in North America – both the US and Canadian shops report 8 days shipping delay for both versions.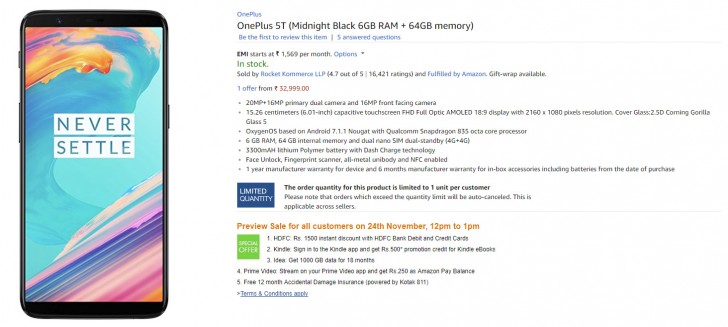 The OnePlus 5T 64GB seems to be a hot seller in India where the company even limited orders to 1 per customer.
V
Kindly get the budget lower don't compare your price with samsung and htc by overexaggerating the features that is as same as any other brand. Hope onplus 6 to be cheaper with all your phones
D
iPhone, HTC U11 , Note 8 and all those phones cost just about the same to manufacture as OnePlus. The extra retail price is just for milking idiots in the name of brand with the perception that higher cost means better product. Samsung literally use...
?
I wouldn't spend over $200 for a chinese phone