Today, a photo of the OnePlus 6 was posted on Twitter in two color options with the company's founder and CEO, Pete Lau. Indian actor, Amitabh Bachchan posted the photo of himself holding a black one and Lau is holding a white model, which looks great, by the way.
T 2798 - Always a pleasure meeting @petelau2007. Looking forward to attending the #OnePlus6 launch event on May 17 🤩

Launch Invites go live tomorrow on https://t.co/4u02gpStYB at 10am sharp! Head to @OnePlus_IN for real time updates on the launch and the invites! pic.twitter.com/QC2LnsNyRf

— Amitabh Bachchan (@SrBachchan) May 7, 2018
The tweet is still up and we're not sure if it was intentional or if Bachchan didn't realize he was leaking the phone. But now that we have this image, let's take a closer look at those two handsets in the photo.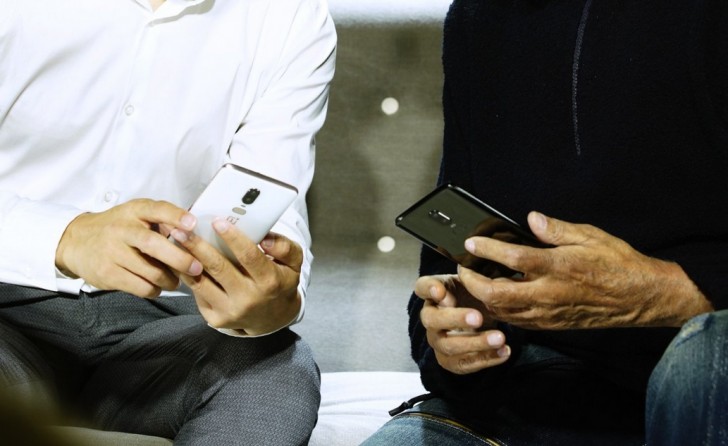 Source: Twitter
The black model is clearly made of glass on the back as we can tell by the reflections in it. However, the white one remains a mystery: will OnePlus offer a Sandstone white model like the OnePlus 5T? We're not sure. We secretly hope that OnePlus doesn't go all in with the glass sandwich design and offers a Sandstone White model with a more durable material on the back.
Colors aside, this is the same model that we've been seeing in leaks - the dual camera and fingerprint scanner placement are spot-on. It also looks like the rear cover will taper over the edges like the Galaxy S9 and many other smartphones with glass on the back.
The hype is real with the OnePlus 6 right now, even though the event isn't for more than another week. On a related note, the above tweet also contains a link for where those of you in India can grab invitations to attend the OnePlus 6 launch event on May 17.
S
You said it yourself, not as snappy as a Pixel 2... I had Sony phones before the S7 Edge and S8, and they were a lot less laggy, even though they had older hardware, I know how to take care of my phones... I'm never buying a Samsung ever again, a...
D
Agree and FYI the camera on XZ2 still isn't close to the Pixel 2, S9, iPhone X and other flagships tho.. And now that they have removed the hpj too, seems like a bad idea to buy one now.
D
I can patially agree with S7 Edge(depends on the usage), wholly agree with anyone saying the S6 lags. But S8 don't lag. Its not as snappy as a Pixel 2 but nope, don't lag at all unless you don't properly take care of the phone.