OnePlus has strong opinions about what its users want – and it's not wireless charging and not an Always On Display either. The feature was available on pre-release units, but was disabled with the very first update. Apparently, the battery life trade-off was deemed too great.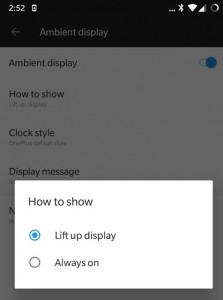 The now-removed Always On Display option
Here's a (now deleted) response from OnePlus:
We have an official update from our Technical Team confirming that always on display on OnePlus 6 was removed due to battery saving concern.

We hope that this clarifies your concern. Let us know if there's anything else.

Regards,OnePlus Customer Support
Now, we're not saying that OnePlus is wrong – many just don't care for Always On. Still, with its motto of "Never Settle", you'd think that OnePlus will still leave it as an option, even if it is with a bright warning label saying that the battery life will take a hit.
Thanks to Aparajita for sending this in!
?
its a very good feature, love it on my s8 not have to turn on the screen having a small display that always shows battery todays date etc is hard to say no, and the battery drain is not a big deal OP are just amateurs who couldnt get it right, let th...
L
One plus would bring it back once apple releases the revolutionary always on display
y
....should have removed bloody notch instead!