Performance
The OnePlus 6T finds itself in a rather weird place as far as internals go. It is based around the still current Snapdragon 845 flagship, but the chip came out fairly early this year. On the one hand, that potentially places it pretty late in its deprecation cycle. Well, not literally, of course, since a flagship chipset remains relevant for at least a few years. But, you still get our point.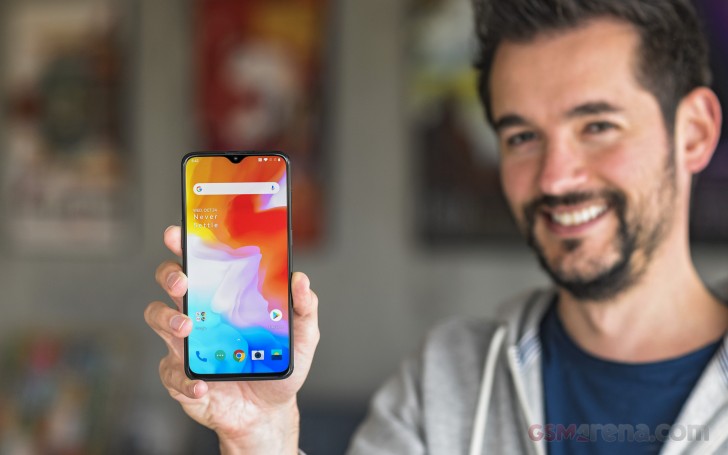 On the other hand, and this is the weirder part, the original OnePlus 6 is also based on the same 10nm, Snapdragon 845 silicon. RAM tiers are pretty much unchanged as well, set at 6GB for the entry-level and 8GB for the upper tier. Storage has seen some changes, namely that the base storage variant is now 128GB, not 64GB. Now, the official specs do mention some storage specifics, namely that the UFS 2.1 chips use 2 lanes. What that boils down to is potentially quicker storage speeds, which could affect performance to some degree. We ran a quick benchmark to see just how much of a variance we are looking at, and while the OnePlus 6T has consistently quicker speeds, the difference is not really significant.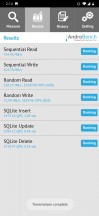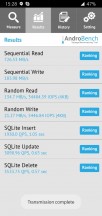 Storage speed: OnePlus 6T • OnePlus 6
Other than that, we expect the 8GB, 128GB OnePlus 6T review unit to perform practically identical to our 6GB, 128GB OnePlus 6 in synthetic benchmarks. Both also run OnePlus' signature near-stock build of Android Pie. So, any variance should come from extra RAM alone. And the numbers line up perfectly.
GeekBench 4.1 (multi-core)
Higher is better
Apple iPhone XS
11472
Apple iPhone X
10215
Huawei Mate 20 Pro
9712
OnePlus 6
9011
Xiaomi Pocophone F1
9003
OnePlus 6T
8977
Samsung Galaxy S9
8830
Sony Xperia XZ3
8607
Xiaomi Mi 8
8494
Google Pixel 3
8146
Google Pixel 3 XL
8088
Huawei P20 Pro
6679
Google Pixel 2 XL
6428
GeekBench 4.1 (single-core)
Higher is better
Apple iPhone XS
4823
Apple iPhone X
4256
Samsung Galaxy S9
3759
Huawei Mate 20 Pro
3291
Sony Xperia XZ3
2486
OnePlus 6
2450
Xiaomi Pocophone F1
2438
OnePlus 6T
2431
Xiaomi Mi 8
2431
Google Pixel 3
2377
Google Pixel 3 XL
2363
Google Pixel 2 XL
1915
Huawei P20 Pro
1907
Looking at the pure-CPU test first, we see the 4x2.8 GHz Kryo 385 Gold, plus 4x1.7 GHz Kryo 385 Silver cores inside the Snapdragon 845 perform as expected. We had no issues with thermal management during stress tests either. The OnePlus 6T remains lukewarm to the touch under load.
Basemark OS 2.0
Higher is better
Apple iPhone XS
6060
Apple iPhone X
4708
OnePlus 6T
4452
OnePlus 6
4440
Google Pixel 3
3909
Google Pixel 3 XL
3895
Xiaomi Mi 8
3858
Xiaomi Pocophone F1
3713
Sony Xperia XZ3
3700
Samsung Galaxy S9
3382
Google Pixel 2 XL
3379
Huawei P20 Pro
3252
Basemark ranks the pair of OnePlus devices even closer together. Also, quite noticeable ahead of the Snapdragon 845 pack, due to software optimization alone.
AnTuTu 7
Higher is better
Apple iPhone XS
346379
OnePlus 6T
293994
Sony Xperia XZ3
284555
Huawei Mate 20 Pro
273913
Xiaomi Pocophone F1
265314
OnePlus 6
264200
Google Pixel 3 XL
258244
Samsung Galaxy S9
250156
Google Pixel 3
233699
Apple iPhone X
233100
Xiaomi Mi 8
217298
Huawei P20 Pro
209884
Google Pixel 2 XL
203119
Moving on to AnTuTu and its more compound performance assessment, we can clearly see it's taking notice of the extra 2GB of RAM, compared to the OnePlus 6. Looking at the Huawei Mate 20 Pro and the Xiaomi Pocophone F1, both also equipped with 8GB of system memory, we can see the benefits of OnePlus' near-stock, lean and well-optimized Android OS at work.
GFX 3.1 Manhattan (1080p offscreen)
Higher is better
Apple iPhone XS
98
Apple iPhone X
65
OnePlus 6T
60
Xiaomi Pocophone F1
60
OnePlus 6
58
Google Pixel 3
57
Sony Xperia XZ3
56
Xiaomi Mi 8
53
Huawei Mate 20 Pro
53
Samsung Galaxy S9
46
Google Pixel 3 XL
44
Google Pixel 2 XL
42
Huawei P20 Pro
40
GFX 3.1 Car scene (1080p offscreen)
Higher is better
Apple iPhone XS
60
Apple iPhone X
37
OnePlus 6
35
OnePlus 6T
35
Xiaomi Pocophone F1
35
Google Pixel 3
35
Sony Xperia XZ3
35
Xiaomi Mi 8
33
Huawei Mate 20 Pro
29
Samsung Galaxy S9
28
Google Pixel 3 XL
28
Google Pixel 2 XL
25
Huawei P20 Pro
23
On-screen rendering is where the screen resolution starts to play a major role. The Adreno 630 feels more comfortable rendering at the FullHD+ scale of the OnePlus 6T than the QHD+ on something like the Sony Xperia XZ3.
GFX 3.1 Manhattan (onscreen)
Higher is better
Apple iPhone XS
60
OnePlus 6
55
Google Pixel 3
55
OnePlus 6T
53
Xiaomi Pocophone F1
53
Xiaomi Mi 8
50
Apple iPhone X
49
Huawei P20 Pro
37
Sony Xperia XZ3
31
Huawei Mate 20 Pro
27
Samsung Galaxy S9
24
Google Pixel 3 XL
24
Google Pixel 2 XL
21
GFX 3.1 Car scene (onscreen)
Higher is better
Apple iPhone XS
47
OnePlus 6
33
Google Pixel 3
33
Xiaomi Mi 8
33
OnePlus 6T
31
Xiaomi Pocophone F1
31
Apple iPhone X
28
Huawei P20 Pro
21
Sony Xperia XZ3
19
Huawei Mate 20 Pro
17
Samsung Galaxy S9
14
Google Pixel 2 XL
13
Google Pixel 3 XL
12
That being said, it is clear that even the 60 extra rows of 1080 pixels each, that the 19.9:9 OnePlus 6T sports over its predecessor do make a noticeable difference when rendering the same thing in true full-screen. Of course, if you run into any performance trouble or simply can't tolerate the notch digging into your content, there's always the option to hide the notch for certain apps and games.
Basemark X
Higher is better
Google Pixel 3
44369
OnePlus 6
44229
OnePlus 6T
43886
Sony Xperia XZ3
43843
Xiaomi Pocophone F1
43652
Xiaomi Mi 8
43285
Google Pixel 3 XL
43073
Samsung Galaxy S9
42645
Huawei P20 Pro
39945
Google Pixel 2 XL
39143
Basemark X typically offers a more accurate and comparable representation of overall graphical fidelity, and we can see the OnePlus 6T neck to neck with its predecessor.
So, hardware-wise, it should come as no surprise that the OnePlus 6T is just a potent and capable of a flagship as its predecessor. Perhaps the latter might just have a slight edge in some on-screen rendering scenarios if you really insist on using the entire screen to game. However, marketing materials for the OnePlus 6T do mention a rather interesting Smart Boost technology, which we couldn't find any mention of on previous OnePlus phones.
As per its description, it merely takes frequently used apps and stores some of their initialization data in the RAM. This, in turn, enables the promise of 5% to 20% faster cold starts on said apps. Unfortunately, this is really hard to test. Plus, any meaningful data we do acquire could be skewed in the UFS 2.1 storage chips on the new OnePlus 6T do turn out to use one extra data lane for quicker read and write speeds.
So, let's just put it this way:
Thanks to its clean and light approach to Android, the OnePlus 6T, just like its predecessor, are currently among the snappiest and most optimized devices, running Google's mobile OS.