OnePlus 6T is here with a smaller notch, in-display fingerprint reader, bigger battery
After a lengthy promotional campaign and a fair bit of leaks the OnePlus 6T is here just about six months after its predecessor arrived on shelves.
At this point we're well aware of what the OnePlus 6T brings over the OnePlus 6 but we'll go over it again.
Half of the OnePlus 6T's improvements are in the hardware and the other come through software. The former include a smaller water drop-styled notch, an in-display fingerprint scanner and a larger battery. The latter include improvements to the camera and the performance.
There's one hardware regression we need to get out of the way - the already acknowledged removal of the 3.5mm headphone jack. On a positive note, OnePlus has the fairly priced (€20/$20) USB-C Bullets headphones ready for the OnePlus 6T's launch and will generously bundle a USB-C to 3.5mm adapter in the phone's box.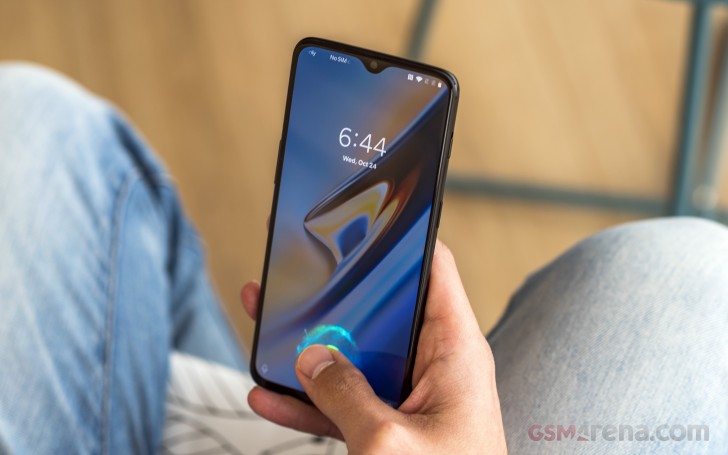 The OnePlus 6T has visibly smaller top and bottom bezels than its predecessor, thanks in part to the new notch.
You won't see it, but the fingerprint scanner sits in the bottom half of the OnePlus 6T's screen, right where your thumb would naturally rest. The phone will display a fingerprint icon on the spot you need to put your finger once the phone is picked up.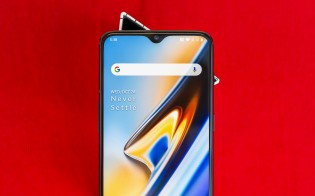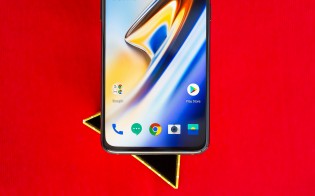 OnePlus 6T with new, smaller bezels
The 6.4-inch panel of the OnePlus 6T is only slightly larger than the 6.28-inch of its predecessor but visibly taller when pitted side by side. Most importantly, the bottom bezel is even thinner now.
OnePlus added a larger 3,700mAh battery to the 6T - a 12% upgrade over the 3,300mAh unit found in the OnePlus 6.
All of this has lead to a phone that's marginally taller and thicker than its predecessor and 3g heavier - differences most people won't notice.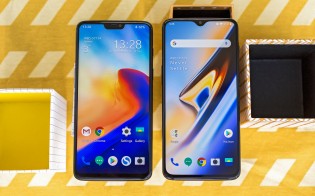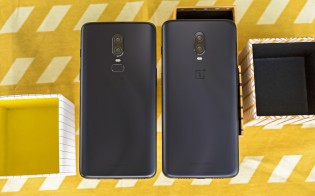 OnePlus 6T next to the OnePlus 6
The cameras are identical in hardware to the OnePlus 6, but differ in software. There are two on the back - a main 16MP f/1.7 OIS and a secondary 20MP f/1.7 that's upscaled to produce 2x telephoto shots. On the front there's a 16MP f/2.0.
The duo on the back is tuned to produce better HDR images than its predecessor and there's a new Nightscape feature - similar to Huawei's Night Mode and the Pixel 3's Night Sight - it will try and create brighter low-light images with lower noise.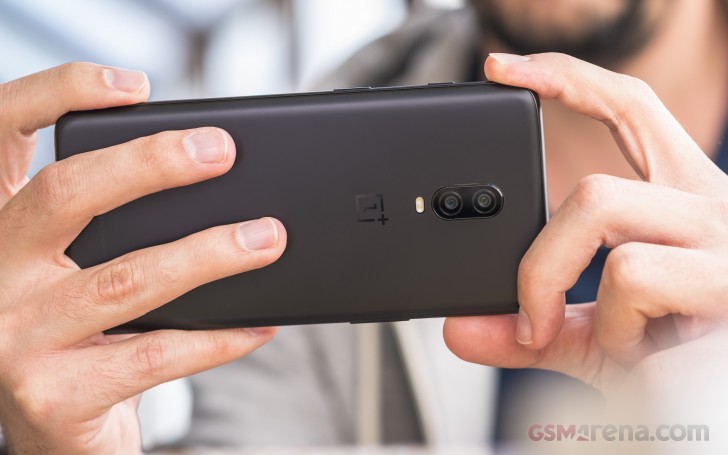 The OnePlus 6T shares the Snapdragon 845 chipset with either 6GB or 8GB of RAM of its predecessor, but OnePlus has improved things on the OxygenOS side of things with a new Gaming mode and Smart Boost .
The updates in Gaming mode will lock the screen brightness during gaming, give you more control on notifications and limit data usage of other apps. Smart Boost is said to improve app cold start speed by keeping certain app data in the RAM. For now, this only supposed to work for certaing games.
As part of OxygenOS under Android 9 Pie the OnePlus 6T has support for all manner of Android navigation - OnePlus' own gesture system (quite similar to Apple's gesture-based navigation), Android 9 Pie's native (pill) gesture navigation and the old three-button navigation.
Of course, since this is a OnePlus smartphone it comes with Dash Charge, which is rated at up to 20W. OnePlus claims the provided charger will top up the OnePlus 6T with up to a day's battery in just 30 minutes.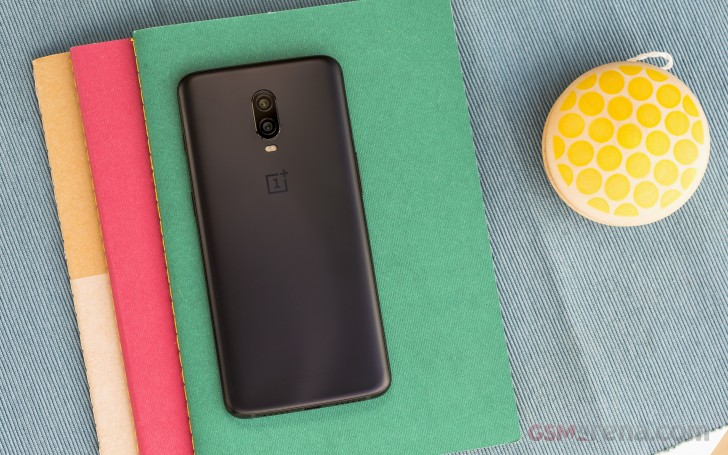 The OnePlus 6T will be sold in three configrurations - 6GB+128GB priced at $550, 8GB+128GB priced at $580 and 8GB+256GB, which will cost $630. T-Mobile is offering a $300-off the 6T when you trade-in an eligible device (including all OnePlus devices released so far). The OnePlus 6T will go on sale in North America on November 1 and then launch in Europe on November 6.
r
You forgot to mention. It is chinese device so they have to share data with government if requested. No ip68 no qi. Poor camera. Only one is god its price. However if you compare to real flagship killer op3. Op6 and 6t are no longer deal breakers.
r
OnePlus6T comes in half the Price of Note9
T
It's always been this way. Qualcomm doesn't have anything else to offer, nor the competition for that matter . The next SD should be available on the OP7. In all fairness, I believe OP doesn't need to release 2 flagships on the same year. I believe...
ADVERTISEMENTS