OnePlus 6T promo video compares in-display FP readers to the pyramids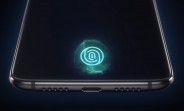 The in-display fingerprint reader is the cornerstone of the OnePlus 6T promo campaign. In fact, the company's management is betting that the positives it brings will be enough to offset the sacrifices that had to be made for it. So, here's another video from the "Unlock The Future" campaign.
What do the Egyptian pyramids, the balloon of the Montgolfier brothers and the Moon landing have to do with fingerprint readers? Not much, but they do make for an inspirational promo video. The money shot is at the end, however, it shows the bottom third of the 6T.
The USB-C port still sits in the middle, but now there's a second grille to its right. It should contain just the mouthpiece (we haven't heard anything about an extra speaker).
If all goes to plan, the OnePlus 6T will be officially unveiled on October 17. The OnePlus 6 it is meant to replace is already running out of stock in some markets.
Well maybe you are right but not I or even you can change a decision of companies and what they want compared to what audience i mean people from public want.
T
Wired headphones are different, since their use isn't limited to a phone. People already have wired headphones, and won't stop using them. Other than phones, they are used with laptops, PC, and all kinds of audio equipment. Higher end headphones can ...
ADVERTISEMENTS