OnePlus 7 and 7 Pro won't have an IP rating for water and dust resistance because it's expensive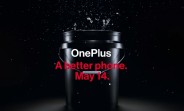 OnePlus is continuing its relentless teaser campaign for its soon to be launched OnePlus 7 and OnePlus 7 Pro smartphones, and today's installment is... odd. The company has done its fair share of irreverent marketing in the past, but this is something else.
So, you may be aware that one of the features that is found in practically all of the more expensive competitors to OnePlus devices is an IP rating for water and dust resistance. However, the company has so far resisted adding it to its phones. And that is not changing with the OnePlus 7 series, as you can see from the video below.
OK, so there's a lot to unpack here. First off, OnePlus is bluntly telling you that it doesn't think the price of the IP rating standardized testing is worth it. So that's one area in which it chose to cut corners to (presumably) make its upcoming handsets cheaper than the competition. You may agree or disagree with that decision, but at least you now know what to expect.
On the other hand, the whole bucket thing is just a bit too much. Yes, the company is obviously trying to imply that despite the lack of official IP rating, its next phones will have some degree of water resistance - but how much? There's a reason why tests for IP ratings are standardized - so that you know exactly what you're getting. Whereas in this case you'll just have to trust OnePlus that the 7 and 7 Pro will be fine if they're dunked in a bucket... for who knows what amount of time.
If you buy either handset, it's probably best to try and avoid any contact with water, especially as water damage will not be covered by your warranty. That's not unsurprising as even manufacturers who do advertise IP ratings for their phones usually don't cover water damage, but again - at least with those you have an idea of how much time they'll survive when exposed. With the OnePlus 7 series, you'll just have to make an educated guess. And hope you were right.
I am understand yours and yes in some rare cases it can save your phone but because its a water it will soon or later always finds a way to damage your device. By the way in middle of ocean even with life jacket you wont live more than few hours d...
r
buddy, i dont really care what you think. you are entitled to your own opinion. but its only your opinion and not necessarily true for all. i was just merely stating that it doesnt really hurt to take precautions especially for expensive devices and ...
ADVERTISEMENTS