OnePlus 7 Pro now leaks in Almond color version in official-looking press renders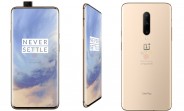 The non-Pro OnePlus 7 was showcased in official-looking press renders today, but when it comes to the OnePlus 7 Pro those are already old news, sort of. Last week it leaked in two hues, which are allegedly going to be called Mirror Grey and Nebula Blue. Today a third color option has been outed.
This one is apparently called Almond, and it looks like what manufacturers would call "gold" a few years ago. But that is out of fashion now, so Almond is more in tune with the subdued tone here. Or something.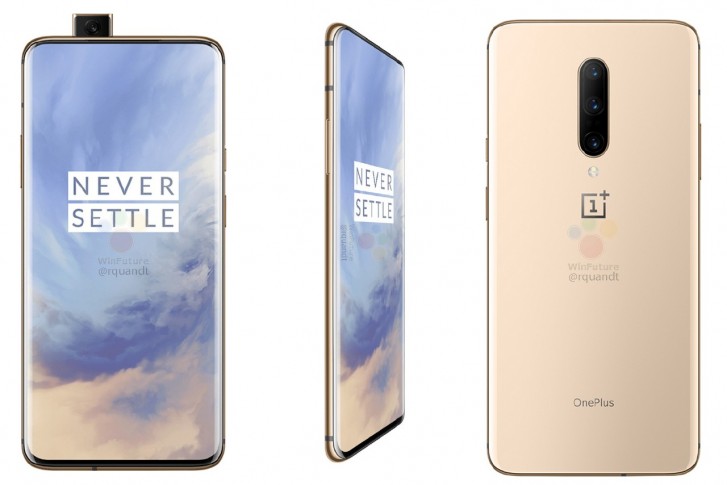 New color aside, this is the same OnePlus 7 Pro that we've been seeing in leaks left and right for many weeks now. Since the design has stayed exactly the same for quite a while now, we're assuming it's what the phone actually looks like.
On the inside, the OnePlus 7 Pro should have the Snapdragon 855 chipset of course, and the company itself has already confirmed that it has UFS 3.0 storage and an HDR10+ certified display, with strong hints at a 90Hz refresh rate. This screen is among the best ever put in a smartphone according to DisplayMate.
The 7 and 7 Pro won't have an IP rating for water and dust resistance because OnePlus thinks that's too expensive. Rumors had it the 7 Pro is going to have up to 12GB of RAM, a 6.7" curved AMOLED touchscreen, and a triple rear camera setup with the main sensor being 48 MP. A 3x zoom lens is also there on the back, and officially confirmed by OnePlus. The two new handsets will become official on May 14.
N
It'll be priced against the Samsung Galaxy S10e which doesn't even have a dedicated zoom lens. I'd say it'll be a pretty obvious decision between the two lmao
C
I feel OnePlus is so behind and cheaping out on Cameras, their 7 Pro triple camera setup is midrange at best and not even talking about 7 which will not even going to have a wide lens. Very disappointing, it is truly lacking features, will be medio...
D
It cracks me up that make a phone in beige is newsworthy!