Software
When it comes to software the OnePlus 7 and the Redmi K20 Pro are like chalk and cheese.
The OxygenOS on the OnePlus 7 is modelled after stock Android. The idea here is to keep the UI design in line with Google's vision of Android, while adding some useful features missing in stock Android. This way, you have the look and feel of stock Android while getting all the functionality of some of the more heavily altered Android skins.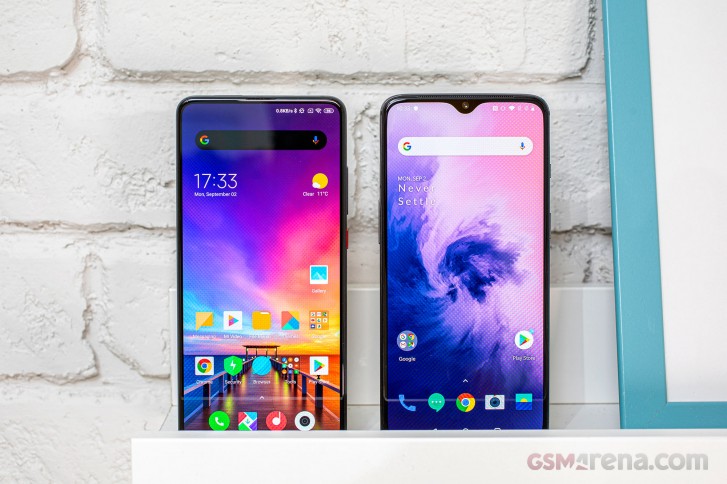 MIUI, on the other hand, has always been far removed from whatever Google has been doing with Android in terms of design since the very beginning. For a novice, it would be hard to even associate MIUI with Android based on design alone if they weren't already aware of the operating system underneath. MIUI has a complete top to bottom redesign that really looks nothing like stock Android while borrowing heavily from iOS. The reliance on iOS design elements has reduced over the years but you can still see the influence in many areas, such as icons and design of the stock apps.
Which one you pick is heavily subjective; a lot of the enthusiast crowd prefer the approach OnePlus has taken. They are aware and care about Android itself, so having the general UI guidelines of Android show through is important for them. But not everyone is like that. Many people simply want a working phone with an easy to use UI that is also reasonably attractive. They don't know what operating system is underneath as long as they can run all their apps and they honestly don't care. Such people will have no qualms using MIUI or indeed any of the other heavily customized Android skins as long as it gets the job done.
Personally, we prefer the way OxygenOS looks and works. Everything looks and works in a familiar manner and we don't have to hunt around for a particular option in the Settings app because it's where we expect it to be. Other things like app notifications also work the same way they do in stock Android. MIUI, on the other hand, requires a brief reorientation period before we can get used to all the ways it chooses to be different.
Another point in favor of OxygenOS is how much more clean it is. There are some apps pre-installed but it's very few and most of them can be uninstalled. In comparison, MIUI comes with a lot more bloatware out of the box. This can change from market to market but in countries like India, MIUI phones are usually jam packed with all the bloatware imaginable.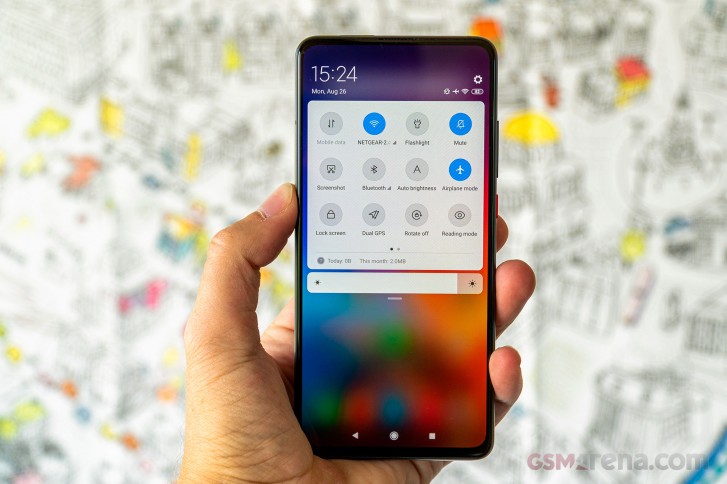 Xiaomi is also yet to let go of its habit of duplicating Google's apps. There is a Xiaomi browser, a Xiaomi music player, a Xiaomi gallery, a Xiaomi calendar and a Xiaomi app store, all on top of the ones provided by Google and they all coexist simultaneously on every MIUI device. This just adds more clutter on top of the existing bloatware. In China, these apps exist because the Google apps aren't available. But in other markets like India they are primarily there to serve ads and promotional content.
MIUI is also full of annoying notifications. All of the stock apps that come with the phone are constantly blasting notifications at you. The first thing we have to do after uninstalling all the bloatware on MIUI is disabling the notifications on the stock apps because we know it's only a matter of time before they start bothering us. Unfortunately, the OS won't allow you to disable notifications for some of the apps, which will forever keep annoying you.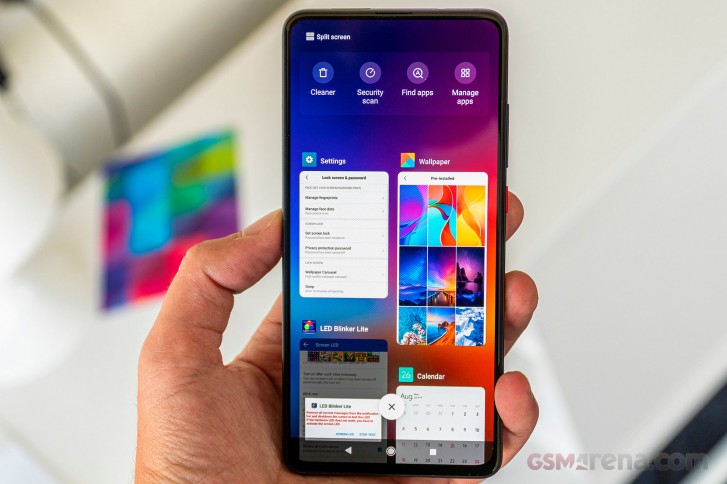 Advertising has also been an issue on MIUI devices. In markets like India, Xiaomi displays ads in all of its stock apps and apps like the Mi App Store simply exist to shove promoted apps in your face all the time. Fortunately, the Redmi K20 and the Redmi K20 Pro don't have ads enabled on them but these are an exception to a rule. The ad situation is so bad on MIUI that several other manufacturers are now advertising the fact their phones don't have ads. In fact, even Xiaomi promotes the fact that its own K20 series phones don't have ads, as if it's something to be proud of.
Then there's the issue of updates. While both the OnePlus 7 and Redmi K20 Pro receive regular updates from their respective manufacturers, Xiaomi is often slow at bundling in the Android security updates. At the time of this writing, the OnePlus 7 was running the Android security update, which it received within the first week of August. Meanwhile, the Redmi K20 Pro is still on the July security update. And security updates are just one part of the story. Xiaomi MIUI phones are also known to be slow at receiving major Android releases while OnePlus has a far superior track record of updating its devices in a timely manner.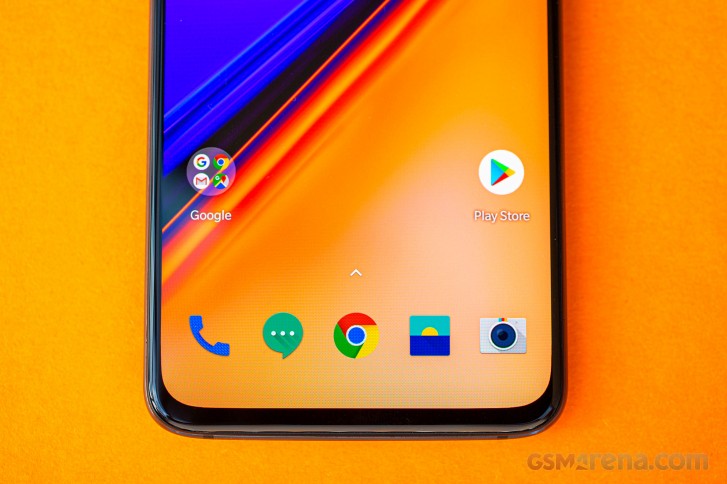 Add all of this up, and the OxygenOS on the OnePlus 7 comes out as a clear winner in our books. Whether you are an enthusiast or a novice, everyone can appreciate the clean, bloatware-free, ad-free and nuisance-free experience on this phone. Where you don't have to rush to uninstall the apps, disable notifications and spend another hour to get everything right. Where the out of the box experience is how Google envisioned Android to be. It's also less China-centric and better adapted to global tastes. We think these are important things to have and something for Xiaomi to consider.
Winner: OnePlus 7. The OxygenOS on the OnePlus 7 nabs this victory thanks to a cleaner, easy to use UI, less bloatware, fewer annoyances and quicker updates.
Performance
Both the OnePlus 7 and the Redmi K20 Pro come with the flagship Qualcomm Snapdragon 855 chipset. Both offer a choice of 6GB or 8GB memory with 128GB or 256GB of storage. However, while the OnePlus 7 uses UFS 3.0 storage, the Redmi K20 Pro uses the slower UFS 2.1. Neither phone has expandable storage.
GeekBench 4.1 (multi-core)
Higher is better
OnePlus 7
11075
Redmi K20 Pro/Mi 9T Pro
10684
GeekBench 4.1 (single-core)
Higher is better
OnePlus 7
3461
Redmi K20 Pro/Mi 9T Pro
3000
In terms of performance, we found both phones to be excellent. Both offer quick app launch times, fast multitasking and smooth scrolling in apps. Both can render even the most demanding games with exceptional ease (and both get fairly warm doing it). The performance on these devices is simply not a concern and it is this aspect of these devices that feels most like a proper flagship costing several times more. In fact, we can't really differentiate between the performance of these devices and something like the Galaxy Note10+.
AnTuTu 7
Higher is better
Redmi K20 Pro/Mi 9T Pro
368846
OnePlus 7
367812
We also didn't feel any difference in performance between the OnePlus 7 and the Redmi K20 Pro due to the latter having a slower storage drive. The read/write speeds on both phones, especially at the larger 256GB tier is high enough for the storage to not be a bottleneck for performance and while that could change 2-3 years down the line at least as of this writing in 2019, the faster storage on the OnePlus 7 doesn't make any appreciable difference.
GFX 3.1 Manhattan (1080p offscreen)
Higher is better
OnePlus 7
71
Redmi K20 Pro/Mi 9T Pro
71
GFX 3.1 Manhattan (onscreen)
Higher is better
OnePlus 7
57
Redmi K20 Pro/Mi 9T Pro
57
GFX 3.1 Car scene (1080p offscreen)
Higher is better
OnePlus 7
42
Redmi K20 Pro/Mi 9T Pro
42
GFX 3.1 Car scene (onscreen)
Higher is better
OnePlus 7
36
Redmi K20 Pro/Mi 9T Pro
36
There is one area though where the OnePlus 7 pulls ahead, and that's the USB speeds. While the Redmi K20 Pro is stuck with USB 2.0, the OnePlus 7 features much faster USB 3.1 Gen 1. While USB transfer speeds may not matter to as many people today as they did a decade ago, if you do want to take advantage of all the storage these phones come with by transferring data to and from your computer then you will definitely appreciate the OnePlus 7 more.
Winner: Tie. Choosing between these two powerhouses is like splitting hairs. Both offer flagship tier performance.