Oxygen OS is smoother than ever
With every passing iteration of OnePlus devices, the software experience somehow gets snappier and more fluid. We saw the most significant change with the 90Hz display, but the change is even slightly more apparent with the latest version of Oxygen OS.
With the 7T, OnePlus brings Android 10 out of the box overlaid with its Oxygen OS skin. In the past few updates, Oxygen OS has been known for minimally customizing the stock-Android formula, while adding software features and settings that are useful.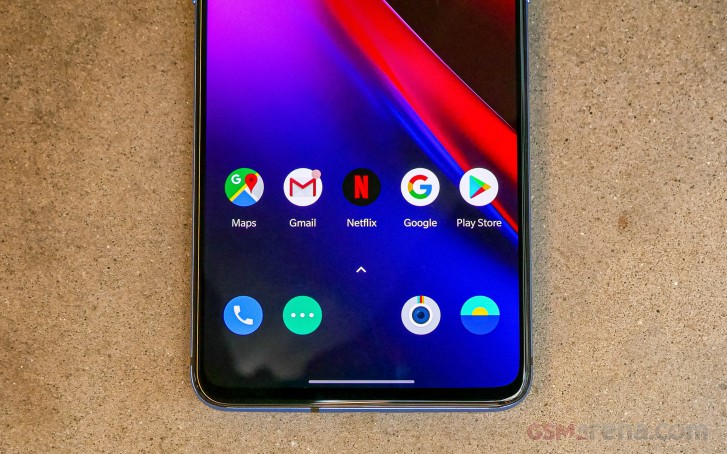 We've covered some of those features in our OnePlus 7 Pro review which have remained mostly unchanged. However, there are slight differences for Android 10: Android permissions are revamped, and gesture controls work a bit differently now. Meanwhile, the stock gallery app has been updated with new features, and OnePlus' Zen Mode gets more customizable.
With Android 10, OnePlus' navigation gestures have been replaced with Google's. You can now switch between the two most recent apps in a single move, and there is a much easier way to switch between most recent apps with a single move.
If you've ever used gesture navigation on a Huawei or Xiaomi device, the behavior is basically the same: 1.) Swipe up from the bottom to go home 2.) swipe up and hold for recent apps 3.) the "Back" gesture is now a swipe in from either the left or right edge of the screen 4.) you can switch between most recently used apps by sliding the gesture bar to the left or right.
Swiping in from either lower corner will summon Google Assistant, but if you'd rather do it the way that Apple does with Siri, you can set a 0.5s short-press of the Power key to do the same. You'll have to press and hold the power key for 3 seconds when you want to reach the power menu. For those who prefer OnePlus' old bottom gestures, that option is no longer available. You can only choose between the new Google gesture navigation or the OG three-button navbar.
You can always use OnePlus' OG gesture controls that work with the screen off - these are called Quick Gestures. Double-tap to wake is also available, as well as music controls with the screen off.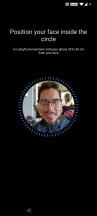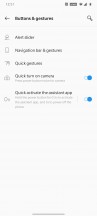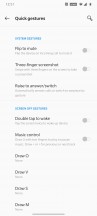 Navigation setting • Buttons and Gesture controls
You have two options for security: face unlock and fingerprint. Face unlock doesn't use any 3D scanning, so it's going to be less secure than using a fingerprint. You can also customize the unlock animation for the in-display scanner, but it isn't like you'll even see this animation for very long, since the scanner is quite fast.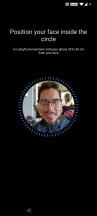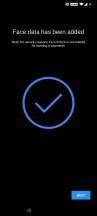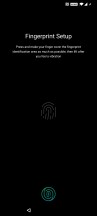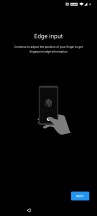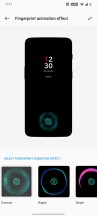 Face unlock • Cannot use face for payments • Fingerprint setup • Fingerprint animations
With the latest version of Oxygen OS, a handful of changes have been introduced to the look and feel of the UI. There is now a customization menu that lets you change the look and feel of the homescreens and app drawer. You can set the shape of the app icons, shape of toggles, accent colors, font, icon packs, and you can choose from a few clocks to set on the Ambient display.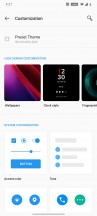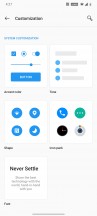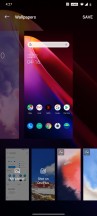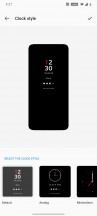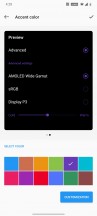 Customization menu 1 • menu 2 • Wallpaper chooser • Clock style • Accent color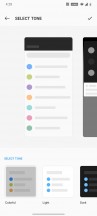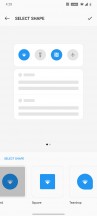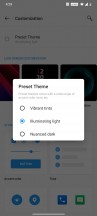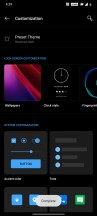 Select tone • Toggle shape • Choose theme • Dark theme
Likewise, Ambient display is now smarter and shows you more relevant information. It can show you media titles, the weather, Do Not Disturb status and upcoming calendar events. Of course, this along with the time, date, and notification icons.
Something unique to OnePlus is what it calls the "Shelf". It's a page that you can set up with app-specific shortcuts like creating a contact or taking a selfie. It has a nifty parking feature that you can mark where you parked and keep an eye on your parking duration, as well as a list of recent apps.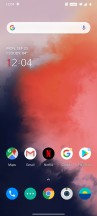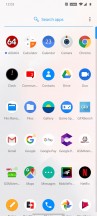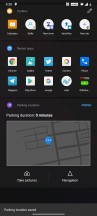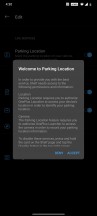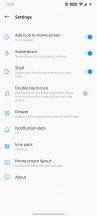 Home screen • App drawer • OnePlus Shelf • Parking feature • Shelf settings
OnePlus introduced Zen Mode with the OnePlus 7 and it has been updated with the 7T with some more customizations. For instance, you can set Zen mode to last from 20 to 60 minutes in 20-minute intervals. You can also set Zen mode reminders daily at whatever time you go to bed, for instance.
Once you start Zen Mode, there is no way to disable it, even if you restart the device. You'll only be able to use the camera or answer incoming calls when in Zen Mode. Otherwise, you can only place emergency calls - so make sure you update your emergency contacts in the lock-screen settings.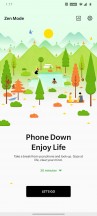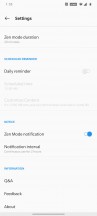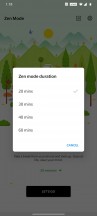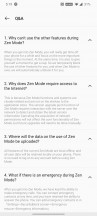 Zen Mode: • Settings • Duration • FAQ
Digital Wellbeing is a new addition to Oxygen OS and it isn't any different from Android's original implementation. You can check your device usage and number of times unlocked. You can also set a Wind Down to automatically start so you can mentally prepare to disconnect for bed.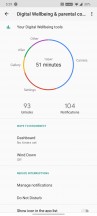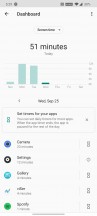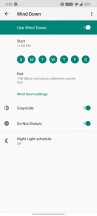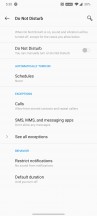 Digital Wellbeing: Main screen • Dashboard • Wind Down • Do Not Disturb
The Screen Recorder feature is baked into Oxygen OS. You activate it by tapping on its tile in the quick settings. You can record anything you do on your screen and you can choose whether to record the phone's audio or input from the microphone, or both.
Additional pre-installed apps include a voice recorder, file manager, notes app, and OnePlus Switch. The voice recorder records in WAV or AAC formats and the file manager includes a new FIleDash file share feature. It works with OnePlus or any other device with a Wi-Fi connection and browser.
The notes app is very simple - it saves memos, but you're better off using any of the endless note-taking apps that sync to a cloud service for convenience. Finally, OnePlus Switch is an app for moving data over from an old device.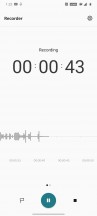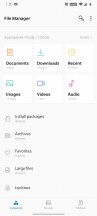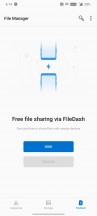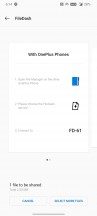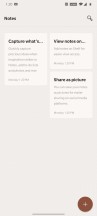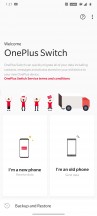 Voice recorder • File Manager • FileDash *FileDash* Notes • OnePlus Switch
Performance
One of the major updates to the OnePlus 7T is the bump up to the Snapdragon 855+. This processor is essentially a factory overclocked Snapdragon 855 which, on paper, translates to roughly a 15% increase in raw performance. We've only encountered the Snapdragon 855+ in a couple of other devices here at the office like the ASUS ROG II.
The Snapdragon 855+ is an octa-core chipset with four low-power cores and four high-power cores, the prime core of that cluster is clocked at 2.96GHz (up from the 855's 2.84GHz). The other high power cores are clocked at 2.42GHz and the four low-power cores clock in at 1.8Ghz, the latter two of which remain unchanged from the 855 (non-plus).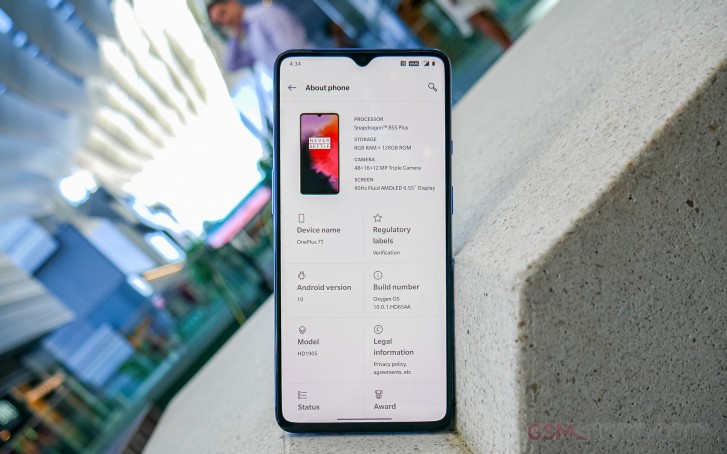 Still, the processor wouldn't be reaching its peak clock speeds under everyday use, so the overclocked prime core would only shine its spec bump when playing games. Meanwhile, the Adreno 640 on the 855+ is slightly overclocked by about 100 MHz. Otherwise, both chips use Qualcomm's X24 modem.
The 7T gets a bump in base RAM to 8GB from the 7's 6GB, even though you could still opt for up to 8GB on the 7. Speaking of which, the storage standard for OnePlus is now UFS 3.0 2-lane for super-fast read and write speeds. This really helps with app performance and system fluidity and with internal storage this fast, having a microSD slot would only slow things down.
Now let's take a look at exactly how much more raw performance we can get out of the updated chipset.
Note: Since our review unit was running a pre-release build of Oxygen OS, we were unable to run the normal suite of benchmark apps we usually test. We'll be updating this page once our review device is updated with retail software.
In the graphic-intensive rendering GFX Bench, the OnePlus 7T scored at the top of other Android devices. Offscreen tests show the 7T to have the best performance with a Qualcomm processor, even if its just by a single frame.
Apple continues to dominate over all Android devices in raw frame rates. Even last year's iPhone XS is ahead of this year's Snapdragon 855+, but Apple's edge has been lost to a growing category of gamer-centric phones with 120Hz displays, active cooling, and game hardware accessories.
Still, The Asus ROG Phone II dominated in the onscreen tests thanks to the overclocked nature of the phone, along with the optimized performance modes and features mentioned above.
GFX 3.1 Manhattan (1080p offscreen)
Higher is better
Apple iPhone 11 Pro
118
Apple iPhone XS
98
OnePlus 7T
79
Asus ROG Phone II (120Hz)
78
Asus ROG Phone II (60Hz)
78
Asus ROG Phone II (X Mode)
78
Redmi K20 Pro/Mi 9T Pro
71
Asus Zenfone 6
71
Asus Zenfone 6 (Zen Power Boost)
71
Samsung Galaxy S10+
69
OnePlus 7 Pro
68
OnePlus 6T
60
Samsung Galaxy Note10
59
Huawei P30 Pro
54
GFX 3.1 Manhattan (onscreen)
Higher is better
Asus ROG Phone II (X Mode)
69
Asus ROG Phone II (120Hz)
68
Apple iPhone XS
60
Apple iPhone 11 Pro
60
Asus ROG Phone II (60Hz)
60
OnePlus 7T
59
Redmi K20 Pro/Mi 9T Pro
57
Asus Zenfone 6
57
Asus Zenfone 6 (Zen Power Boost)
57
Samsung Galaxy Note10
55
OnePlus 6T
53
Huawei P30 Pro
50
Samsung Galaxy S10+
37
OnePlus 7 Pro
33
GFX 3.1 Car scene (1080p offscreen)
Higher is better
Apple iPhone 11 Pro
66
Apple iPhone XS
60
OnePlus 7T
48
Asus ROG Phone II (120Hz)
47
Asus ROG Phone II (60Hz)
47
Asus ROG Phone II (X Mode)
47
Redmi K20 Pro/Mi 9T Pro
42
Samsung Galaxy S10+
42
Asus Zenfone 6
42
Asus Zenfone 6 (Zen Power Boost)
42
OnePlus 7 Pro
41
OnePlus 6T
35
Huawei P30 Pro
29
Samsung Galaxy Note10
28
GFX 3.1 Car scene (onscreen)
Higher is better
Apple iPhone 11 Pro
57
Apple iPhone XS
47
OnePlus 7T
41
Asus ROG Phone II (120Hz)
40
Asus ROG Phone II (60Hz)
40
Asus ROG Phone II (X Mode)
40
Redmi K20 Pro/Mi 9T Pro
36
Asus Zenfone 6
36
Asus Zenfone 6 (Zen Power Boost)
36
OnePlus 6T
31
Samsung Galaxy Note10
28
Huawei P30 Pro
27
Samsung Galaxy S10+
23
OnePlus 7 Pro
19
Oxygen OS includes a game-optimizer called Fnatic mode. You can choose to selectively enable it with games and it'll optimize your game by blocking notifications, disable the secondary SIM, and prime the GPU, CPU, and RAM for the best game performance.