Sandstone is an iconic look for the OnePlus family of phones - it's mostly defined by its texture, but the color has remained fairly consistent too. That will change with the launch of the OnePlus 8 phones as this selection of official cases shows.
The OnePlus 8 and Pro will get a Cyan Sandstone case. The smaller phone also gets a Purple Sandstone, as well as a clear case to show off those new colors. There's also a black Nylon case that keeps things simple.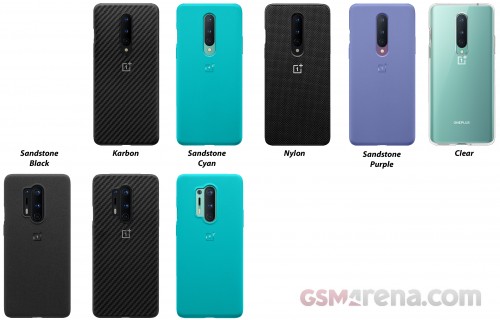 OnePlus 8 and 8 Pro cases, including new colors for the sandstone texture
The OnePlus 8 Pro has exclusive dibs on the classic Black Sandstone look and it shares the Karbon case with its sibling. The OnePlus red color is nowhere to be seen, even though it remains a part of the new branding.
The OnePlus 8 phones and their cases will be officially unveiled on April 14. The company promises that the phones will remain under $1,000. The lite model is not featured above as it's launched got delayed so details for it will come at later date.
M
not agree, you can not say tech got expensive by comparing with others. Prices should go down even tech will be better. Companies should accept this condition otherwise no way to sell their products.
?
Yes, tech got more expensive (look at other phones in the past 5 years) and OnePlus also opted to make better phones with higher-end tech compared to the OnePlus One which lacked flagship specs.
?
Its called create a market then exploit it.
ADVERTISEMENTS