120Hz Fluid AMOLED Display
On paper, the OnePlus 8T packs what may seem to be the same display as the OnePlus 8 - a 6.55-inch AMOLED screen (1,080 x 2,400px) protected by a Gorilla Glass 5. There is a significant difference, though.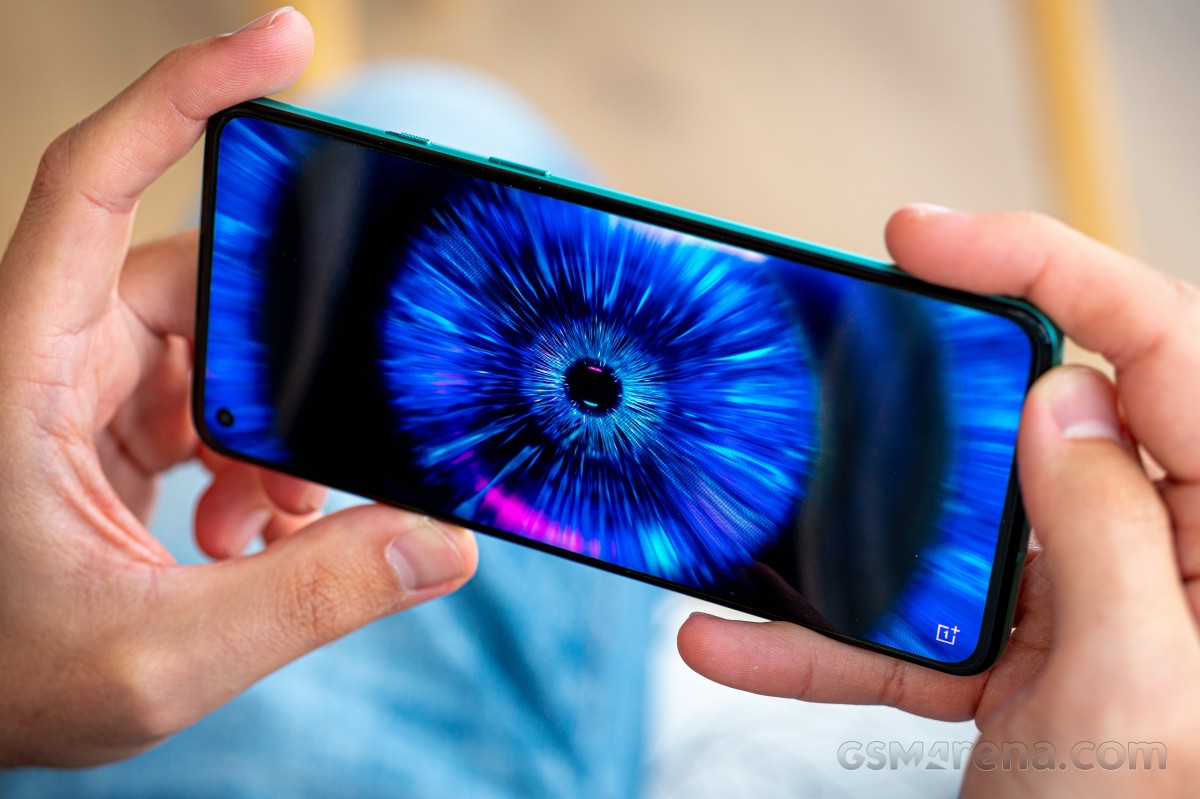 First, this screen is flat and has a smaller chin because OnePlus has used a chip-on-panel display - meaning the screen controller is bent underneath the whole thing, just like on the iPhones.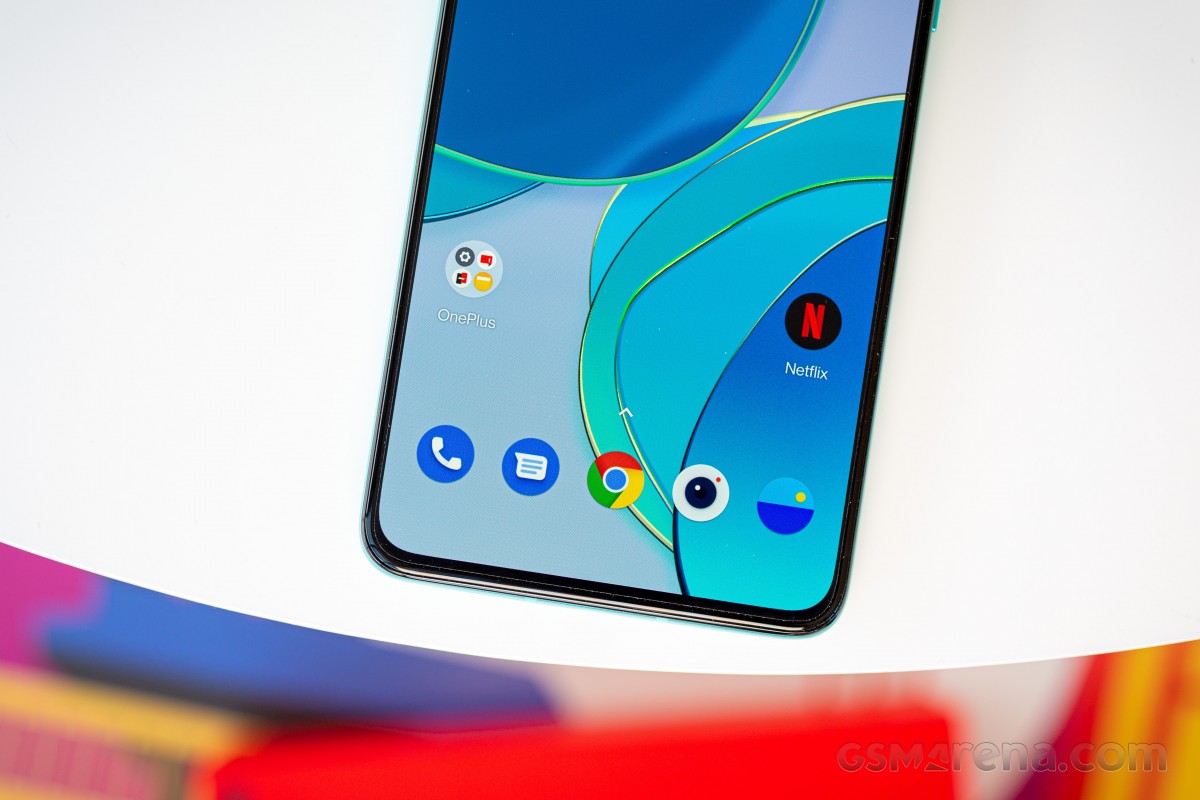 Secondy, and perhaps most importantly, this screen now supports 120Hz refresh rate. The screen offers two options - 60Hz and 120Hz. There is no Auto or Dynamic setting. But the phone does switch the refresh rate back to 60Hz in specific scenarios even when 120Hz mode is selected. More on that in a bit.
Lastly, the touchscreen is even more responsive now with greatly reduced latency because of the 240Hz touch sampling. The OnePlus 8 touch sensors worked at 180Hz, while its screen refresh rate was capped at 90Hz.
This new Fluid AMOLED screen, as OnePlus has named it, also supports HDR10+, HDR10, and HGL content. There is support of Widevine L1 DRM, the highest level, which means you can enjoy Netflix and the likes in the highest possible quality, HDR and all.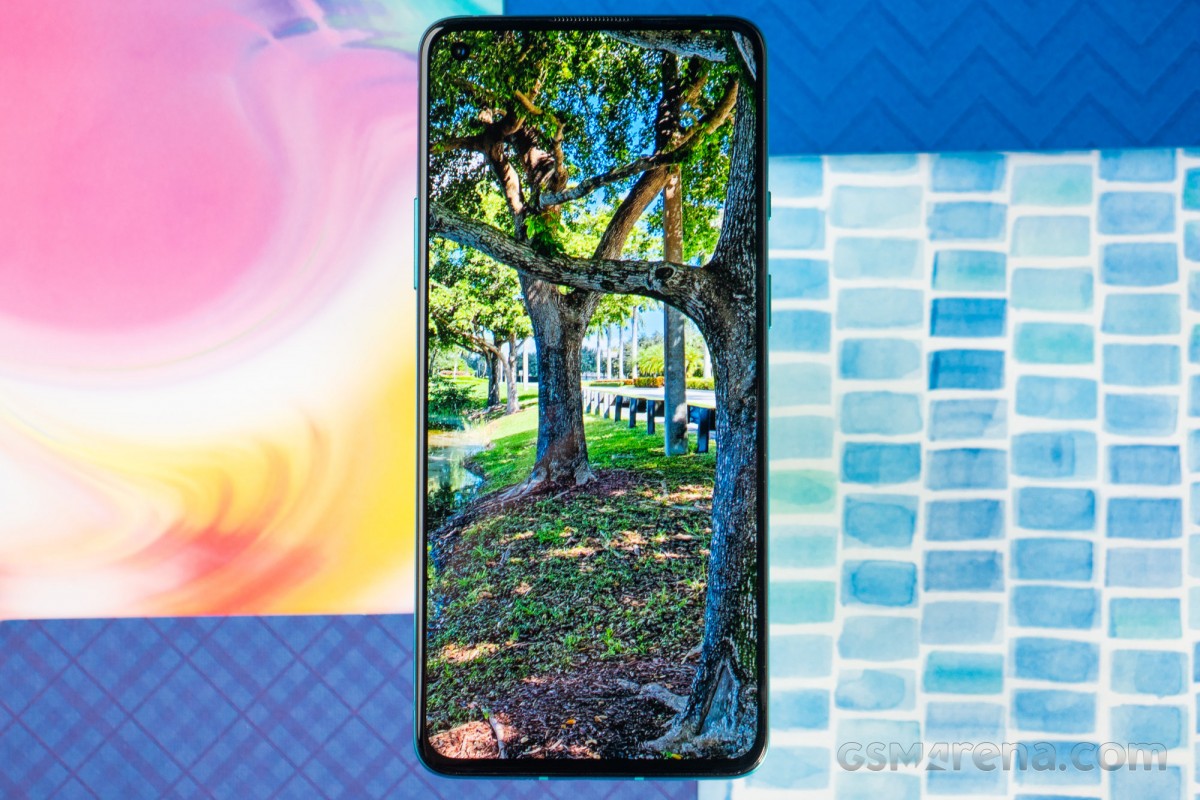 Now, let's talk about the refresh rate.
To save power, the display will normally dial back to 60Hz after you stop touching it. It does have its quirks though. If brightness is below 50%, or you have Dark mode ON, it will always keep a 120Hz refresh rate. Yet, some apps like Google Maps, YouTube or fullscreen video playback will always run at 60Hz.
The lack of high refresh rate gaming support is something else that bothers us with recent OnePlus phones. It's not entirely absent; OnePlus did, after all, partner with Fortnite and PUBG Mobile to enable 90Hz refresh rate in those titles only. Depending upon where you live in the world, you would find either one or both of those titles being unavailable on the Google Play Store.
Outside of those two titles, none of the games on the Play Store support high refresh rates on OnePlus phones. It's not an issue with the games; there are a few which we know for a fact to support as high as 144Hz on phones from ASUS and other brands. The issue is that OnePlus prevents running games at anything higher than 60Hz.
Watching HDR content also brings forth one issue with the display on the OnePlus 8T, something we also observed on the OnePlus Nord, where the display area outside the video frame isn't black as it should be but dark gray. This is noticeable when you are watching HDR content in a dark room. You can see the screen area to the left and right side of the video is noticeably gray when it should be perfectly black, considering this is an OLED panel. This issue only surfaces in HDR and not in SDR content.
And just like the Nord, the OnePlus 8T does not offer a DC dimming option.
We did our standardized brightness test, which we use to compare displays across devices, and the OnePlus 8T maxed out at 500 nits with the manual brightness slider, but when we tested its Automatic brightness in bright daylight, it reached north of 800 nits.
That's not near the advertised 1,100 nits, but the max brightness AMOLEDs can pump out depends on the size of the test pattern on the screen. Our test pattern takes up 75% of the screen during measurement, and this is consistent across all measurements we do. However, manufacturers are free to choose their preferred testing methodology, and OnePlus has probably tested with a much smaller test pattern. This can match the use cases where you are watching an HDR video, and only a fraction of the screen is showing white, so that's fine.
The lowest brightness we could measure on the OnePlus 8T when showing white was 2.6 nits.
Display test
100% brightness
Black,cd/m2
White,cd/m2
Contrast ratio
OnePlus 8T
0
497
∞
OnePlus 8T (Max Auto)
0
802
∞
OnePlus 8 Pro
0
538
∞
OnePlus 8 Pro (Max Auto)
0
888
∞
OnePlus 8
0
496
∞
OnePlus 8 (Max Auto)
0
803
∞
OnePlus 7T
0
525
∞
OnePlus 7T (Max Auto)
0
743
∞
OnePlus 7T Pro
0
429
∞
OnePlus 7T Pro (Max Auto)
0
596
∞
Xiaomi Mi 10T Pro
0.432
512
1185:1
Xiaomi Mi 10T Pro (Max Auto)
0
630
∞
Xiaomi Mi 10 Ultra
0
498
∞
Xiaomi Mi 10 Ultra (Max Auto)
0
811
∞
Xiaomi Mi 10 Pro
0
510
∞
Xiaomi Mi 10 Pro (Max Auto)
0
858
∞
vivo X50 Pro
0
489
∞
vivo X50 Pro (Max Auto)
0
503
∞
vivo X50 Pro+
0
499
∞
vivo X50 Pro+ (Max Auto)
0
733
∞
Huawei P40 Pro
0
425
∞
Huawei P40 Pro (Max Auto)
0
531
∞
Samsung Galaxy Note20 Ultra 5G
0
504
∞
Samsung Galaxy Note20 Ultra 5G (Max Auto)
0
1024
∞
Apple iPhone 11 Pro
0
805
∞
Sony Xperia 1 II
0
333
∞
Sony Xperia 1 II (Max Auto)
0
538
∞
Sony Xperia 5 II
0
336
∞
Sony Xperia 5 II (Max Auto)
0
532
∞
Xiaomi Poco X3 NFC
0.354
460
1299:1
Xiaomi Poco X3 NFC (Max Auto)
0.515
631
1225:1
One final bit of complaint with the display is the slow manual brightness adjustment. Once you adjust the brightness slider to your desired position, it takes some time before the display ramps up or down to that position. Going from the lowest brightness to the highest takes over three seconds, which is the longest we have seen on a phone. This makes it annoying to adjust brightness manually as you have to make changes and then wait for the display to finally catch up before deciding whether you want to make any further changes.
As with the OnePlus 8 series, OnePlus also claims high accuracy in color reproduction on the OnePlus 8T. OnePlus uses DisplayMate's JNCD (Just Noticeable Color Difference) metric to claim a number below 0.55. We don't use this metric for our testing as we rely on the more standardized dE2000 metric for defining color variance.
In our tests, the OnePlus 8T's default Vivid setting has slightly cooler whites and is based on the DCI-P3 color space. This profile yielded an average deltaE of 3.0 and a maximum deltaE of 6.2. We found the Natural profile to be very color accurate: average deltaE of 2.3 and max deltaE of 3.9 in the sRGB space. Meanwhile, the Advanced DCI-P3 profile also had an average deltaE of 2.3 and max of 3.9.
Battery life
The OnePlus 8T packs a 4,500mAh battery - that's a modest 5% or so of improvement over the OnePlus 8. However, the bigger change here is how it is charged, and we shall talk about that in the next chapter.
The OnePlus 8T did great on our battery test across all scenarios - calls, web browsing, video playback, and even standby. It scored an excellent endurance rating of 104 hours.
When compared to the OnePlus 8, the 8T clocked 2 more hours of calls, 1 hour less in browsing, and nearly 4 hours less in video playback. The standby performance remained in the same ballpark.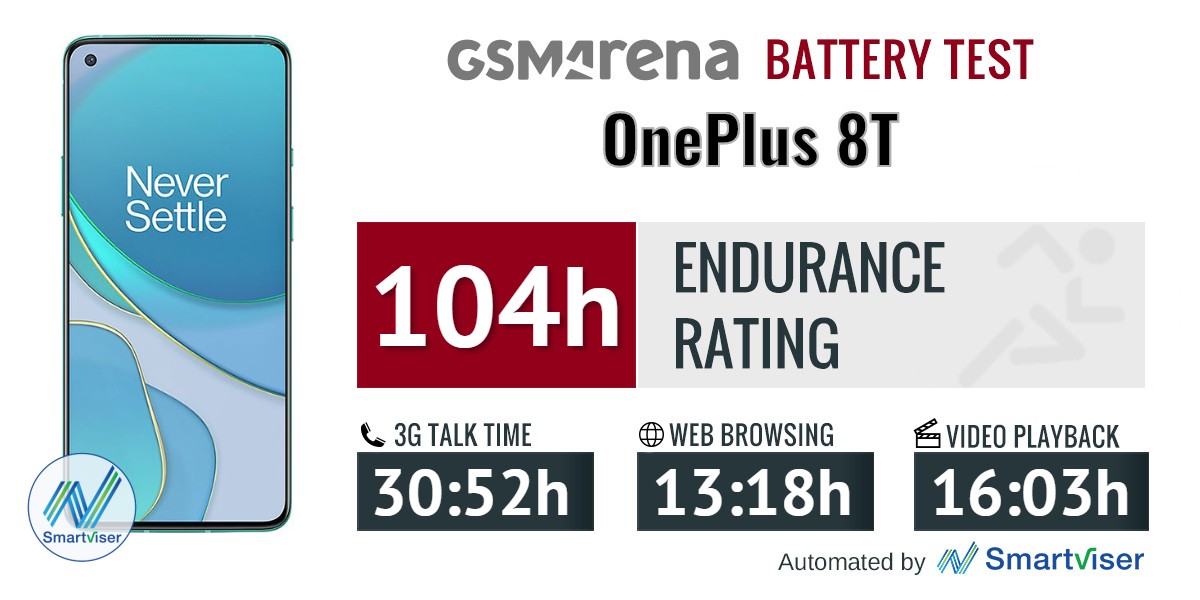 Our battery tests were automated thanks to SmartViser, using its viSer App. The endurance rating above denotes how long a single battery charge will last you if you use the Realme 7 for an hour each of telephony, web browsing, and video playback daily. We've established this usage pattern so that our battery results are comparable across devices in the most common day-to-day tasks. The battery testing procedure is described in detail in case you're interested in the nitty-gritty. You can check out our complete battery test table, where you can see how all of the smartphones we've tested will compare under your own typical use.
Charging speed
The OnePlus 8T is the first OnePlus device to support 65W of charging. It comes with the new Warp Charge 65 power adapter, so you're getting everything you need to charge the phone at its top speed right in the box.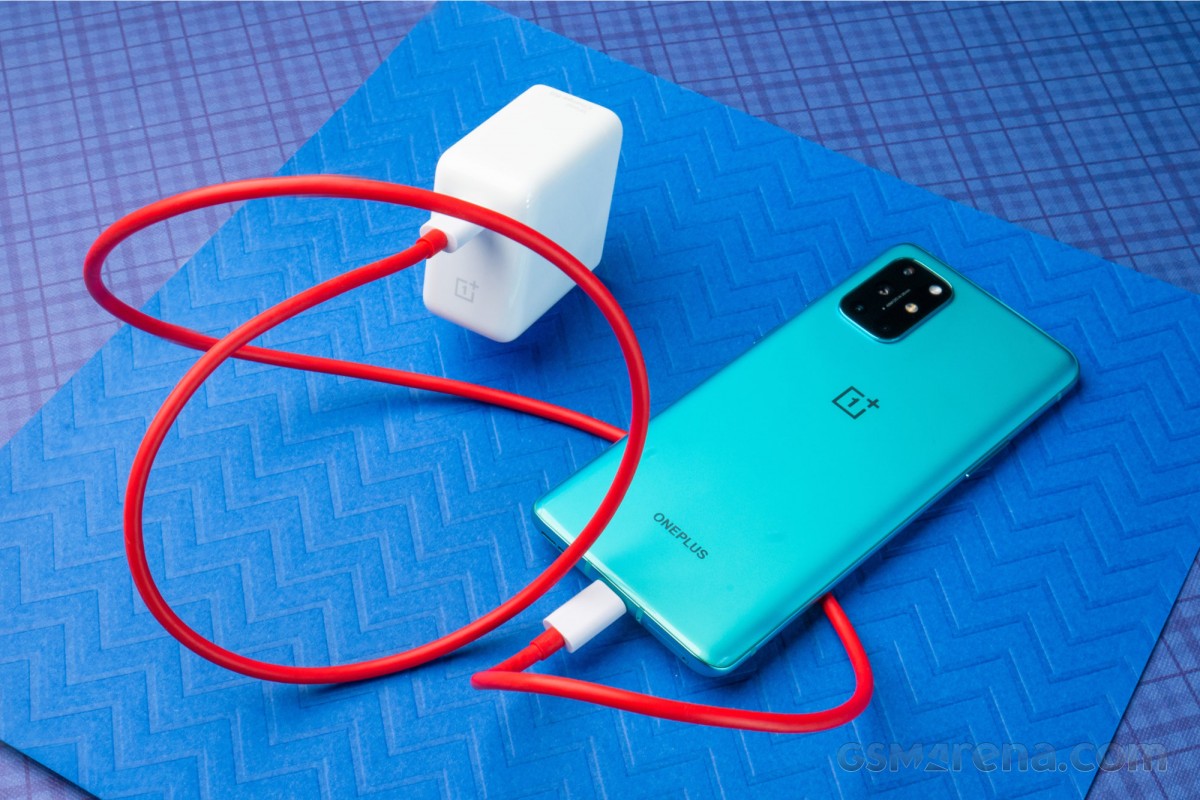 The Warp Charger 65 adapter can push out up to 10V 6.5A to compatible phones. It can do this safely by having a two-cell battery built into the phone. This allows the 10V charging to be split into two 5V streams per cell, so neither cell overheats. The charger itself is also equipped with 12 thermal monitors to keep temperatures in check because all the power conversion occurs in it.
This Warp Charger 65 is also capable of fast charging USB-Power Delivery devices. In USB-PD mode, the charger can push out up to 20V/2.25A or 45W - enough to charge smartphones and tablets, as well as some laptops with USB-PD charging like the MacBooks.
OnePlus is promising a full charge for its new 8T would take 39 minutes. We got 94% from a flat in 30 minutes with this charger - pretty promising.
30min charging test (from 0%)
Xiaomi Mi 10 Ultra
100%
Realme X50 Pro 5G
95%
Oppo Find X2 Pro
95%
OnePlus 8T
94%
Realme 7 Pro
94%
Xiaomi Mi 10 Pro 5G
77%
OnePlus 7T
72%
OnePlus 8
69%
OnePlus 8 Pro
63%
Xiaomi Mi 10T Pro
61%
OnePlus 7T Pro
60%
OnePlus Nord
60%
vivo X50 Pro+
60%
Oppo F17 Pro
60%
Apple iPhone 11 Pro
58%
Poco X3 NFC
55%
Sony Xperia 1 II
46%
Sony Xperia 5 II
45%
The full charge was achieved in 38 minutes in our first attempt. The second attempt brought this down to 36 minutes! And during this entire process, both the phone and the charger were only slightly warm. Nice!
Time to full charge (from 0%)
Xiaomi Mi 10 Ultra
0:27h
OnePlus 8T
0:36h
Oppo Find X2 Pro
0:36h
Realme 7 Pro
0:37h
Realme X50 Pro 5G
0:38h
Xiaomi Mi 10 Pro 5G
0:50h
OnePlus 8
0:53h
Xiaomi Mi 10T Pro
0:58h
Oppo F17 Pro
0:59h
OnePlus Nord
1:05h
OnePlus 7T Pro
1:09h
vivo X50 Pro+
1:11h
Poco X3 NFC
1:15h
OnePlus 7T
1:16h
Sony Xperia 5 II
1:49h
Apple iPhone 11 Pro
1:50h
Sony Xperia 1 II
1:51h
Because of this rapid charging speed and the omission of optimized battery charging (or similar feature), it doesn't make sense to set this phone to charge overnight. If you must charge the phone overnight, we recommend using a standard 5W charger instead of the bundled charger.
This new 65W charger currently doesn't Warp charge older OnePlus devices. OnePlus phones other than the 8T will just say 'Charging rapidly' instead of 'Warp charging' when connected to this charger. OnePlus says the charger will be able to use Warp charge with older devices when they get the OxygenOS 11 update. However, they will still be limited to whatever their max charging speed is and won't support the full 65W charging.
Speaker test
The OnePlus 8T has stereo loudspeakers - one of them is bottom-facing while the other doubles as an earpiece - a setup also known as hybrid because the earpiece is not a fully-fledged loudspeaker. Their loudness is not equal, but they do sound pretty loud.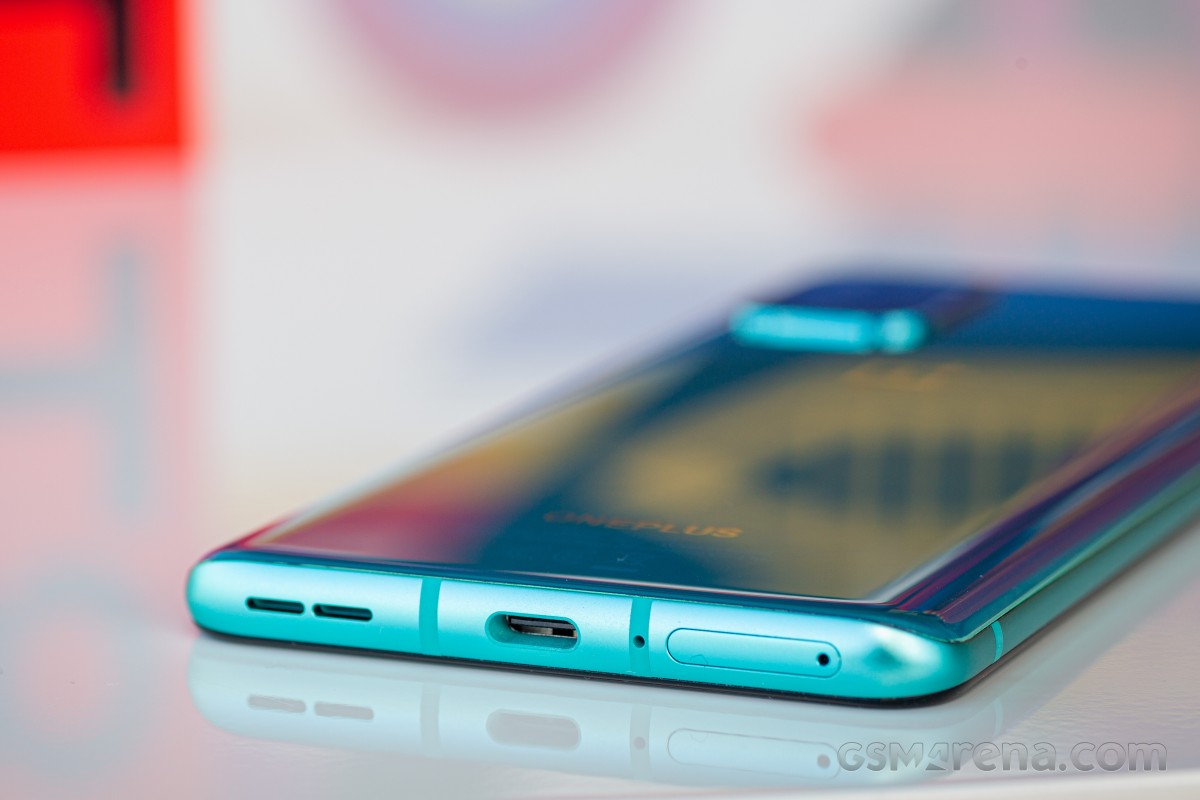 The 8T scored a Very Good mark on our speaker test, and it's a notch quieter than the previous model.
Music sounds excellent on the 8T - there is enough bass, while both mid- and high-tones are well presented. The balance between the two speakers is also good enough.
Use the Playback controls to listen to the phone sample recordings (best use headphones). We measure the average loudness of the speakers in LUFS. A lower absolute value means a louder sound. A look at the frequency response chart will tell you how far off the ideal "0db" flat line is the reproduction of the bass, treble, and mid frequencies. You can add more phones to compare how they differ. The scores and ratings are not comparable with our older loudspeaker test. Learn more about how we test here.