The OnePlus Band is the company's first foray into the popular wearables segment. Launched exclusively in India, the new OnePlus Band is an affordable fitness tracker that helps you keep track of your workouts, heart rate, blood oxygen levels, sleep patterns, and notifications.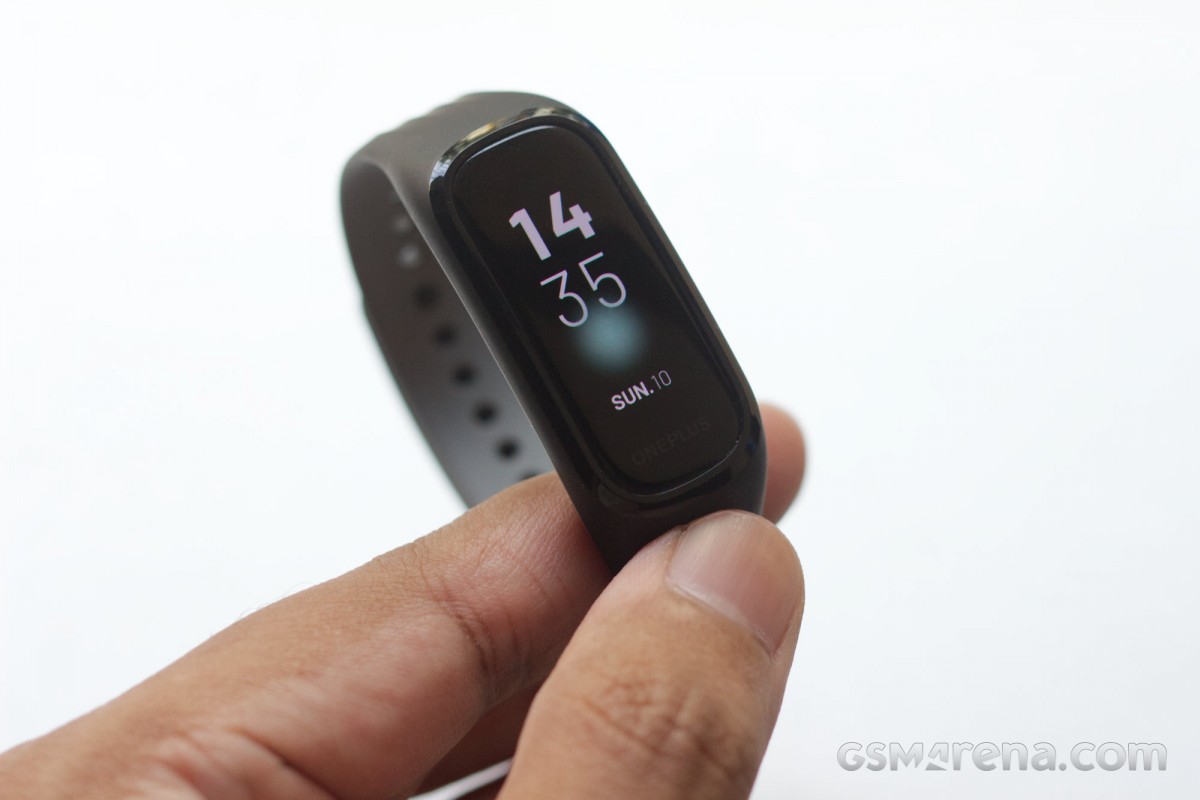 The OnePlus Band comes in a single model — W101N — with a removable strap design. The dimensions are quite similar to other fitness trackers on the market, measuring 40.4 x 17.6 x 11.95mm for the fitness tracker and the strap taking the width up to 21mm. It weighs 22.6g with the strap, which can be barely felt on your wrist.
The strap features distinctive striated pattern along its length with a simple clasp design. It's a smooth, pliant material that feels good on your skin. The default color is black but the user can purchase additional colored straps separately. OnePlus offers two additional color options — Navy and Tangerine Gray.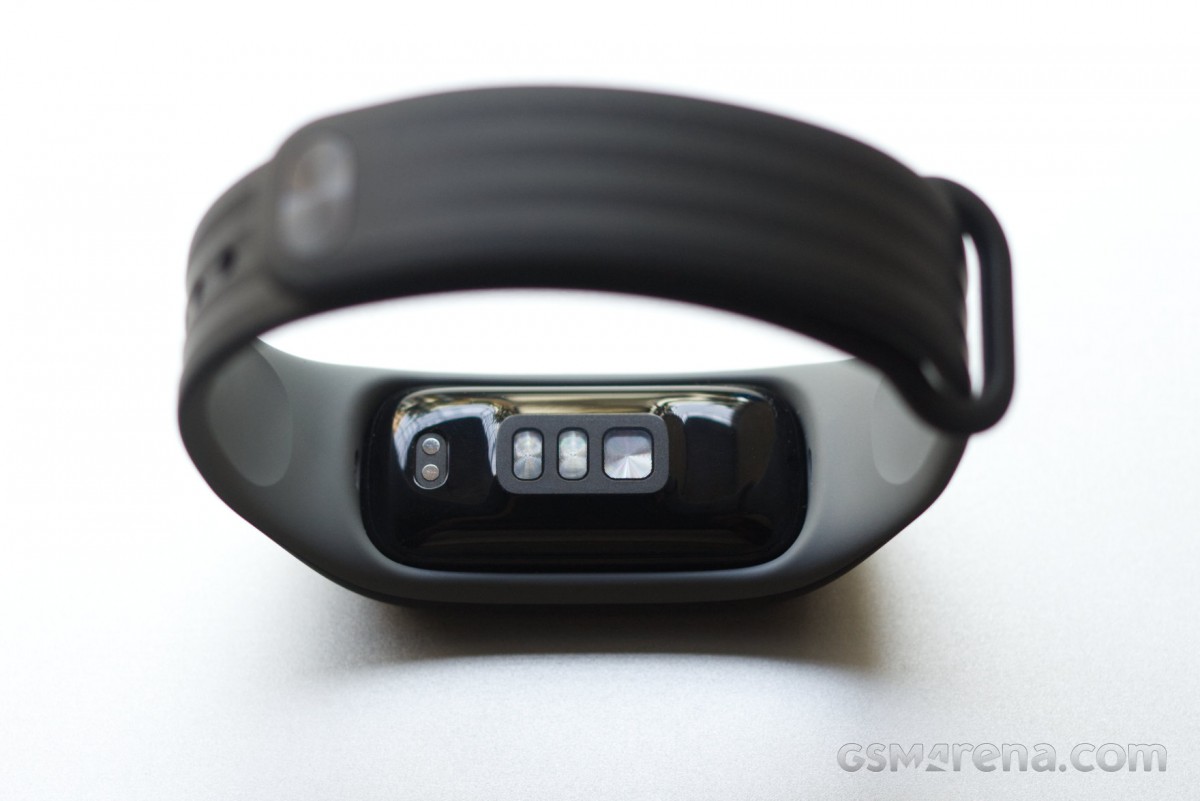 The main tracker can be popped in and out of the strap by just pushing gently. Considering it's something you'll have to do every time you need to charge the band, I'm glad OnePlus didn't chose to make this harder than it needs to be.
The tracker and the band are fully water-resistant with an IP68 rating that allows you to use the band even underwater while swimming.
The OnePlus Band has a 1.1-inch, 126x294 pixel AMOLED touchscreen. In terms of image quality, the display has vivid, oversaturated colors, and perfectly deep blacks thanks to its self-emitting pixels. The display remains legible even under direct sunlight.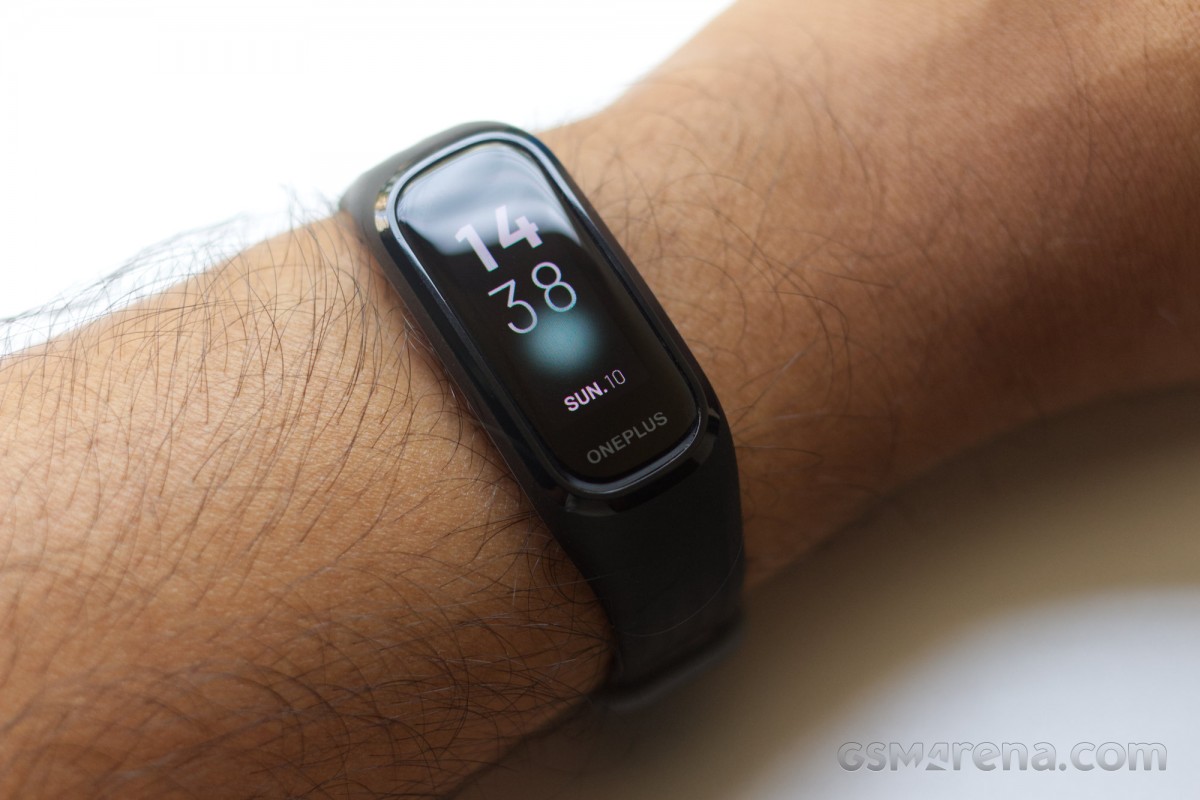 The touchscreen performance is also adequate. While the touch surface is limited, you can still navigate the UI with relative ease. Any delay in processing inputs is usually due to the band's hardware capabilities rather than the touchscreen itself.
The OnePlus Band does not have an always-on display. However, OnePlus does provide one of the best raise to wake detections I've experienced on a wearable. Unlike most other fitness trackers in this price category that require deliberate and dramatic arm gestures to light up their screens (and even then some of them still don't bother waking up), the display on the OnePlus Band lights up with the slightest turn of your wrist. As I sit here typing this, I just had to turn my wrist about an inch for the screen to point towards me and that was enough for it to light up.
For me, this almost makes up for the fact that the OnePlus Band doesn't have an always-on display. The wake detection gesture has been incredibly responsive and has worked better than even some expensive smartwatches.
OnePlus lets you disable the Raise to wake gesture, or set to only operate within certain hours. This makes sense as the gesture doesn't work well when you're lying down and if you wear the band to sleep then the screen can light up often.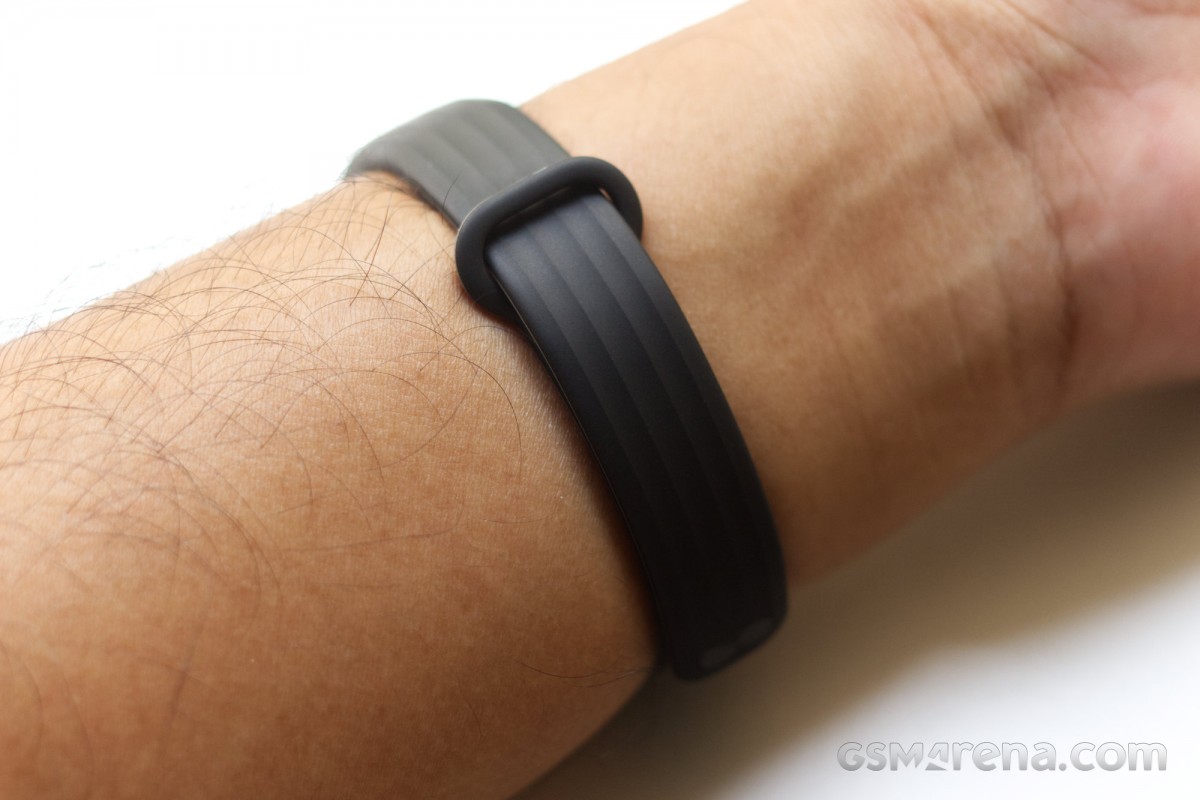 However, the goofy thing about this option is that while disabling Raise to wake won't turn the screen on, it also stops turning the screen off if you turn your wrist down. This means if you keep the gesture off, not only do you have to manually turn the screen on every time but also have to manually turn it off by covering it with your palm or wait for the screen timer to go off. I wish the band would at least turn the screen off when you turn your wrist down, regardless of the raise to wake setting.
The OnePlus Band has four main features. The first is activity monitoring and fitness tracking. The band can keep track of your movements throughout the day by counting your steps and also alert if you have been sitting for too long. If you want to workout, the band can track multiple activities, including outdoor run, indoor run, fat burn run, outdoor walk, outdoor cycling, indoor cycling, elliptical trainer, rowing machine, pool swimming, yoga, and free training. If you're into sports, the band can also track movements during cricket and badminton. Most of these are on par with what the competition offers.
The OnePlus Band also has a built-in heart rate monitor, which can be set to check at regular intervals and also alert you if it goes up while you're resting. The heart rate is also actively measured when you have one of the workout modes enabled.
The OnePlus Band also has a built-in pulse oximeter that measures your peripheral oxygen saturation or SpO2 levels. Values above 96% at sea level are considered normal and consistently lower values may be signs of hypoxia. Recently, pulse oximeters have also been used to detect COVID-19 as those affected with the disease tend to have abnormally low SpO2 levels. As such, a pulse oximeter has gone from being something of dubious value to most people to being highly useful in recent times.
Finally, the OnePlus Band can also track your sleep patterns, including counting your total sleep duration, deep sleep and light sleep durations, and optionally also your SpO2 levels during your sleep.
All of this information, from the daily activity, workouts, heart rate monitoring, SpO2 levels, and sleep tracking, are collected and displayed in the new OnePlus Health app, currently available only on Android. The app is simple and well-designed. It's also where you adjust and access most of the band's settings and features, although many of them can also be accessed directly from the band itself.
Overall, I was happy with the tracking performance of the OnePlus Band. The activity tracking features seem to work well, and while there's no easy way to check for their accuracy without strapping yourself to expensive medical equipment, the heart rate, SpO2, and sleep monitoring features also seem to work reliably. The new Health app is also a good place to keep track of all the information over a period of time and set goals to improve yourself.
However, OnePlus has missed out on two important features with the OnePlus Band, which are menstrual tracking and stress monitoring, both of which are available on the Mi Smart Band 5. The first feature, in particular, is a massive oversight and not even something that requires specialized hardware to implement. How a fitness device in 2021 ships without a feature that impacts half the world's population is baffling. I hope they patch it in future software updates otherwise it's just being willfully ignorant.
Aside from that, most of the other stuff is here. You can control your music playback through the band, albeit with a fair bit of delay. You can also set alarms and timers and there's also a stopwatch. You can also use the band to take pictures remotely with your paired phone. There's also a feature that lets you do breathing exercises for a set time period.
You can also receive your phone's notifications on your band. You get to choose which apps can push notifications to the band from the Health app. The display on the band isn't ideal for reading emails but is adequate for reading IM chats or the OTP from an SMS. Unfortunately, the band doesn't sync notifications with your phone so even if you view the notifications on the phone or dismiss them there, they still persist on the band and have to be cleared separately.
The OnePlus Band offers limited watch face customization. The Health app currently offers 37 watch faces, many of which are just recolored versions of a common design. You can also set a photo as your watch face or use the world clock option, which allows choosing one other city along with your local time.
Among the 37 watch faces, some have sensible and aesthetically pleasing designs while others are laughably impractical and look like whoever designed them never actually tried viewing them on the band's display. This is especially true of the Classic set, where two of the designs can never accurately tell the hour due to the distorted perspective of fitting a circular dial across a tall rectangle. The third one is literally unreadable and a genuine mystery as to how it even got approved.
The OnePlus Band allows storing up to 5 watch faces on the band, which makes it easy to switch between your favorites. This is an improvement over other bands, which usually can only store one watch face at a time. Transferring a new watch face to the band can be just as tedious as on other bands as Bluetooth continues to be the universal embarrassment that it is when it comes to transfer speeds.
Unfortunately, OnePlus currently offers no store of any sort to add more watch faces. It's not clear if the company will be adding more options in the future. The ones that are currently available are mostly okay but there's not much variety to them.
The OnePlus Band claims to have 14 days of battery life. I found this claim to be rather optimistic. Perhaps you'd reach this lofty number with the default settings but with the way I had setup the watch (60% brightness, 10s display timer, Raise to wake and sleep SpO2 tracking enabled, HR monitoring set to every 2 minutes) it only lasted about a week on full charge. That's not too bad on its own but only about half of what the company claims.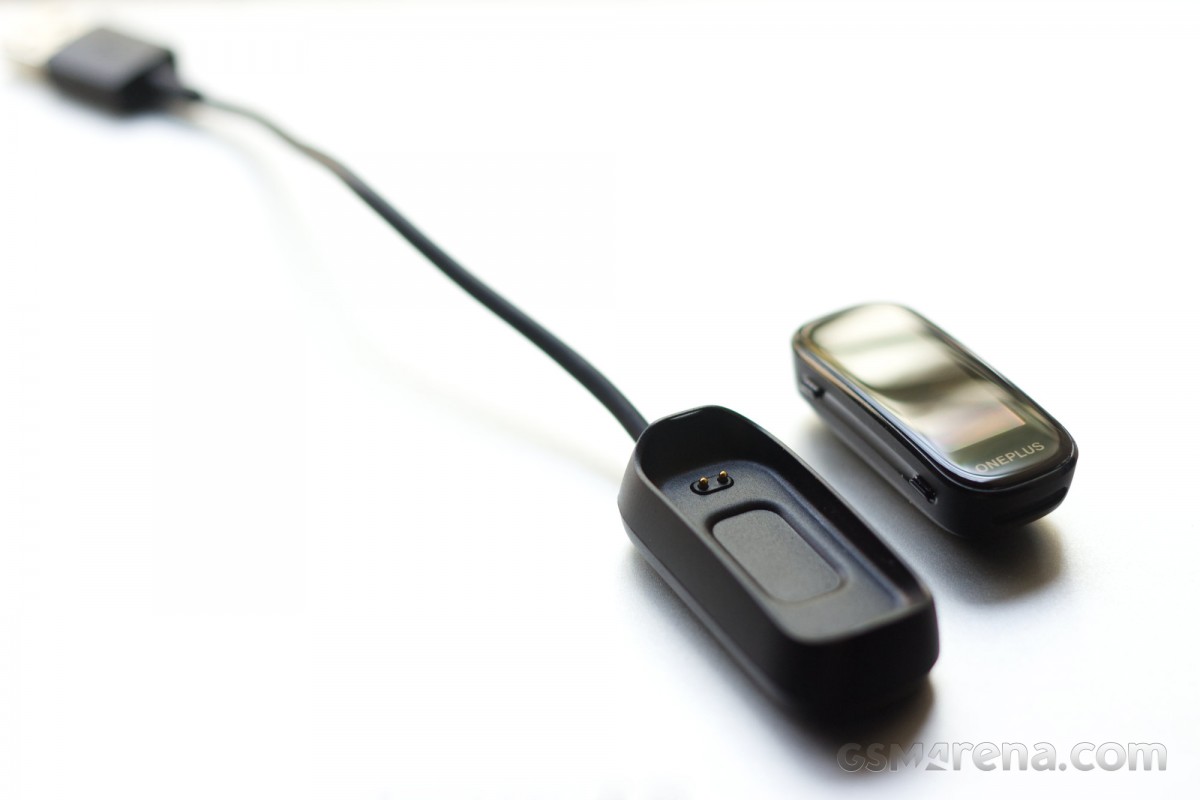 The charger requires you to pop the tracker out of its strap every time. Considering you only have to do this about once a week, it's not too much of a hassle but it would have still been nice to have a charger like the one the Mi Smart Band 5 comes with that snaps magnetically at the bottom without having to remove the tracker.
The OnePlus Band is priced at INR 2499, which is about $34. Priced similarly to the Mi Smart Band 5 from Xiaomi, the OnePlus Band doesn't do much to set itself apart from the competition and even lacks a few important features that the Xiaomi band has, including menstrual tracking, stress monitoring, and a convenient magnetic charger. The watch face options are also limited at the moment.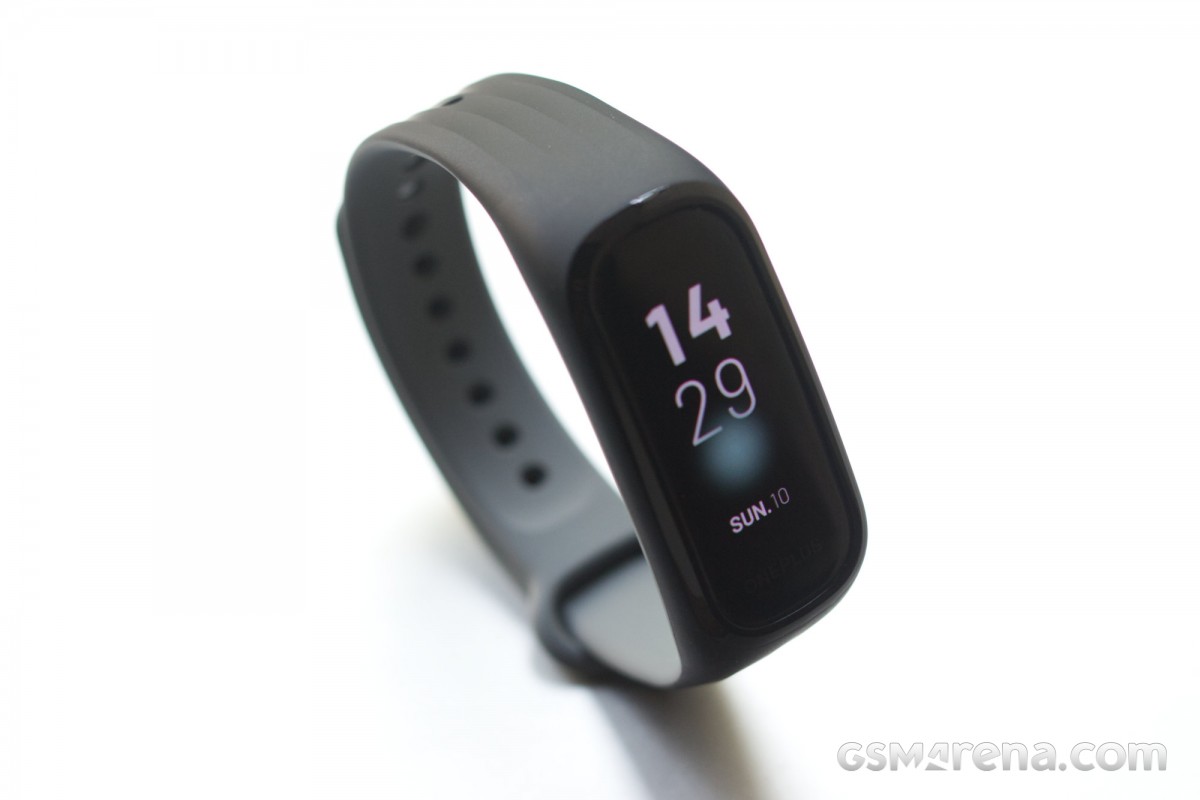 However, in the week or so of using the OnePlus Band, I was still quite happy with its overall performance. The activity and fitness features are all quite satisfactory for the price, and the heart rate monitoring and sleep tracking feature also work well. The OnePlus Band also has SpO2 monitoring, something only the Honor Band 5 has in this price range.
The app and overall software experience on the OnePlus Band are also largely quite good and should hopefully improve with future updates as most of my testing was done using a pre-release version of the app.
Overall, the OnePlus Band is a solid first offering from OnePlus in the wearables category that I feel comfortable recommending if you don't require the aforementioned missing features.
T
Best band in this price range.
?
I think you have to take it off hardly
s
The most difficult thing is to remove the band after charging. As someone wrote, it needs a screwdriver and a hammer to remove it !!!
ADVERTISEMENTS