Update: OnePlus posted additional info about the incident. Up to 40,000 users may have been affected in the period mid-November to January 11. The company believes that if you used PayPal or a credit card entered in the system before this period, you should not be affected.
Original story follows below.
OnePlus has finished its investigation into credit card theft and concluded that some users have indeed been affected. Card number, expiry date and security code have been compromised.
The company recommends that you check your credit card statements and alert your bank to any irregular charges which will help you initiate a chargeback. You can contact the OnePlus support team if you need further assistance.
OnePlus is looking into providing a year of free credit monitoring for affected users. This will automatically monitor your card for any shady transactions.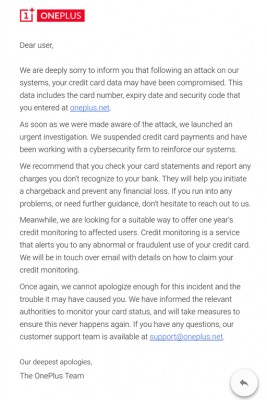 An email sent out to OnePlus customers
Of course, the company is working with a cybersecurity firm to beef up its security systems. A company representative also reached out to us to clarify that OnePlus is working with its providers and local authorities to better address the incident.
OnePlus is still writing up the report on just what happened, but in the meantime check your email and this forum thread for more info.
h
still bunch of loser support this product..goodluck with oneplus fanboys ya hahahahahahahahaha
D
funny, my card got hijacked and one of the attempts my bank blocked was a OnePlus purchase lol... coincidence? Still haven't heard anything from OnePlus who was supposed to reach out to potentially affected customers...