OnePlus details upcoming upgrades to cameras on current and future phones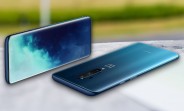 OnePlus held an "Open Ears Forum" in New York, basically a meet-up to hear out fans on their thoughts and ideas of how the company can improve current and future OnePlus products – this specific one focused on the video capture. After some consideration, the company published a to-do list.
Its first priority is to make exposure, color and white balance consistent across the three cameras (main, ultra wide and tele). This will enable future changes like "lens feature-parity" - support 4K video on all three cams and enable switching between them during recording. Also, recording with two cameras simultaneously (wide + ulra wide or rear + front).
Some of these changes are coming soon via software update, others are not possible on current hardware, e.g. some current camera modules can't do 4K capture. OnePlus is working on ways to make it possible on future devices, however.

Besides balancing the automatic settings across the three cameras, you should expect updates that improve skin tone and enhance the Gallery app's video editor with a color grading tool and LUT support, more news on that soon.
For phones planned for 2020, OnePlus is working on smooth panning shots, faster shutter and autofocus consistency. Further out, features like Super stabilization at 4K, zoom-in time-laps, Night mode for video and raising the 4K video length cap are being researched.
You can follow the Source link for the full to-to list and comments from OnePlus on why it set its priorities as its did (some features, like Pro mode, are on the back burner).
?
What they need to correct their camera disparity is to make their camera all be equal or close in spec. make the main 108 MP or 64 MP or even 48 MP, the ultrawide @ 48MP, the telephoto @ 48 MP w/ x3 optical (i doubt they can incorporate a periscope f...
t
When finally the selfie _behind_ the LCD? In upcoming OP8 this selfie hole is a disaster. Why they mimicking Samsung? Anyway, Meizu shows us that it is possible to put it on the thin frame.
M
Kinda sad. I dont need any camera upgrades if as far as price is low. Upgrade internal battery to 6000Mah and im all in. No need for better camera. Even my OP3 takes good shots. Only battery is issue, it does not last as much as i want even if it has...
ADVERTISEMENTS